Back to blog
Oxylabs' Scraper APIs and Web Unblocker Are Now in Self-Service!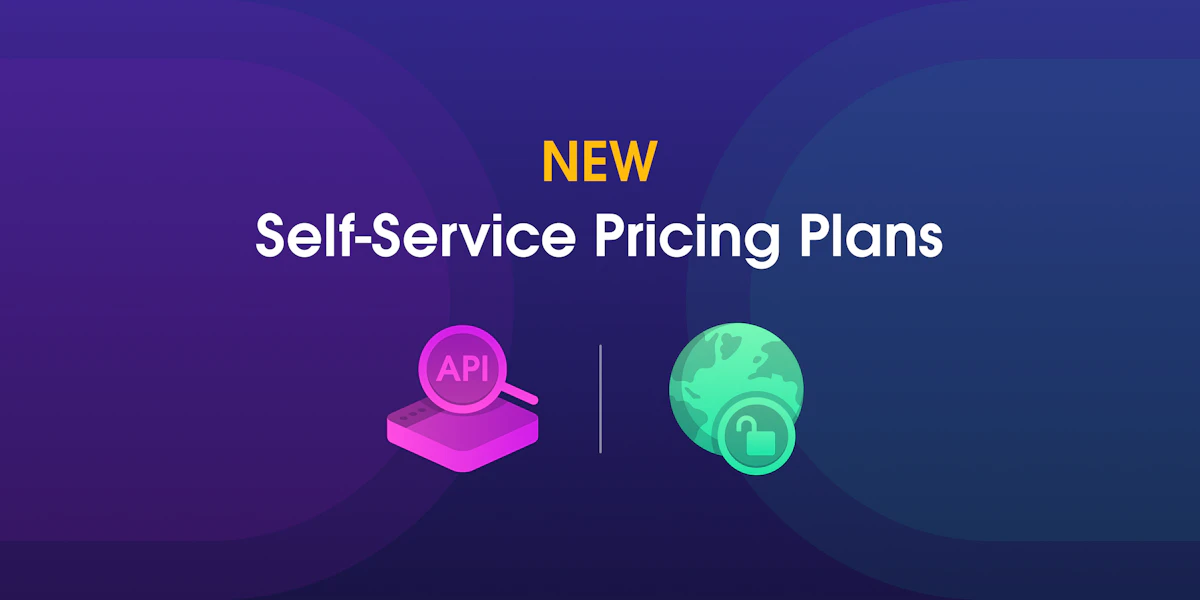 Yelyzaveta Nechytailo
2023-04-063 min read
As a part of our ongoing effort to make customer journey smooth and convenient, we're adding the following Oxylabs products to self-service:
What does this mean for you?
You can now request a free trial and purchase plans for small-scale web scraping activities using a smooth and quick self-checkout process. Start using the product of your choice in just a few clicks!
If you're interested in performing more advanced scraping operations, our sales team is always there to help you find the most suitable plan and get started easily.
Read this short article to find out more about the changes as well as discover updated pricing plans for the four products.
How do the purchasing & free trial flows work?
We recommend you take advantage of the 1-week free trial to test the products before committing to a subscription. You can do that by registering on our dashboard and claiming a free trial for the product of your choice in just a couple of clicks. As usual, no credit card details are required for the trial. 
After trying out the product, continue your scraping tasks by purchasing a subscription that fits your needs best straight on the dashboard. 
Find more details on how you can purchase Scraper APIs or Web Unblocker in their dedicated FAQ sections.
Getting started 
The setup process isn't any harder than the purchasing or free trial part. 
It consists of just two simple steps:
Create an API user

Run a test query and continue setup
More details on the free trial guides for Scraper APIs can be found on our GitHub.
New pricing plans for Scraper APIs and Web Unblocker
With the ability to purchase Scraper APIs and Web Unblocker through self-service, we're excited to introduce new pricing plan options – Regular and Enterprise. 
Visit our pricing page for more information about the different plans offered by Oxylabs.
Regular plans 
Scraper APIs
Web, SERP, and E-Commerce Scraper API subscriptions are now available starting only $49/month with a brand new Micro plan. Here's a table with a detailed overview of all Scraper APIs' Regular plans:
Web Unblocker 
The starting price for Web Unblocker is also becoming significantly lower – you can use it for $75/month with a new Micro plan. Check out the table below for a more detailed breakdown of Regular option plans for Web Unblocker:
Enterprise plans
The main advantage of new Enterprise plans is lower cost for 1GB of traffic in case of Web Unblocker or 1K results in case of Scraper APIs.
Find more information about billing and traffic usage in our Web Unblocker and Scraper APIs documentation.
However, note that only plans that are below $1,000 can be purchased via self-checkout. For everything above $1,000, contact our sales team – they'll be more than happy to pick the right plan for you. 
Scraper APIs
Web Unblocker 
With the updated plans, you can pay as little as $7 for 1GB of traffic when using Web Unblocker. Check out the table below for a more detailed breakdown of different Enterprise option plans:
Additionally, if you'd like to add more traffic/number of results than your initial plan, it's possible to initiate top-ups for both Scraper APIs and Web Unblocker. To do that, contact our support team at support@oxylabs.io.
You can as well read more about top-ups and top-up amount limitations in a dedicated FAQ section.
Wrapping up
Take advantage of high-quality Scraper APIs and Web Unblocker by purchasing them using a quick self-checkout process. No credit card is required for a 1-week free trial. 
The presented products are already available in self-service! If you're interested in taking a closer look at pricing plans for each product, visit their respective pricing pages: Web, SERP, E-Commerce Scraper API and Web Unblocker. And, of course, don't hesitate to reach out at hello@oxylabs.io or via live chat – we're always ready to answer any questions you may have.
About the author
Yelyzaveta Nechytailo
Senior Content Manager
Yelyzaveta Nechytailo is a Senior Content Manager at Oxylabs. After working as a writer in fashion, e-commerce, and media, she decided to switch her career path and immerse in the fascinating world of tech. And believe it or not, she absolutely loves it! On weekends, you'll probably find Yelyzaveta enjoying a cup of matcha at a cozy coffee shop, scrolling through social media, or binge-watching investigative TV series.
All information on Oxylabs Blog is provided on an "as is" basis and for informational purposes only. We make no representation and disclaim all liability with respect to your use of any information contained on Oxylabs Blog or any third-party websites that may be linked therein. Before engaging in scraping activities of any kind you should consult your legal advisors and carefully read the particular website's terms of service or receive a scraping license.
Forget about complex web scraping processes
Choose Oxylabs' advanced web intelligence collection solutions to gather real-time public data hassle-free.