Back to blog
Free White Paper: Alternative Data Unlocks Key Decisions in the UK And US Finance Industries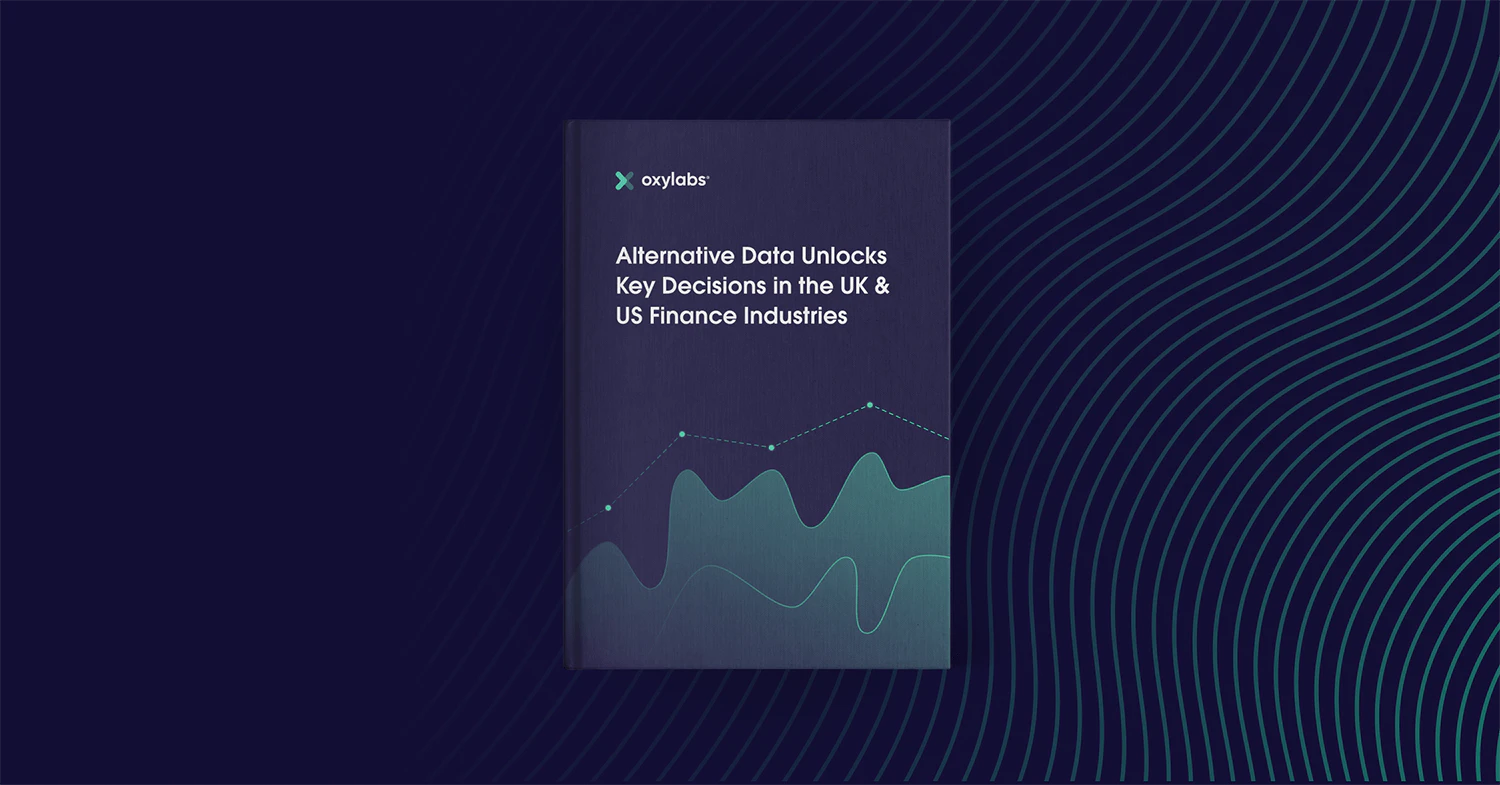 Adomas Sulcas
2022-05-041 min read
Alternative data has firmly entrenched itself in the finance industries across the globe. For businesses that are continually looking to improve their decision making, the availability of non-traditional sources has been a boon as it provides previously untapped insights.
Free PDF
Get Our White Paper on Alternative Data in the Finance Industry
A significant part of alternative data is collected through web scraping. Up to this point, however, it hasn't been clear how widespread the use of both non-traditional data sources and web scraping has been in the finance industry.
While globally the spend on alternative data has likely breached $2B, how much of that is considered valuable by the industry has also been unclear. Oxylabs, in cooperation with Censuswide, decided to investigate how alternative data and web scraping is being utilized, evaluated, and understood in the finance sector.

Oxylabs conducted a survey with 500 UK-based and 501 US-based senior data decision-makers from across the respective region's thriving financial services sector. We inquired about data management practices, collection methods, current trends, and many other practices. Finally, our survey draws comparisons and conclusions based on the differences between the regions.
Data is the lifeblood of many industries, however, the financial services sector stands in stark contrast. It has become nearly impossible to envision any processes in the sector without the use of data. Our survey gives us a glimpse into the inner workings of these businesses. Most importantly, we get to see how far ahead of everyone else they are in innovations in data acquisition, management, and processing.
Julius Černiauskas, Chief Executive Officer

What can you expect from our white paper?
How widespread is the use of alternative data?

What are the most popular data collection methods?

Which method has had the greatest impact on revenue?

Which are the most promising data collection methods?

What is the perception of web scraping?

How is web scraping managed within the sector?

What are the challenges associated with data collection?
Download our white paper on alternative data in the financial sector and learn more on how it may benefit your business.
About the author
Adomas Sulcas
PR Team Lead
Adomas Sulcas is a PR Team Lead at Oxylabs. Having grown up in a tech-minded household, he quickly developed an interest in everything IT and Internet related. When he is not nerding out online or immersed in reading, you will find him on an adventure or coming up with wicked business ideas.
All information on Oxylabs Blog is provided on an "as is" basis and for informational purposes only. We make no representation and disclaim all liability with respect to your use of any information contained on Oxylabs Blog or any third-party websites that may be linked therein. Before engaging in scraping activities of any kind you should consult your legal advisors and carefully read the particular website's terms of service or receive a scraping license.
Gather alternative data at scale
Let's discuss how Oxylabs can help you collect quality alternative data by providing tailor-made tools.