Back to blog
OxyCon 2023: Staying Ahead of the Game With Web Scraping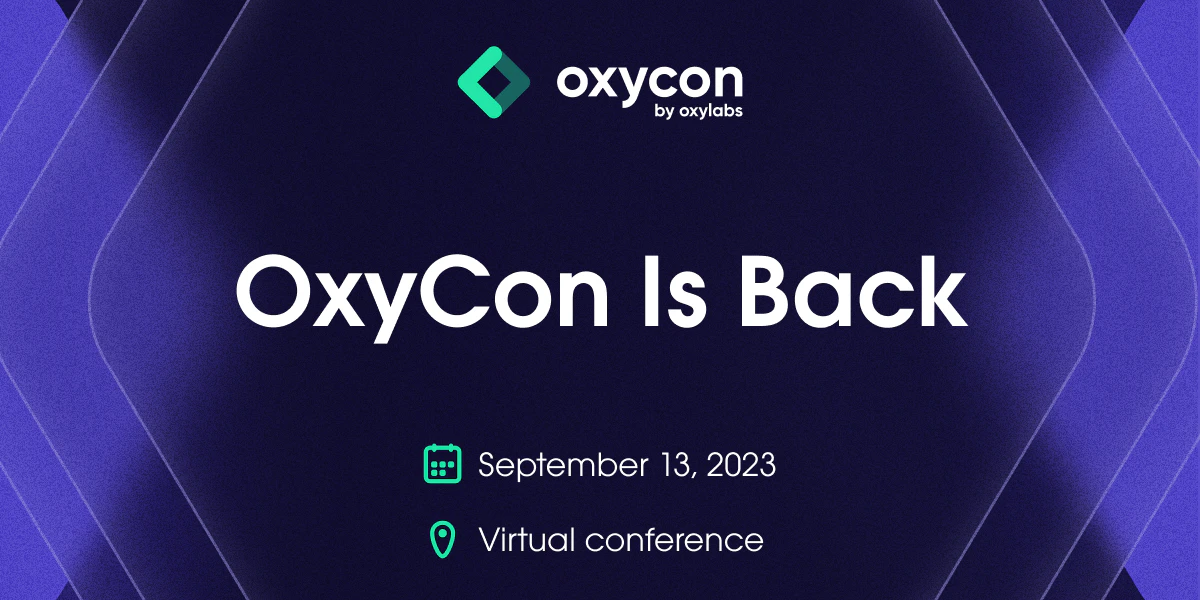 Enrika Pavlovskytė
2023-06-192 min read
The world of web scraping has evolved rapidly in recent years, presenting a series of obstacles with each new advancement. That's why, as OxyCon returns for its fourth year, people are eager to gather and discuss it all. For them, we're thrilled to announce that the 13th of September has been set as the official date for OxyCon 2023, and registration is open.
If, by any chance, you're not yet familiar with OxyCon, keep on reading to find out more!
Web scraping operations have become crucial to business success. However, as the field evolves so rapidly, what was relevant last year can completely change the next one. Events like OxyCon play a crucial role in giving us a chance to catch up and discuss the latest developments, best solutions, and, most importantly, explore new business opportunities through networking.
Tadas Malinauskas, Python Developer at Oxylabs
What to expect from OxyCon?
OxyCon is a free and virtual conference that annually delivers exclusive high-quality content about public web data collection. Every year, it welcomes technical and business experts who share their real-life work experiences and provide insights. It's the perfect opportunity to learn about cutting-edge web scraping developments and network with key industry players.
OxyCon will be streamed online from our brand new office in Vilnius. This means that participants can comfortably join from anywhere and tune into over eight inspiring talks, each focusing on a different aspect of web scraping.
Topics for OxyCon 2023 
OxyCon is an event uniting all data lovers, no matter their specialization. As such, it will deliver three highly-curated conference tracks:
Developer Track: Mastering Advanced Web Scraping 
Developers are the backbone of every web data gathering operation. They explore the ever-evolving web landscape and look for ways to scale and innovate web scraping processes. This track will uncover the toughest obstacles developers face and the smartest solutions they come up with.
Business Track: Harnessing the Power of Web Data 
From e-commerce to brand protection, the potential of public web data knows no bounds. However, as business experts look for ways to leverage web data, they will inevitably face challenges related to legality, ethics, and infrastructure. In this track, we'll explore how to implement data gathering with responsibility and business prosperity in mind.
Innovation Track: Unveiling the Future of Web Scraping
Few industries have been left untouched by AI this year, and web scraping is no exception. We've seen AI/ML models that can both make or break your scraping operations. In other words, as web targets get more sophisticated, so must we. This track will delve into the latest data collection developments and their transformative potential.
OxyCon 2022 at a glance
OxyCon 2022 was an amazing event that left us all exhilarated! We welcomed over 1000+ registered attendees over the course of two days. Most importantly, 15 industry-leading speakers presented on a variety of topics related to web scraping. While you're waiting for OxyCon 2023, be sure to check out the materials from last year:
Register now
As anticipation is growing, our team is working tirelessly to make OxyCon 2023 an unforgettable experience. They're preparing an agenda packed with content that will captivate and inspire. Stay tuned for updates, as we'll reveal it on our website very soon. But while you're waiting, make sure to register – it's free! 
Let's meet at one of the biggest data gathering events in the industry.
About the author
Enrika Pavlovskytė
Junior Copywriter
Enrika Pavlovskytė is a Junior Copywriter at Oxylabs. With a background in digital heritage research, she became increasingly fascinated with innovative technologies and started transitioning into the tech world. On her days off, you might find her camping in the wilderness and, perhaps, trying to befriend a fox! Even so, she would never pass up a chance to binge-watch old horror movies on the couch.
All information on Oxylabs Blog is provided on an "as is" basis and for informational purposes only. We make no representation and disclaim all liability with respect to your use of any information contained on Oxylabs Blog or any third-party websites that may be linked therein. Before engaging in scraping activities of any kind you should consult your legal advisors and carefully read the particular website's terms of service or receive a scraping license.
Forget about complex web scraping processes
Choose Oxylabs' advanced web intelligence collection solutions to gather real-time public data hassle-free.