Back to blog
OxyCon 2023 On-Demand Is Live!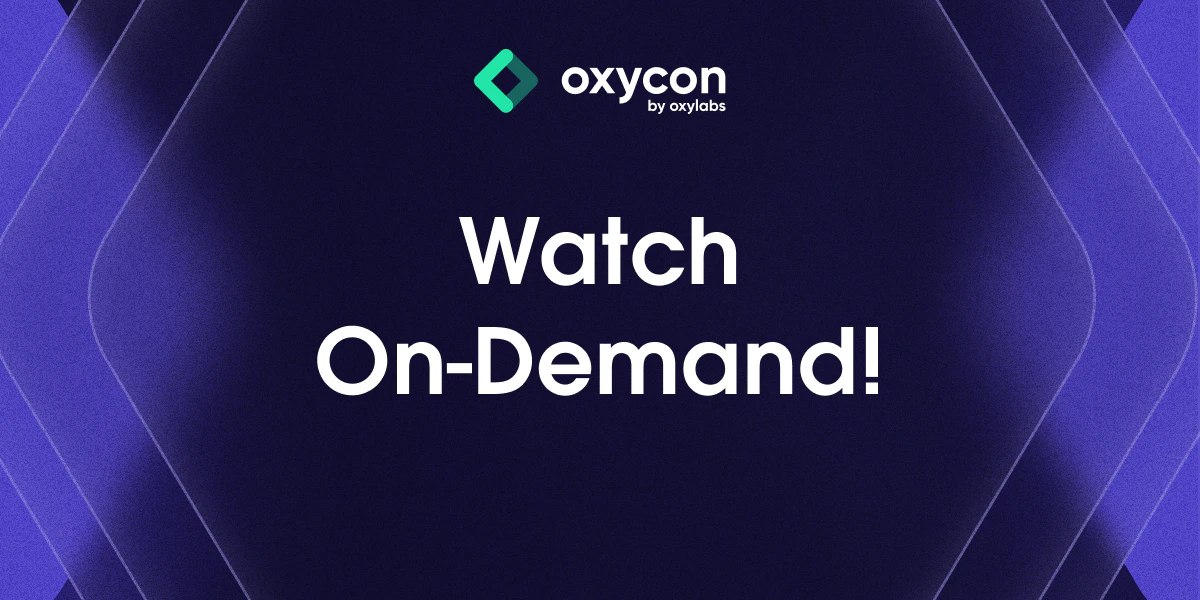 Enrika Pavlovskytė
2023-09-252 min read
It seems that OxyCon 2023 came and went in the blink of an eye. However, if you didn't have the chance to join or missed something, we're happy to announce that our on-demand videos are live – you can watch them now!
Uncover insights from key industry players
Diverse voices from various backgrounds – from tech to legal – spoke at OxyCon 2023, each contributing their unique professional experiences. From industry-tested strategies to innovative ventures, their presentations were packed with practical examples, use cases, and advice that are too important to miss.
OxyCon 2023 united the brightest minds in the public data gathering world. The knowledge shared during the event is a compass for every business ready to navigate the data-driven future.
Juras Juršėnas, COO at Oxylabs
We've made all this exceptional content available on demand so you can always come back to it. You'll be able to watch all 6 inspiring talks that dive deep into such emerging solutions like video data gathering or scraping with machine learning. For those seeking technical expertise, there are videos with our technical professionals covering process scaling and acceleration in detail.

Furthermore, you have the opportunity to follow 2 engaging panel discussions featuring key experts from the data gathering industry. These sessions explore the current and future landscape of web scraping. Particularly captivating is a panel discussion exploring the profound impact of emerging AI technologies on the legal landscape of data extraction.
See the full list of presentations and discussions below and for more detailed information, check out our key takeaways blog post.
Presentation topics
Cracking the Code: Overcoming Blocks in Large-Scale Web Scraping
By Denis Zyk, Golang Developer @ Oxylabs

Cybercriminal Footprint Erasure: Response Strategies
By Javier Velandia, RA Product Manager @ Appgate

Leveraging Machine Learning for Web Scraping
By Andrius Kūkšta, Data Engineer @ Oxylabs

Open-Source Technology for Extracting High-Quality Data at Scale
By Glen De Cauwsemaecker, Senior Lead Crawler Engineer @ OTA Insight

Accelerating Data-on-Demand Services with Async Python and AWS
By Alexander Lebedev, Software Engineer @ Hotjar

Unlocking Insights from Video Data: Challenges and Solutions
By Allen O'Neill, Co-Founder @ SocialVoice.ai
Panel discussion topics
Web Scraping in 2023 and Beyond
Hosted by Juras Juršėnas, COO @ Oxylabs

Web Scraping, AI, and Evolving Legal Landscapes
Hosted by Denas Grybauskas, Head of Legal @ Oxylabs
How to access OxyCon 2023 on-demand?
We're passionate about continuous learning, so OxyCon on-demand library will be up and running up until next year's event. You can access all this great content on OxyCon's homepage. Simply click "Watch on-demand", fill out the request form, and follow the link provided.
Also, if you want to exchange the insights you've gained from OxyCon on-demand library, join our friendly Discord server. It's a place where all data enthusiasts come together, share ideas, and keep up with the latest advancements in data gathering.
About the author
Enrika Pavlovskytė
Copywriter
Enrika Pavlovskytė is a Copywriter at Oxylabs. With a background in digital heritage research, she became increasingly fascinated with innovative technologies and started transitioning into the tech world. On her days off, you might find her camping in the wilderness and, perhaps, trying to befriend a fox! Even so, she would never pass up a chance to binge-watch old horror movies on the couch.
All information on Oxylabs Blog is provided on an "as is" basis and for informational purposes only. We make no representation and disclaim all liability with respect to your use of any information contained on Oxylabs Blog or any third-party websites that may be linked therein. Before engaging in scraping activities of any kind you should consult your legal advisors and carefully read the particular website's terms of service or receive a scraping license.
Forget about complex web scraping processes
Choose Oxylabs' advanced web intelligence collection solutions to gather real-time public data hassle-free.