Back to blog
OxyCon Agenda Announced - How to Make the Most of It?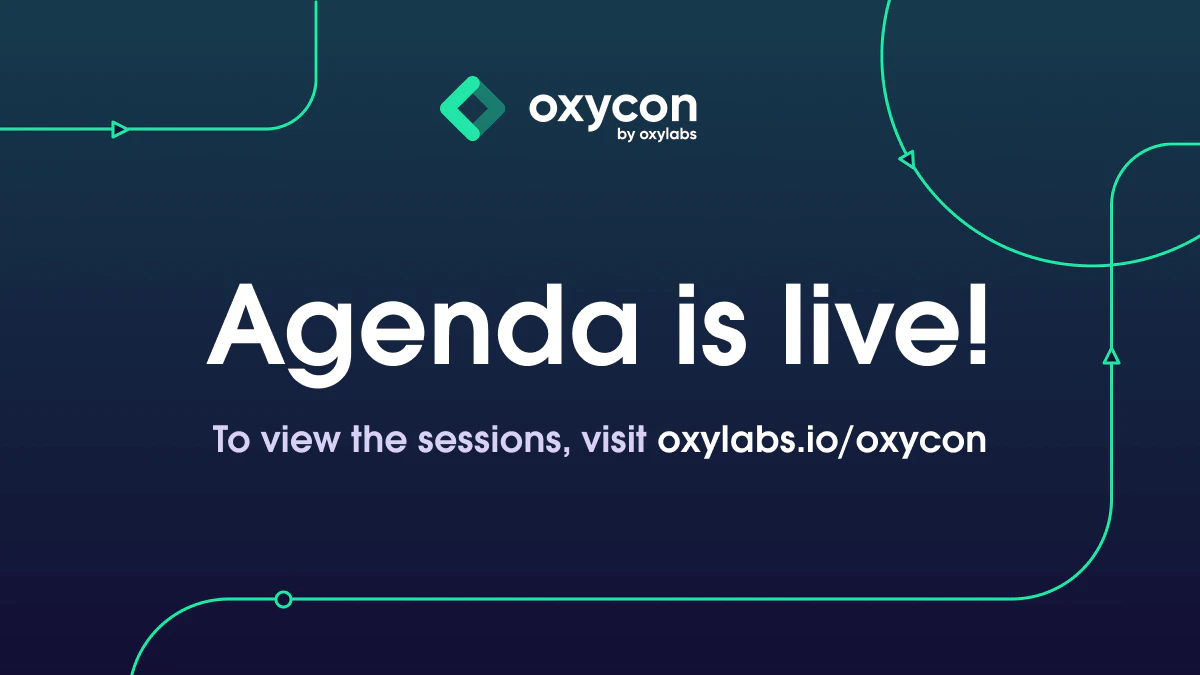 Adelina Kiskyte
2021-08-062 min read
OxyCon 2021, a virtual two-day web scraping conference, has already attracted a lot of attention from industry leaders and the web scraping community. It's time to reveal what engaging presentations and discussions are waiting for you on 25 and 26 August. 
Gabija Fatėnaitė, Product Marketing Manager at Oxylabs, and Vaidotas Šedys, Head of Risk Management, will guide you through the sessions, introduce the speakers, and help them answer your questions.
You can find a full schedule on the OxyCon page.
How to read the agenda and prepare for the sessions?
This year, OxyCon covers three main topics:
Data collection for business

What's next in web scraping?

Web scraping for developers
Each presentation falls under one of the three topics. You can see on the agenda what topic a session belongs to since each of the sessions has its own color. Keep in mind that session time is in British Summer Time (BST) zone, which is London time, or UTC+1.
Depending on your interests and background, you can join all the sessions or choose what topics interest you the most. Some of the sessions have recommendations for those who would like to follow along with the speaker. You'll find this information in the description field once you open individual session pages (click on more details in the top right corner).
How to interact with the speakers and other attendees?
Everyone who registers for the conference gets a registration confirmation email  with a link to access a private Linkedin group. This group is for networking, interacting with the speakers, and connecting with other industry professionals. We also announce all the conference-related news on this group. 
During the event, all the attendees will have a chance to ask questions and interact. Our moderators Gabija and Vaidotas will make sure that your questions reach the speakers. 
Most of the sessions will be live, but some are going to be pre-recorded. You can see what sessions are live above the description of each session in the separate event pages.
What's next?
Mark 25 and 26 August in your calendars, and get ready for two memorable days filled with great talks and engaging discussions that are well needed in the industry. If you have not registered for the free conference, you can do it here, and once you do, join the LinkedIn group to make the most of OxyCon 2021! 
About the author
Adelina Kiskyte
Former Senior Content Manager
Adelina Kiskyte is a former Senior Content Manager at Oxylabs. She constantly follows tech news and loves trying out new apps, even the most useless. When Adelina is not glued to her phone, she also enjoys reading self-motivation books and biographies of tech-inspired innovators. Who knows, maybe one day she will create a life-changing app of her own!
All information on Oxylabs Blog is provided on an "as is" basis and for informational purposes only. We make no representation and disclaim all liability with respect to your use of any information contained on Oxylabs Blog or any third-party websites that may be linked therein. Before engaging in scraping activities of any kind you should consult your legal advisors and carefully read the particular website's terms of service or receive a scraping license.
Forget about complex web scraping processes
Choose Oxylabs' advanced web intelligence collection solutions to gather real-time public data hassle-free.