Back to blog
Oxylabs Webinar: Web Scraping for Business - Why Every Company Should Do It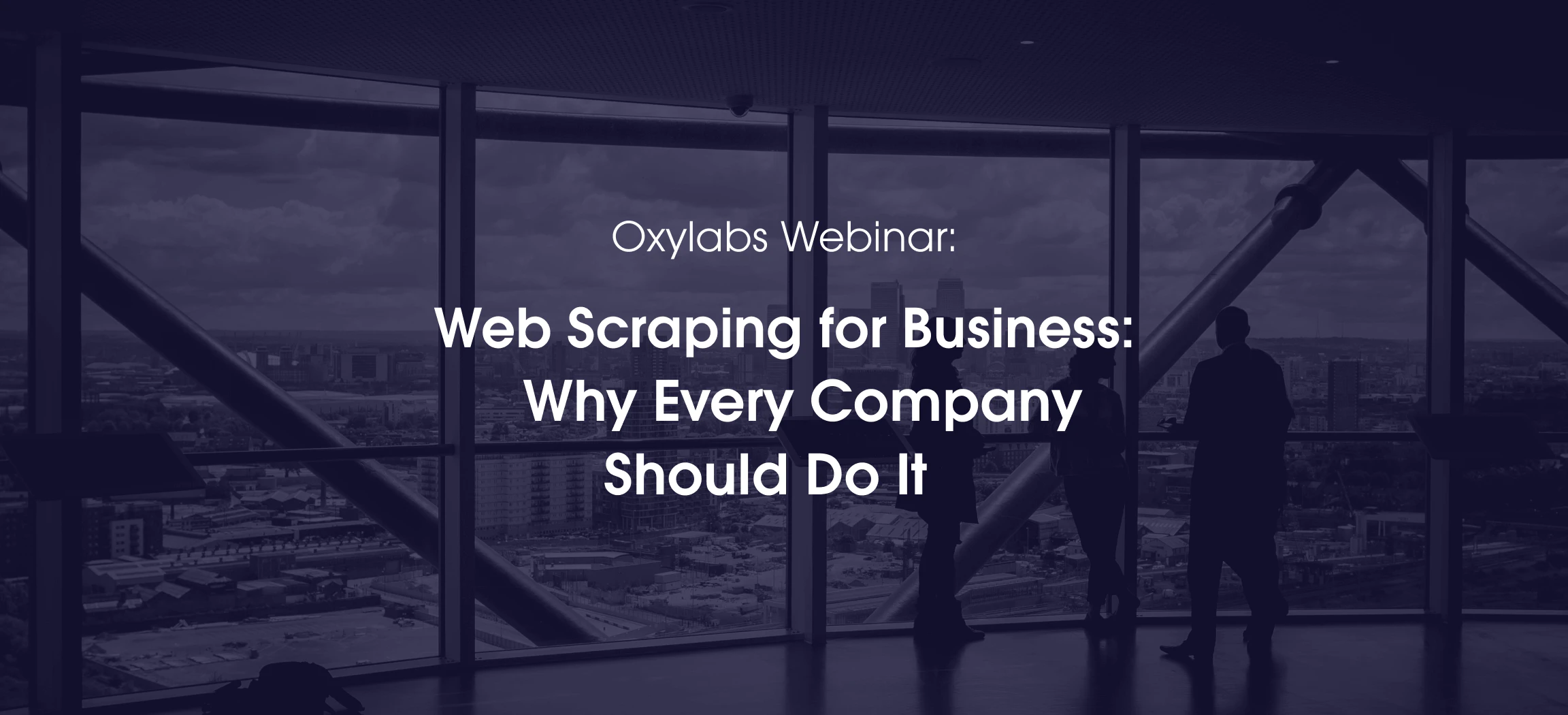 Vejune Tamuliunaite
2021-06-232 min read
Companies are looking for reliable ways to integrate the world's intelligence in order to build new strategies and make informed business decisions. Such data is the driving force behind e-commerce marketplaces, travel fare aggregators, or any company that seeks to rank on the first page of search engine results. 
While web scraping can look like a simple process, acquiring publicly available data from multiple sources brings several challenges that companies need to be aware of. 
Where to start if your company has no experience in web scraping? What tools do you need to gather public data from various sources for a reasonable price?
Here at Oxylabs, our mission is to share all the know-how that we collected over the years in the industry in order to create a future where big data is accessible to all businesses. For this reason, our team took the initiative to host a webinar discussing web scraping, proxies, and challenges that often lead public data collection. Also, participants will have a chance to watch a live demonstration of Oxylabs' public web scraping tool, Web Scraper API.
Watch the webinar here:
Our webinar host:
Nedas Višniauskas, Lead of Commercial Product Owners at Oxylabs
Meet the webinar speaker and one of our web scraping experts. Nedas' job involves working with various businesses and identifying how they can benefit best from our products. 
Why watch this webinar?
What you will learn:
How companies in different industries benefit from public data gathering 

Learn about different proxy types and web scraping challenges 

Get your questions answered by web scraping experts 

Watch a live demonstration of a powerful web scraper 
A word from our webinar host
This webinar is especially beneficial for companies that are starting to look for alternative data sources. During the event, we will give an overview of what web scraping is, the main types of proxies, and their role in the scraping process. Also, we will discuss the most common scraping issues, and participants will have the chance to get acquainted with our in-house solution.
Gathering public data online may be tricky – the complexity increases even further when more targets are monitored. If saving your in-house resources is important, and there is a need to scale the number of retrieved pages immediately, I would, without a doubt, bet on the Web Scraper API for a high data delivery success rate.
– Nedas Višniauskas, Lead of Commercial Product Owners at Oxylabs
How does Oxylabs help companies scale up their business? 
Large-scale scraping operations require extensive knowledge and resources. During our webinar, we will dig deeper into the most common challenges that occur when web scraping: from website layout changes to IP blocks and much more. 
For hassle-free web scraping, we have created an all-in-one tool that allows efficient data gathering operations and deals with the most common web scraping issues. 
Web Scraper API is a data scraper API that helps you collect real-time data from any public website. It is easy to use and does not require any additional resources or infrastructure from a client's side. Web Scraper API helps reduce costs since users pay only for successfully delivered results.
Best features: 
Offers high success rates by extracting data from most search engines and e-commerce websites without getting blocked

Highly customizable and supports high volumes of requests

Requires zero maintenance: handles website changes, IP blocks, and proxy management

Provides structured data in JSON format from leading e-commerce websites and search engines

Includes Proxy Rotator for block management
Conclusion
If you are interested in our events, watch other webinars where our and guest industry experts share their knowledge about important subjects in the web scraping world. 
Would you like to start using Oxylabs' Web Scraper API right away? Book a call with our sales team, or email us at hello@oxylabs.io.
About the author
Vejune Tamuliunaite
Former Product Content Manager
Vejune Tamuliunaite is a former Product Content Manager at Oxylabs with a passion for testing her limits. After years of working as a scriptwriter, she turned to the tech side and is fascinated by being at the core of creating the future. When not writing in-depth articles, Vejune enjoys spending time in nature and watching classic sci-fi movies. Also, she probably could tell the Star Wars script by heart.
All information on Oxylabs Blog is provided on an "as is" basis and for informational purposes only. We make no representation and disclaim all liability with respect to your use of any information contained on Oxylabs Blog or any third-party websites that may be linked therein. Before engaging in scraping activities of any kind you should consult your legal advisors and carefully read the particular website's terms of service or receive a scraping license.
Forget about complex web scraping processes
Choose Oxylabs' advanced web intelligence collection solutions to gather real-time public data hassle-free.