Back to blog
Oxylabs Webinar: AI and Web Scraping - The Unstoppable Duo for Web Data Collection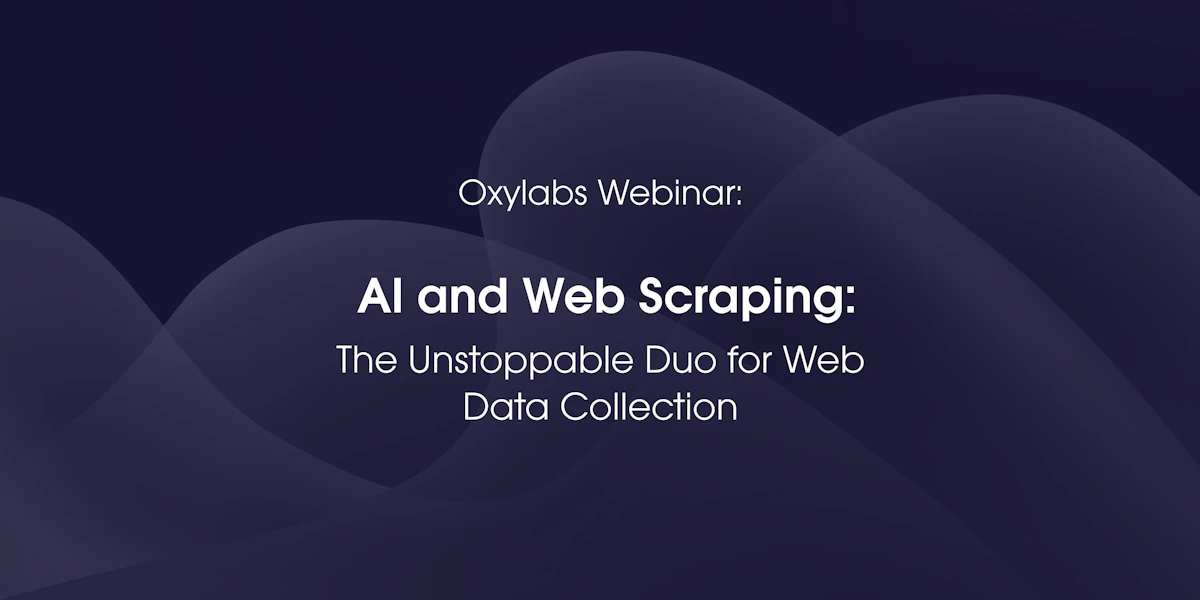 Danielius Radavicius
2023-05-312 min read
It'd be difficult to understate the importance of AI in various tech industries, and it's no different within public web data scraping. Web pages are fickle and dynamic, and their constant change is a norm since ensuring your page is more pleasing to your customers is essential. As such, gathering data from them may appear unbeatable unless you use AI tools for help.
We're hosting a webinar where Karolina Šarauskaitė, Python Developer & Squad Lead at Oxylabs, chose the specific use case of parsing e-commerce website data and how AI manages to streamline this process. She will also highlight how to automate adjusting to website changes and discuss the role and purpose of using Machine Learning (ML) in public data scraping.
Why watch this webinar?
In the webinar you will:
Learn how to streamline and uplift your scraping operations with the help of AI.

Find out how to effectively automate the process of adjusting to website layout changes with adaptive parsing.

Understand how ML-driven proxy management can help beat sophisticated anti-bot systems.

See a practical demonstration of how Oxylabs' AI-powered solution performs with different product page layouts.

Be able to ask the speaker questions.
To watch the webinar on demand, fill out the form below:
Free webinar
AI and Web Scraping: The Unstoppable Duo
Karolina Šarauskaitė, Python Developer & Squad Lead at Oxylabs
Meet the webinar host Karolina who knows all the web scraping pitfalls inside out. Karolina's everyday job involves inspecting anti-bot systems and implementing solutions to overcome public data gathering challenges to enhance the web scraping experience on a large scale while also leading a developers' squad.
Wrapping up
As increasingly advanced anti-bot solutions become commonplace, you must stay ahead of the curve. Otherwise, there are risks to your scraping projects, especially within e-commerce. AI, ML, and other solutions can help, so watch this webinar to learn how and why they tackle such issues with great efficiency!