Back to blog
Oxylabs Cooperates with CODE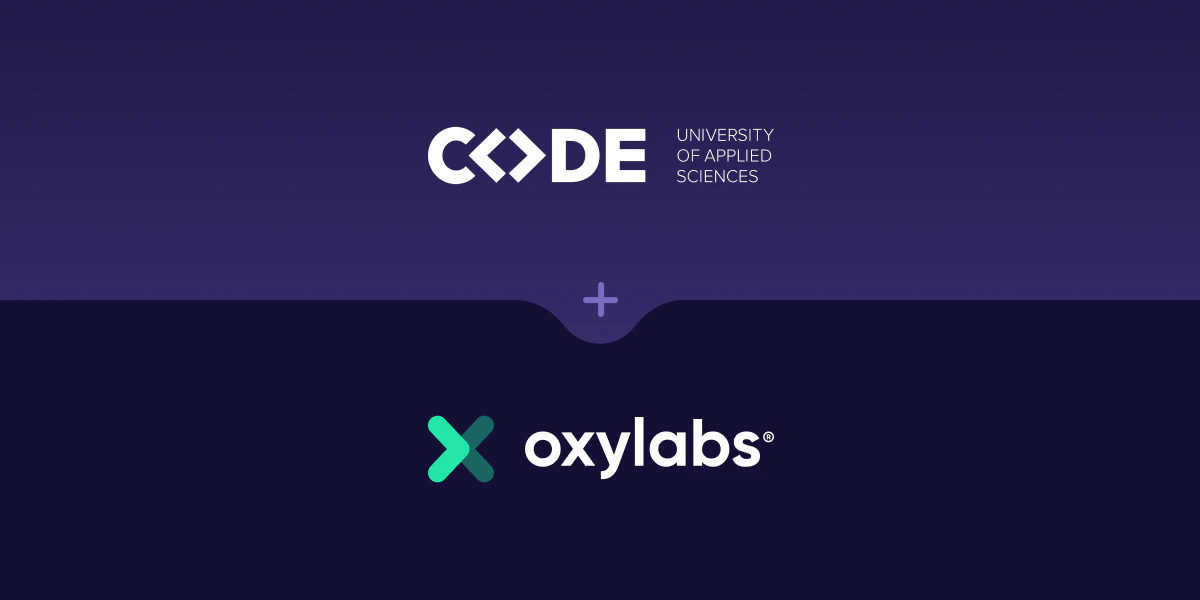 Gabija Birgile
2022-06-162 min read
Cooperation between academia and business brings significant value and mutually beneficial situations to both parties. A company can help tackle the educational process's challenges and provide experiential learning opportunities while academic partners greatly contribute with their wealth of knowledge, fresh ideas, and talent. Both working together can help solve real-world problems and create groundbreaking results.
We are delighted to announce that Oxylabs has partnered with CODE – a private state-accredited University of Applied Sciences. Both organizations work for the same goal - to create a better tomorrow through technology. 
Curiosity-driven education
CODE is a new kind of university for the Digital Pioneers of tomorrow that focuses on curiosity-driven education. From day one, its students get challenged with practical problems where they learn and apply the theoretical knowledge. CODE has three Bachelor's programs for young talents striving to become developers, designers, and digital entrepreneurs. In their innovative study programs, CODE offers challenge-based learning and seeks to positively impact society by solving real-life problems.
"We're more than glad to share our knowledge and expertise about data acquisition with the curious young talents from CODE. We truly believe that curiosity drives every business to constant growth and innovation, and it really is a muscle that needs continuous training. A learning culture is highly encouraged in our daily jobs at Oxylabs, hence we're excited to partner with a University that values a curiosity-driven learning approach."
– Julius Černiauskas, CEO at Oxylabs
Current and future projects
Oxylabs shared its resources with the Bachelor students of Software Engineering – a recorded lecture, "Oops, I scraped. Should I hire a lawyer?" presented by Denas Grybauskas, Head of Legal at Oxylabs. 
Students learned about primary regulations of the web scraping market and its essential elements, the up-to-date insights about the latest legal developments. Also, they found about the heat map that helps evaluate risk and found out about ethical web scraping and the values of Oxylabs. 
After the presentation, an online Q&A session followed, where students engaged in discussion with questions related to their projects about legal ramifications surrounding web scraping. 
"The session with Denas from Oxylabs was engaging and enlightening for students. Students thought about the legal side of life online, something they are rarely confronted with, and were able to both clear up some misconceptions of the law and have their eyes opened to a whole new set of questions."
– Adam Roe, Software Engineering Program Coordinator at CODE University
The Berlin-based university puts great value on the practical learning experience. Oxylabs will be collaborating with CODE students by providing premium data gathering solutions for future academic projects, as well as share expertise on requested topics and hold workshops where students could improve professional skills, get firsthand experience, and dive deeper into the world of web scraping and data collection processes.​
Partner with Oxylabs
Changing the digital world for the better and giving back to the community are at the heart of Oxylabs values. Oxylabs is always on the lookout to provide pro bono support to educational and research initiatives, as well as organizations working to make a positive impact in society with our expertise and public web data gathering solutions.
 If you're interested in partnering with us, drop us a line via partnerships@oxylabs.io or fill in the partnership contact form, and we will get back to you in the following days. 
About the author
Gabija Birgile is a PR Manager at Oxylabs. After working in a PR agency and juggling various projects for quite some time, she wanted to try a role in the tech industry. Making a positive impact with her work was always on top of her mind, so managing pro bono partnerships now definitely does the job. If you have a project in mind, drop her a message at partnerships@oxylabs.io.
All information on Oxylabs Blog is provided on an "as is" basis and for informational purposes only. We make no representation and disclaim all liability with respect to your use of any information contained on Oxylabs Blog or any third-party websites that may be linked therein. Before engaging in scraping activities of any kind you should consult your legal advisors and carefully read the particular website's terms of service or receive a scraping license.
Forget about complex web scraping processes
Choose Oxylabs' advanced web intelligence collection solutions to gather real-time public data hassle-free.