Back to blog
Kameleo Proxy Integration with Oxylabs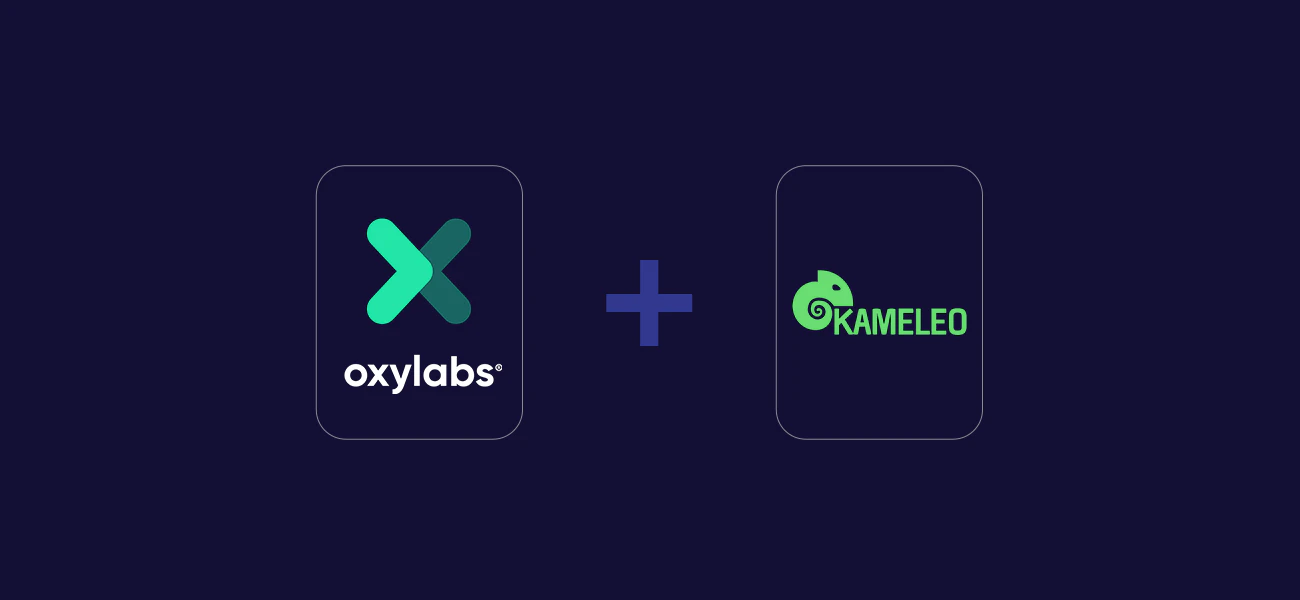 Iveta Vistorskyte
2020-09-182 min read
Did you know that your browser is continuously passing specific data to the website's servers when surfing the internet? In other words, every browser leaves its fingerprints. This information helps websites to identify unique users, track online activity, and detect non-human traffic.
What is browser fingerprinting?
Browser fingerprinting is a tracking method capable of identifying users based on their specific browser or device settings. Usually, websites use browser fingerprinting as protection against malicious bots. Furthermore, collected information helps websites to obtain real-time marketing analytics, and much more.
Browser fingerprinting is already impacting web scraping, and it is likely that in the future it will make web scraping tasks more challenging. If you are interested in browser fingerprinting and how it affects web scraping, check out our other blog post.
Solution to beat browser fingerprinting
Kameleo is a browser management application for Windows and Android. Kameleo app helps to beat the popular browser fingerprinting techniques and ensures 100% privacy on the internet. If you want to find out more Kameleo benefits, check out their official website by clicking here.
Proxy integration with Kameleo
Residential proxy integration with Kameleo
It's important to notice that the Kameleo app does not provide proxies by itself. We prepared a step-by-step guide on how to use both Residential and Datacenter Proxies in Kameleo for Windows.
How to integrate proxies in Kameleo?
1. Download and install the Kameleo app from its official website.
2. Open the app.
3. Click the button Application Settings.
4. In the following window, enter the required proxy information under Global proxy settings. For Upstream Proxy Type, choose Http. If you want to use Residential Proxies, fill in Proxy IP or hostname with pr.oxylabs.io. Under Proxy Port, enter 7777. Finally, enter your login credentials under Username and Password. Close the window to save settings.
You can also use country-specific entries. For example, if you put us-pr.oxylabs.io under Proxy IP or hostname and 10000 under Proxy Port, you will receive a US exit node.
For a complete list of country-specific entry nodes or if you need a sticky session, please refer to our documentation.
For those who want to use Datacenter Proxies , the process is the same except for a few minor changes in the information that has to be filled in. Choose Http for Upstream Proxy Type. Next, fill in Proxy IP or hostname with your IP. Under Proxy Port, enter 60000. Finally, enter your login credentials under Username and Password. Close the window to save settings.
5. That's it. You're ready to go! Either create a New Profile or click Quick Profile to launch the browser, which now has the proxy enabled.
Conclusion
Configuring and managing browser fingerprinting is crucial for a smooth web scraping process. If you have issues with browser fingerprinting, it's worth trying the Kameleo application. As mentioned before, Kameleo does not provide proxies, so you need to make sure that you're using the best residential or datacenter proxies for an excellent web scraping experience.
If you're interested in how to integrate Kameleo with our proxies or have any questions about residential proxies, simply contact our sales team!
About the author
Iveta Vistorskyte
Lead Content Manager
Iveta Vistorskyte is a Lead Content Manager at Oxylabs. Growing up as a writer and a challenge seeker, she decided to welcome herself to the tech-side, and instantly became interested in this field. When she is not at work, you'll probably find her just chillin' while listening to her favorite music or playing board games with friends.
All information on Oxylabs Blog is provided on an "as is" basis and for informational purposes only. We make no representation and disclaim all liability with respect to your use of any information contained on Oxylabs Blog or any third-party websites that may be linked therein. Before engaging in scraping activities of any kind you should consult your legal advisors and carefully read the particular website's terms of service or receive a scraping license.
Residential Proxies starting at 15$
You can smoothly integrate Oxylabs Residential Proxies with the Kameleo application.