Back to blog
2 Weeks Until OxyCon So Hurry Up and Register!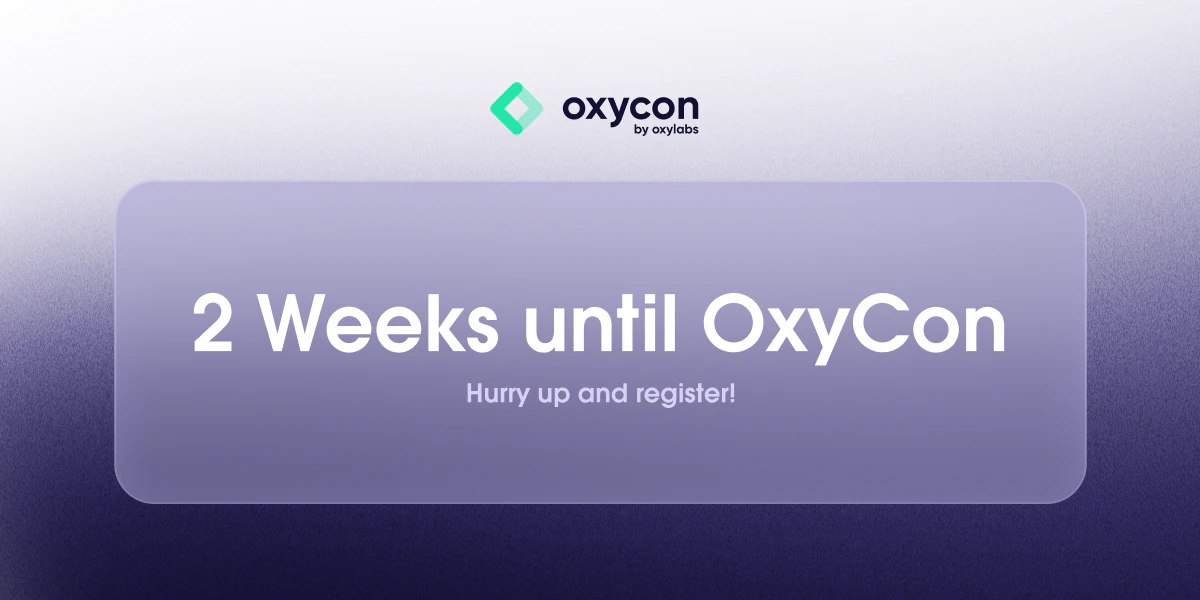 Danielius Radavicius
2022-08-242 min read
If you're curious to learn more about the current and future developments of web scraping, then this is a conference you don't want to miss. The three focus topics, led by people whose experience in the field ranges in decades, will be:
The world of public data collection for businesses

Overcoming scraping challenges as a developer

Scraping infrastructure management and solutions
Due to the diversity of the above-mentioned topics, you'll be able to cover multiple crucial aspects of data gathering at once.
What to expect from the event?
Discussions will start with concrete cases of how public data gathering has revolutionized a plethora of industries. In the first section, you can expect topics such as scraping for governments as presented by Oxylabs' Linux systems engineer, Ovidijus Balkauskas and lawyers discussing scrapping, hosted by the head of legal at Oxylabs, Denas Grybauskas.
Later the talks will shift towards machine learning for text using web data, how scraping and creative algorithms can lead to exciting new ideas and many more. For the myriad of other OxyCon topics, check the complete list here.
Notably, during the conference, we highly encourage attendee participation, and there will be numerous opportunities to ask our 15 speakers your questions. Furthermore, each registered attendee gets an invitation to a dedicated Slack workspace where they can easily network with other attendees and speakers.
Sign up now!
Note that there isn't much time left to register for OxyCon 2022, an industry-leading data-gathering conference. In just two weeks, we'll start the two-day virtual event!
When joining, you'll be able to pick, choose, and participate in any number of sessions that appear interesting. Thus, if anything you've read here piqued your curiosity, don't miss out and register now!
About the author
Danielius Radavicius
Copywriter
Danielius Radavičius is a Copywriter at Oxylabs. Having grown up in films, music, and books and having a keen interest in the defense industry, he decided to move his career toward tech-related subjects and quickly became interested in all things technology. In his free time, you'll probably find Danielius watching films, listening to music, and planning world domination.
All information on Oxylabs Blog is provided on an "as is" basis and for informational purposes only. We make no representation and disclaim all liability with respect to your use of any information contained on Oxylabs Blog or any third-party websites that may be linked therein. Before engaging in scraping activities of any kind you should consult your legal advisors and carefully read the particular website's terms of service or receive a scraping license.
Forget about complex web scraping processes
Choose Oxylabs' advanced web intelligence collection solutions to gather real-time public data hassle-free.