Back to blog
"Project 4β" Partners With the University of Edinburgh Business School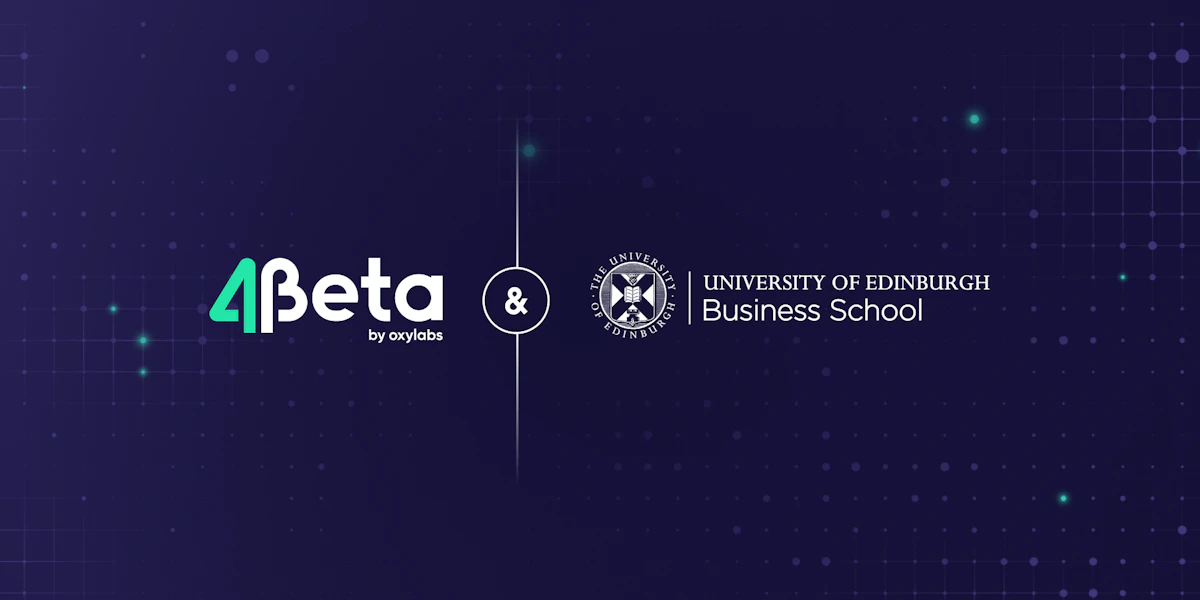 Gabija Birgile
2023-10-262 min read
We are delighted to share that Oxylabs' pro bono initiative "Project 4β" partnered with the University of Edinburgh Business School and PhD Chair in Business Analytics and Programme Director of MSc in Business Analytics Professor Jamal Ouenniche. MSc in Business Analytics from the University of Edinburgh Business School ranks 19th in the 2023 QS Business Analytics Rankings.
Lecture for future experts
Companies use big data as a significant source of information to gain insights and develop strategies to gain competitive advantage and improve corporate performance. As one of the options to collect that data, companies use web intelligence solutions. To help University of Edinburgh MSc Business Analytics students sharpen their analytical skills and better understand the subject of data collection, Oxylabs Analytics Team Lead Rytis Ulys delivered a guest lecture, "Using Public Web Data to Speed Up Digital Transformation in Retail, Supply Chain and Finance." 
Before entering the web data collection industry, one might have some reservations about its size or legitimacy. However, the use of web scraping by large companies is a well-established practice. The guest lecture, delivered by R. Ulys, began with a brief introduction to web scraping technology and the basic infrastructure behind it. 
Later on, the presentation continued with the main use cases of web intelligence in retail, supply chain, and finance, as well as the "insider's" perspective of the Oxylabs Analytics Team Lead on the current industry trends and how web scraping is used to monitor competitors and make better business decisions. Rytis also explained the ethical and legal implications that must be considered while scraping public web data and shared an overview of different tools and techniques used for web scraping. The lecture ended with a Q&A session. 
Very insightful talk on web scraping and its application delivered by Rytis from Oxylabs – highly appreciated and value-adding. In fact, the best talks don't just inform; they ignite curiosity, and this presentation did exactly that.
Jamal Ouenniche, Professor at the University of Edinburgh Business School
Join "Project 4beta"
Oxylabs understands the importance of bridging the gap between theory and practice in education. Our experts organize workshops and guest lectures, bringing real-world insights about the industry, its trends, challenges, and the specifics of data collection solutions, enriching students' learning experiences and helping them prepare for successful careers. 
We invite academia, researchers, and organizations working towards public good to join "Project 4beta" and get free access to Oxylabs' cutting-edge web scraping technology and expertise. Please fill out the form here or drop us a message at 4beta@oxylabs.io
About the author
Gabija Birgile is a PR Manager at Oxylabs. After working in a PR agency and juggling various projects for quite some time, she wanted to try a role in the tech industry. Making a positive impact with her work was always on top of her mind, so managing pro bono partnerships now definitely does the job. If you have a project in mind, drop her a message at partnerships@oxylabs.io.
All information on Oxylabs Blog is provided on an "as is" basis and for informational purposes only. We make no representation and disclaim all liability with respect to your use of any information contained on Oxylabs Blog or any third-party websites that may be linked therein. Before engaging in scraping activities of any kind you should consult your legal advisors and carefully read the particular website's terms of service or receive a scraping license.
Forget about complex web scraping processes
Choose Oxylabs' advanced web intelligence collection solutions to gather real-time public data hassle-free.