Back to blog
Oxylabs Signs Exclusive Contract with Honeygain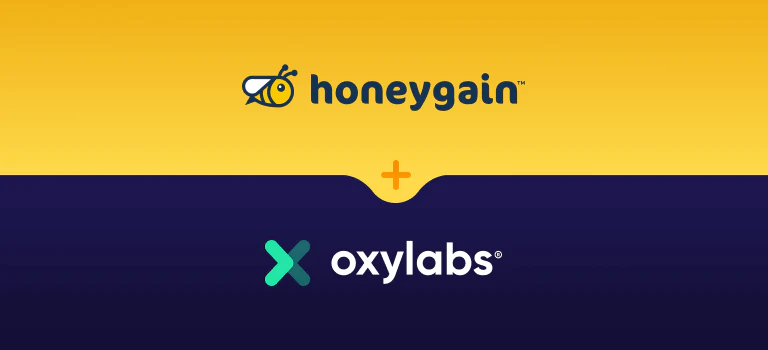 Jurgita Tuzikaite
2021-03-182 min read
March, 2021 marks a special occasion for the long lasting partnership between Oxylabs and Honeygain, a crowdsourced web intelligence network. We are proud to announce that together we have entered into an exclusive wholesale contract. 

For Oxylabs, strengthening the ties with Honeygain was a natural continuation of a long line of proactive actions geared towards creating a fair, ethical, and transparent web data gathering community.
Why Honeygain?
To this day, Honeygain's platform is one of the few solutions in the market meeting Tier A+ criteria, which encompasses absolute transparency and financial rewards for their network participants. The Tier A+ category is hard to come by among residential proxy providers, because ethical onboarding and management of residential proxy network participants requires constant effort. Namely, there is a need to familiarize end-users with proxy service practices, which requires the business to inhabit the role of an educator. 
Why now?
"Upholding the highest standards of ethics in the residential proxy acquisition procedures is our top priority" – says Julius Cerniauskas, CEO at Oxylabs. "We are extremely proud to strengthen Oxylabs' long-lasting partnership with Honeygain. 
Partly, our move to secure the exclusivity contract was encouraged by the disheartening events in the industry. We want everyone to understand that the unethical actions of the few do not reflect the attitudes, values and behaviors of everyone. Oxylabs' relationship with the public, our valued partners, and residential proxy network participants is built on trust, and we will continue to prove it with bold action, not just words."
Oxylabs Residential Proxy sourcing model
All Oxylabs' Residential Proxies come from one of these sources:

1. Physical user devices
Consenting and fully aware individuals become a part of a residential proxy network in return for a financial reward or some other benefit. When they choose to participate in our suppliers' pools, they consent that a part of their internet traffic and a small amount of the device's hardware resources will be used for a variety of business cases.

2. Internet Service Providers (ISP)
It is considered to be a less ethically-sensitive alternative to residential proxy acquisition because ISP residential proxies do not require the end-user participation. These proxies are created when the internet traffic is routed through the ISP network.

All non-ISP residential proxies are acquired according to the same pattern:
Since Honeygain was established, it has distinguished itself as the trailblazer of the industry. The company promotes user-centric values that have transformed the old proxy acquisition models. Honeygain was among the first in the market to set up an end-user reward system, which was a strong indication that the company shares Oxylabs' values to promote fairness and transparency in the business environment.
Conclusion
"We are very proud to have Honeygain as the main source of residential proxies, and look forward to a successful continuation of our partnership in the future" – reaffirms Julius. "Together we share a common vision to create an ethical and balanced proxy service ecosystem, where all parties are treated fairly and are equally rewarded.

Also, we hope that our example will inspire others to pay attention to the legitimacy and transparency of residential proxy sourcing. It is our firm belief that only when ethics are taken seriously by everyone, the industry can fully restore the public trust in web data gathering practices."
About the author
Jurgita Tuzikaite
Former Communications Specialist
Jurgita Tuzikaite is a former Communications Specialist at Oxylabs. Her inspiration for original ideas comes from observing nature and exploring unknown paths, which often lead to unexpected adventures. Jurgita's background in humanitarian work has formed her work ethic and moral compass, which resulted in placing positive intention behind everything she does. She values wisdom and places importance on bringing value to other people through knowledge, creativity, and compassion.
All information on Oxylabs Blog is provided on an "as is" basis and for informational purposes only. We make no representation and disclaim all liability with respect to your use of any information contained on Oxylabs Blog or any third-party websites that may be linked therein. Before engaging in scraping activities of any kind you should consult your legal advisors and carefully read the particular website's terms of service or receive a scraping license.
100M+ ethically sourced Residential Proxy pool
Access the largest ethically sourced proxy pool to enhance your web scraping operations.