Back to blog
Oxylabs Wins GovTech Lab Challenge With AI-Driven Solution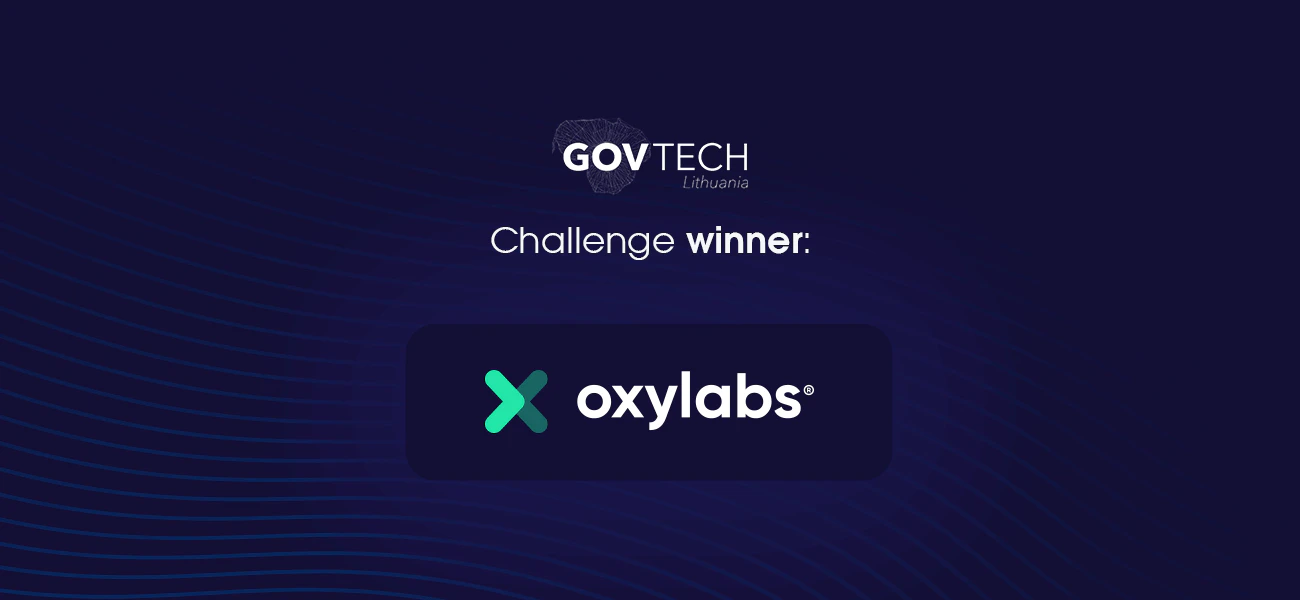 Jurgita Tuzikaite
2020-10-062 min read
Supporting the initiatives of social good has long been a part of Oxylabs identity as an ethical web data service provider. Our expertise in the field and unmatched web scraping tools has placed us in a unique position to spearhead the data-driven social responsibility efforts. 

That is why we were quick to enter and eventually win the GovTech Lab challenge inviting us to find a solution to streamline the detection and removal of prohibited online content.   

The background

The challenge was initially proposed by the Communications Regulatory Authority of the Republic of Lithuania (RRT) as a response to the rising numbers of illegal content on the internet.

RRT has been combating this issue using the Internet Hotline, where anonymous users report prohibited content online to be later analyzed and handed over to the appropriate authorities for removal. However, the growing scope of illegal content required a more effective method to combat this issue. 
The challenge

The innovation accelerator GovTech Lab has launched the challenge to select the team with the best proposal on how to automate the identification of illegal online content.  The offer had to fulfill these requirements:

Operate in the Lithuanian IP address range;​

Be able to identify websites operating in Lithuania;​

Be able to recognize prohibited visual material;​

Send a link (URL) of the detected prohibited visual material to the RRT hotline.
Vaidotas Ramonas, Director of Digital Services Department of the Communications Regulatory Authority (RRT) said:
"We have selected the Oxylabs team since we believe that their proposed AI-based solution could be highly efficient in identifying harmful online content, helping us to create a friendlier online environment for everyone, especially children."

The proposal
To find the best solution, Oxylabs has gathered a team of in-house data scientists, software developers, and engineers. Ovidijus Balkauskas, Oxylabs Tech Team Lead for the GovTech Challenge, said:

"The solution for the challenge resulted from our gathered know-how in AI and ML-driven web data collection and extensive research. We have looked into the functionalities of existing tools and spent endless hours consulting with experts in the fields of technology, social issues, and law to better understand the challenges and resources needed for further the development of the tool." 
Next steps
Oxylabs will be immersed in the intense 10-week accelerator program filled with training sessions, where, together with the RRT consultants, the winning idea will be turned into reality. After reaching the final stage of the project, the created prototype will be adapted to serve the needs of various institutions globally.

"Oxylabs is always on the lookout for new partnerships to make big data serve big goals. As the market leaders and role models, we see it as our responsibility to contribute to the important work of NGOs, academia, and researchers, so get in touch to join forces with us" – invites Julius Cerniauskas, CEO at Oxylabs
About the author
Jurgita Tuzikaite
Former Communications Specialist
Jurgita Tuzikaite is a former Communications Specialist at Oxylabs. Her inspiration for original ideas comes from observing nature and exploring unknown paths, which often lead to unexpected adventures. Jurgita's background in humanitarian work has formed her work ethic and moral compass, which resulted in placing positive intention behind everything she does. She values wisdom and places importance on bringing value to other people through knowledge, creativity, and compassion.
All information on Oxylabs Blog is provided on an "as is" basis and for informational purposes only. We make no representation and disclaim all liability with respect to your use of any information contained on Oxylabs Blog or any third-party websites that may be linked therein. Before engaging in scraping activities of any kind you should consult your legal advisors and carefully read the particular website's terms of service or receive a scraping license.
Forget about complex web scraping processes
Choose Oxylabs' advanced web intelligence collection solutions to gather real-time public data hassle-free.