Back to blog
Scraping Made Easy: Unlock the Full Potential of Scraper APIs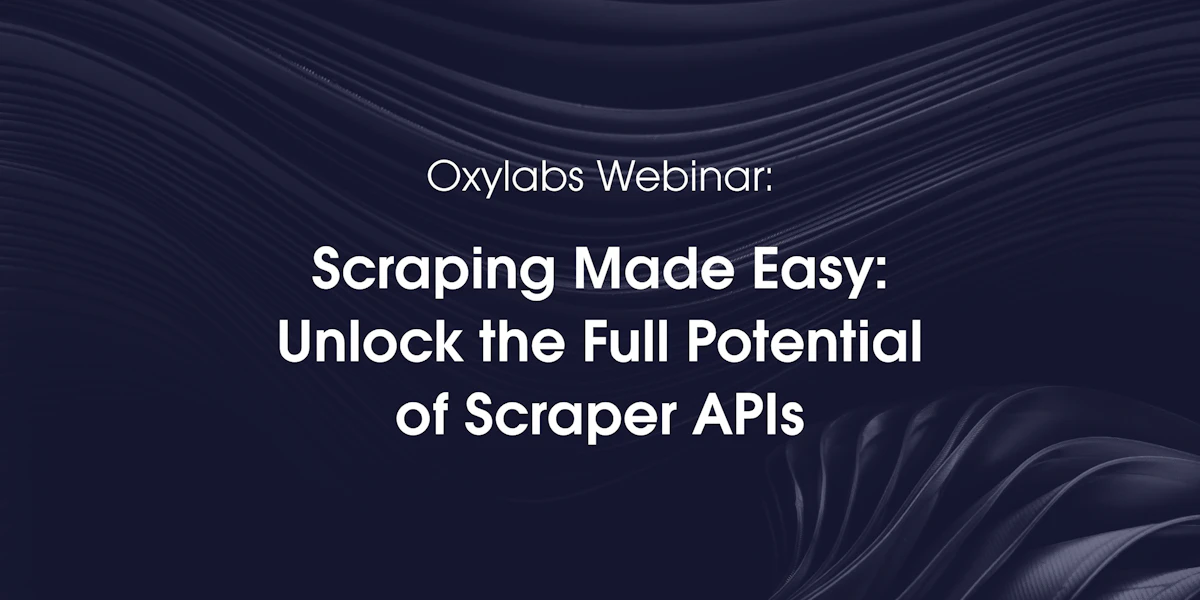 Enrika Pavlovskytė
2023-09-272 min read
The internet is packed with scraping tutorials, making web scraping accessible for personal projects or simple business operations. However, truly harnessing web data requires an elevated approach. 
From advanced proxy management and browser fingerprinting to data parsing — every step requires technical finesse and ongoing maintenance. So, when resources are constrained, businesses turn to commercial solutions that expertly handle and speed up the most challenging aspects of web scraping.
On October 18, 2023, Oxylabs hosted a webinar where Deividas Januška, Python Developer at Oxylabs, talked about Scraper APIs — an automated data gathering solution built on Oxylabs' reliable infrastructure. Scraper APIs simplify public web data extraction and come with customizable features to meet your specific project requirements.
If you missed the webinar on the day, you can still access it on demand by filling out the form below:
Scraping Made Easy: Unlock the Full Potential of Scraper APIs
Why watch this webinar?
In this webinar, you'll:
Learn how to optimize your operations with Scraper APIs' unique features;

Gain a comprehensive understanding of such Scraper APIs integration methods as Push-Pull, Realtime, and Proxy Endpoint;

Discover how to customize your projects with Web Crawler, Scheduler, Custom Parser, and more;

See a hands-on demonstration of hassle-free public data extraction from Amazon and eBay with our Scraper API.
Meet the host
Meet our webinar host Deividas Januška, a Python Developer at Oxylabs. As a passionate scraping enthusiast, Deividas brings a wealth of knowledge about the challenges in web data gathering. After all, his daily work revolves around building, maintaining, and enhancing Oxylabs' large-scale scraping infrastructure. 
Wrapping up
When time and resources are in short supply, it's essential to work smarter, not harder. So, watch Deividas' webinar to learn more about Scraper APIs and how they can uplift your web scraping operations.
About the author
Enrika Pavlovskytė
Copywriter
Enrika Pavlovskytė is a Copywriter at Oxylabs. With a background in digital heritage research, she became increasingly fascinated with innovative technologies and started transitioning into the tech world. On her days off, you might find her camping in the wilderness and, perhaps, trying to befriend a fox! Even so, she would never pass up a chance to binge-watch old horror movies on the couch.
All information on Oxylabs Blog is provided on an "as is" basis and for informational purposes only. We make no representation and disclaim all liability with respect to your use of any information contained on Oxylabs Blog or any third-party websites that may be linked therein. Before engaging in scraping activities of any kind you should consult your legal advisors and carefully read the particular website's terms of service or receive a scraping license.
Forget about complex web scraping processes
Choose Oxylabs' advanced web intelligence collection solutions to gather real-time public data hassle-free.