Back to blog
Oxylabs Webinar: Large-Scale Web Scraping - Never Get Blocked Again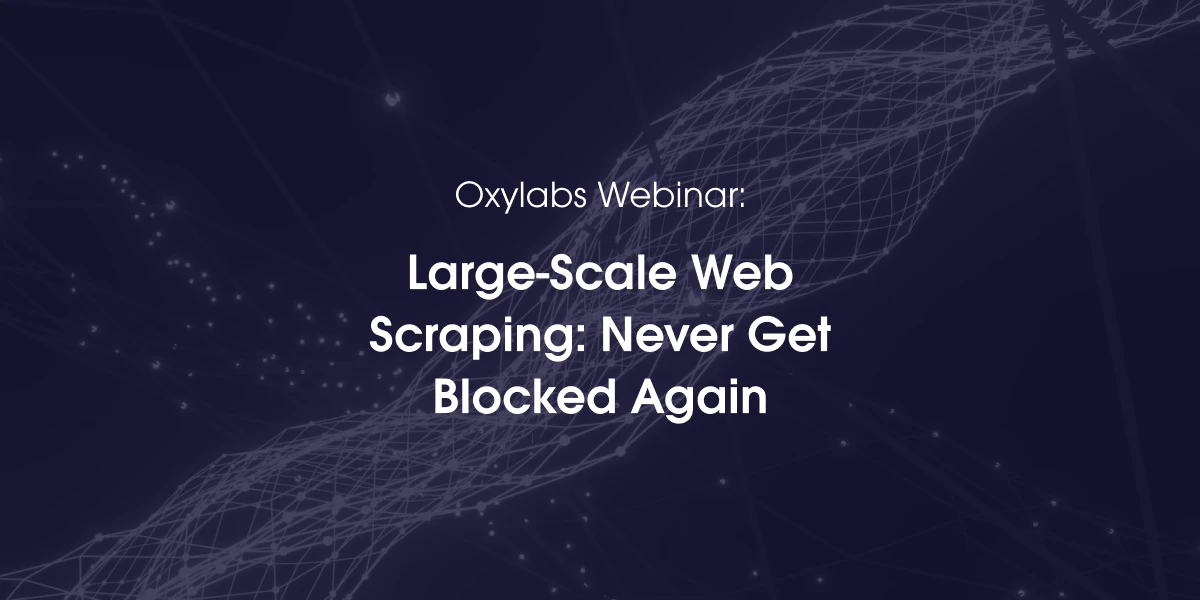 Maryia Stsiopkina
2022-12-221 min read
Harvesting public web data at scale is sure to benefit your business - but only if you do it in a smart way. Otherwise, it may cost you time, effort, and money. As the anti-bot systems of the target websites are getting more advanced, you also need to develop more sophisticated scraping methods. Alternatively, you can take advantage of a ready-made solution, like the Web Unblocker.  
We've hosted a webinar to share the techniques to unblock public web content from the most complex targets. Additionally, we demonstrated our new advanced proxy solution – Web Unblocker. You can watch the webinar on demand by filling out the form below:
Free webinar
Large-Scale Web Scraping - Never Get Blocked Again
Karolina Šarauskaitė, Python Developer at Oxylabs
Meet the webinar host Karolina who knows all the web scraping pitfalls inside out. Karolina's everyday job involves inspecting anti-bot systems and implementing solutions to overcome public data gathering challenges and enhance the web scraping experience on a large scale. 
Why watch this webinar? 
In this webinar, you'll learn:
The most common public data collection struggles;

The methods you can apply on your own to both define a strategy to gather publicly available data and to avoid getting blocked when retrieving content on a large scale;

We've also presented Web Unblocker – our new advanced solution which allows you to scrape public content without getting blocked even by high-level anti-bot systems.
A word from the host:
We came up with this webinar idea having our clients' most pressing scraping problems in mind. It's getting harder to handle the constantly evolving anti-scraping mechanisms, and this is when you need a really smart solution. I believe our new innovative product Web Unblocker incorporates all the best features necessary for successful public data retrieval from the most tricky targets. During the webinar, I'll demonstrate how Web Unblocker works, so don't miss out and register!
Karolina Šarauskaitė, Python Developer at Oxylabs
Wrapping up 
If you're interested in learning more about the most advanced scraping methods and our new advanced proxy solution, Large-Scale Web Scraping - Never Get Blocked Again is the perfect place to start!
About the author
Maryia Stsiopkina
Senior Content Manager
Maryia Stsiopkina is a Senior Content Manager at Oxylabs. As her passion for writing was developing, she was writing either creepy detective stories or fairy tales at different points in time. Eventually, she found herself in the tech wonderland with numerous hidden corners to explore. At leisure, she does birdwatching with binoculars (some people mistake it for stalking), makes flower jewelry, and eats pickles.
All information on Oxylabs Blog is provided on an "as is" basis and for informational purposes only. We make no representation and disclaim all liability with respect to your use of any information contained on Oxylabs Blog or any third-party websites that may be linked therein. Before engaging in scraping activities of any kind you should consult your legal advisors and carefully read the particular website's terms of service or receive a scraping license.
Web Unblocker for the most resistant targets
Scrape public data even from the most complex targets without getting blocked.