Back to blog
Oxylabs Proxy Integration With Ghost Browser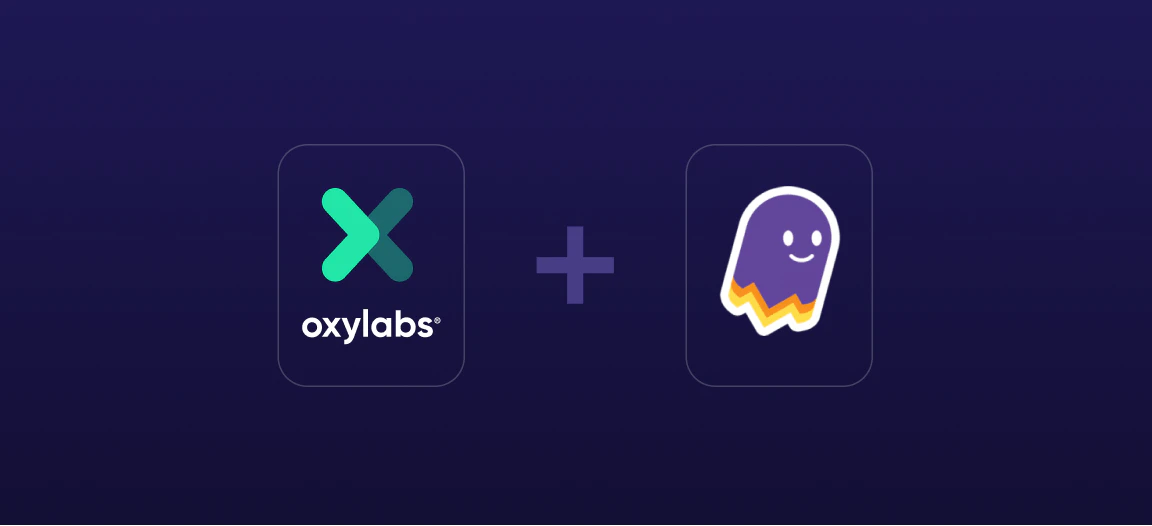 Monika Maslauskaite
2021-10-22
Usually, the most popular internet browsers perfectly serve our day-to-day browsing needs. Yet, suppose we are to build a web or employ a web browser for more advanced tasks. In that case, there's a risk of facing some limitations, such as a single connection at a time due to cookies or the inability to manage several accounts on the same site concurrently. 
Custom browsers like Ghost Browser empower users to leave the above restrictions behind. Of course, adding proxies on top and thus performing scraping tasks with a different IP address enhances the browsing experience even more. In this guide, we'll show you how to integrate Oxylabs Residential and Datacenter Proxies with Ghost Browser.
What is a Ghost Browser?
Ghost Browser is an open-source browser built on Chromium. It enables multi-session browsing identities and workspaces for users to get the most out of browsing while being malware and tracking-free. One of the features Ghost Browser carries so-called 'cookie jars' that are isolated from one another, in this way allowing users to log in to multiple accounts within one website at once. 
Setting up proxies in Ghost Browser
1. Open Ghost Browser.
2. Click on 'Browser Settings' at the bottom-left of the browser.
3. Once opened, scroll down and press 'Advanced'. 
4. Find the 'System' section in the bottom, click on 'Open your computer's proxy settings'. 
5. Choose 'LAN settings' in the 'Connections' tab of the 'Internet properties' window. 
6. Under 'Proxy', select 'Use a proxy server for your LAN'. Insert the Oxylabs proxy URL and port in the 'Address' and 'Port' fields. 
6.1. For Datacenter Proxies, the process is the same, except, instead, the port in the example would be 60000, and the address would change to something along the lines of 1.2.3.4 or if you have a Proxy Rotator, clientname.oxylabs.io.
7. Open a new tab in the Ghost Browser. Enter your username and password. Choose the location at the end of your username. 
That's it! You've successfully integrated our Residential or Datacenter Proxies with Ghost Browser. Don't forget to check your IP address before surfing the web. 
What is the Ghost Proxy Control extension?
Ghost Proxy Control is a paid proxy management extension, which allows adding different proxies to each tab, workspace, or identity in Ghost Browser. This tool comes with the premium Ghost Browser plan and aids in website testing or signing in to accounts as you were located in different places. 
Ghost Proxy Control extension allows you to add bulk proxies purchased from a proxy provider like Oxylabs. In addition, the tool enables you to edit proxies or remove them at your convenience.
Wrapping up
Ghost Browser, an open-source, malware-free browser connected to Oxylabs Residential or Datacenter Proxies, can make your advanced browsing tasks easier. 
If you have any questions about Oxylabs proxy integration, don't hesitate to get in touch with our team at your convenience.
About the author
Monika Maslauskaite
Former Content Manager
Monika Maslauskaite is a former Content Manager at Oxylabs. A combination of tech-world and content creation is the thing she is super passionate about in her professional path. While free of work, you'll find her watching mystery, psychological (basically, all kinds of mind-blowing) movies, dancing, or just making up choreographies in her head.
All information on Oxylabs Blog is provided on an "as is" basis and for informational purposes only. We make no representation and disclaim all liability with respect to your use of any information contained on Oxylabs Blog or any third-party websites that may be linked therein. Before engaging in scraping activities of any kind you should consult your legal advisors and carefully read the particular website's terms of service or receive a scraping license.