Back to blog
OxyCon 2021: Web Scraping Conference You Don't Want To Miss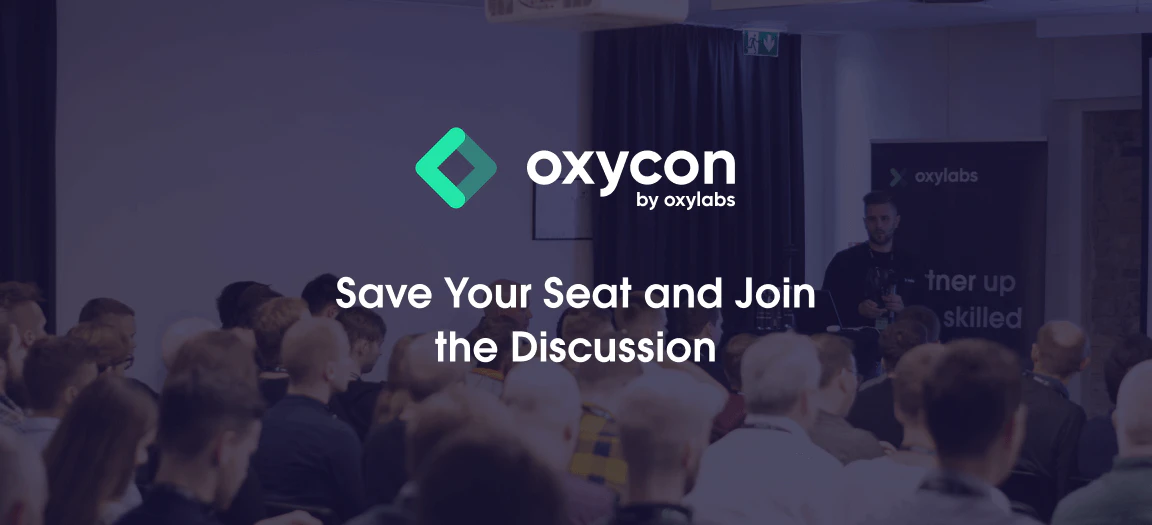 Iveta Vistorskyte
2021-06-022 min read
It's not a secret that web scraping is becoming increasingly popular among various businesses around the world. It's also not a secret that collecting public data, especially on a large scale, brings multiple challenges. This is the reason why Oxylabs is hosting a second web scraping conference you don't want to miss!
Save your seat at OxyCon 2021 on August 25–26, and join the discussion on the most relevant topics in the world of web scraping! This year, OxyCon 2021 will take place entirely online. The two-day virtual event will bring global business leaders and Oxylabs' experienced team together for in-depth, engaging talks and workshops.
"Data helps businesses make better, more informed decisions that eventually lead to great achievements. We believe that every business, big or small, needs to have access to valuable public data. OxyCon 2021 is an opportunity for everyone to learn from the top companies that utilize web scraping to its fullest potential and understand the fast-growing data gathering industry."
– Julius Černiauskas, CEO at Oxylabs
What is OxyCon 2021 about?
This year OxyCon will focus on three important topics. Depending on your business needs and personal interests, you can choose which workshops, discussions, and talks are the most relevant for you.
Data collection for business
While the internet is full of information on how relying on relevant data can help businesses make better decisions and improve their performance, collecting the required data can be a real challenge. You'll learn the most recent standards for data gathering and how to make sure that your company doesn't get stuck in the complex web scraping processes.
Web scraping for developers
Data targets are getting more and more advanced, and new challenges arise every day. To acquire the required data, developers need to think of smart solutions that help them leave all the difficulties behind. OxyCon 2021 will focus on the technical side of web scraping by offering various workshops and discussions.
What's next in web scraping?
Artificial Intelligence (AI) and Machine Learning (ML) are already an inseparable part of web scraping. From AI-powered web scraping solutions to ML-based fingerprinting, it was hard to even think of such advanced solutions a few years ago. Naturally, the question arises: what more can we expect from web scraping? Join OxyCon 2021 and hear the predictions for the future from the industry experts.
Looking back at OxyCon 2019
A few years ago, Oxylabs hosted their first OxyCon conference. A two-day event brought together web scraping professionals from all over the world to Vilnius. We are thankful to everyone who attended our first conference, and we are looking forward to seeing you again, this time – virtually. Read more about OxyCon 2019:
Wrapping it up
A detailed schedule for OxyCon 2021 will be available on our website soon. Yet, you can imagine that this kind of web scraping conferences don't happen very often. Get your free early bird ticket to OxyCon 2021 right now and be sure that you'll participate in one of the biggest data gathering events worldwide.
About the author
Iveta Vistorskyte
Lead Content Manager
Iveta Vistorskyte is a Lead Content Manager at Oxylabs. Growing up as a writer and a challenge seeker, she decided to welcome herself to the tech-side, and instantly became interested in this field. When she is not at work, you'll probably find her just chillin' while listening to her favorite music or playing board games with friends.
All information on Oxylabs Blog is provided on an "as is" basis and for informational purposes only. We make no representation and disclaim all liability with respect to your use of any information contained on Oxylabs Blog or any third-party websites that may be linked therein. Before engaging in scraping activities of any kind you should consult your legal advisors and carefully read the particular website's terms of service or receive a scraping license.
Forget about complex web scraping processes
Choose Oxylabs' advanced web intelligence collection solutions to gather real-time public data hassle-free.