Back to blog
OxyCon 2022: Leading-Edge Conference in All Things Web Scraping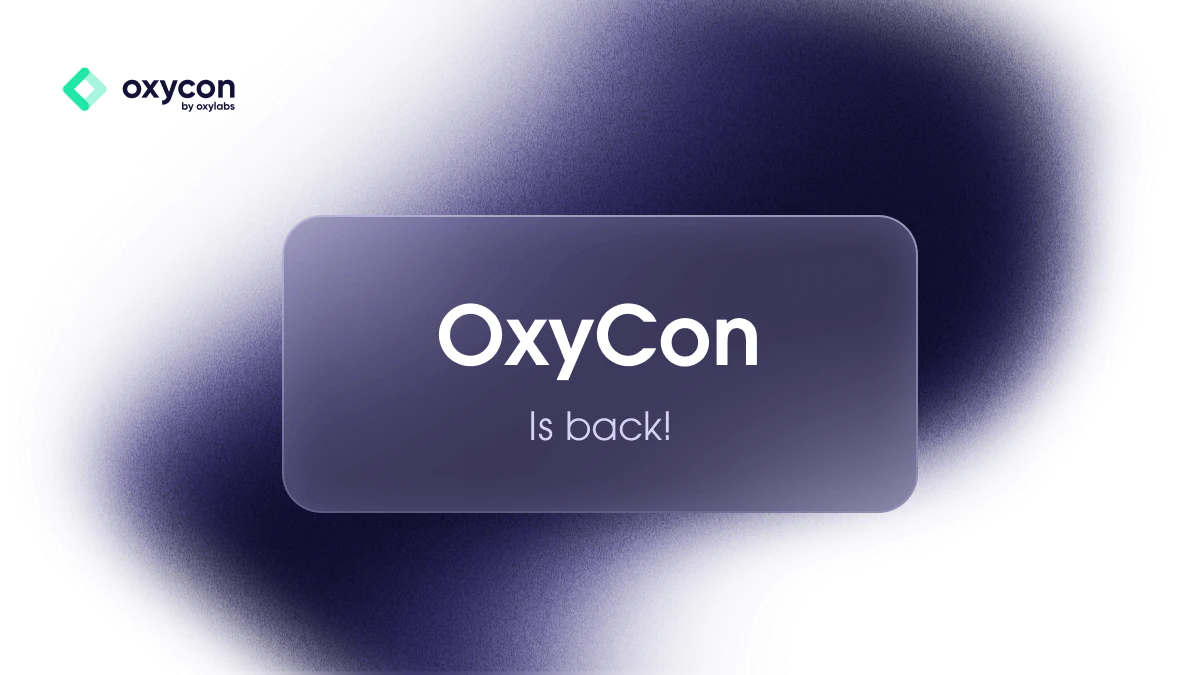 Danielius Radavicius
2022-06-092 min read
The popularity of web scraping is unlikely to diminish any time soon. This is especially true if we look at where web scraping stands now, as more and more business areas are adopting various forms of data gathering for their everyday tasks. Though with advancing developments comes difficult challenges. That is why our 3rd OxyCon conference focuses on both the evolving world of public data collection and how to solve its challenges.
Don't forget to save your seat at OxyCon 2022, September 7-8, to join discussions on the most relevant and recently encountered topics of public data gathering! Just like last year, the two-day virtual event will feature discussions from a plethora of industry-leading guests. Leaders of various tech industries to our very own Oxylabs team members will participate.
"Data gathering has been rapidly establishing itself as one of the fastest-growing IT subtopics for some years. It is indeed a possibility that a significant fraction of future businesses will use web scraping in one way or another, which is why OxyCon 2022 is so important to us. It allows us to show you, through the paradigm of top businesses, why we believe the data gathering industry is truly crucial."
– Julius Černiauskas, CEO at Oxylabs
Core topics of OxyCon 2022
This year's OxyCon will focus on 3 primary topics. Depending on your needs you can pick whichever presentation or discussion is the most relevant for you.
The world of public data collection for businesses
It's not a secret that public data is a valuable source for various businesses' operations. From SEO monitoring and pricing intelligence to government or financial use – the application of public data for organizations is almost unlimited. If you're interested in the world of public data collection and how it helps companies achieve their goals, OxyCon 2022 will cover the most critical aspects of it.
Overcoming scraping challenges as a developer
OxyCon 2022 will focus on developers – the masterminds behind the complex web scraping process. Public data sources are constantly getting increasingly advanced, serving new challenges to web scraping specialists every day. To gather the required public data, developers need to come up with intelligent solutions that help them leave all the difficulties behind.
Scraping infrastructure management and solutions
If you're searching for a smart solution and tips to build a scraping infrastructure on a large scale, the OxyCon 2022 conference will help you with that. This year, industry professionals will cover every aspect of scalability – the journey from a small-scale, mostly monolithic design to a system that is capable of handling hundreds, if not thousands, of job units.
Looking back at OxyCon 2021
Last year we hosted our second OxyCon conference. As an online event, it was attended by web scraping professionals from all over the world. To those who participated in previous OxyCons and those who are participating now, we'd like to truly thank you for being part of our unique conference. We look forward to seeing you again, virtually, in the upcoming 2022 OxyCon! For more information on our previous event, check out OxyCon 2021:
Wrapping up
OxyCon's 2022 detailed schedule will be available soon on our website. We should mention that such web scraping-focused events happen rather rarely, so if you want to get your free tickets, don't miss out and register now. One of the largest data gathering conferences eagerly awaits your participation!
About the author
Danielius Radavicius
Copywriter
Danielius Radavičius is a Copywriter at Oxylabs. Having grown up in films, music, and books and having a keen interest in the defense industry, he decided to move his career toward tech-related subjects and quickly became interested in all things technology. In his free time, you'll probably find Danielius watching films, listening to music, and planning world domination.
All information on Oxylabs Blog is provided on an "as is" basis and for informational purposes only. We make no representation and disclaim all liability with respect to your use of any information contained on Oxylabs Blog or any third-party websites that may be linked therein. Before engaging in scraping activities of any kind you should consult your legal advisors and carefully read the particular website's terms of service or receive a scraping license.
Forget about complex web scraping processes
Choose Oxylabs' advanced web intelligence collection solutions to gather real-time public data hassle-free.