Back to blog
Oxylabs Announces Partnership With Student-led TrackCorona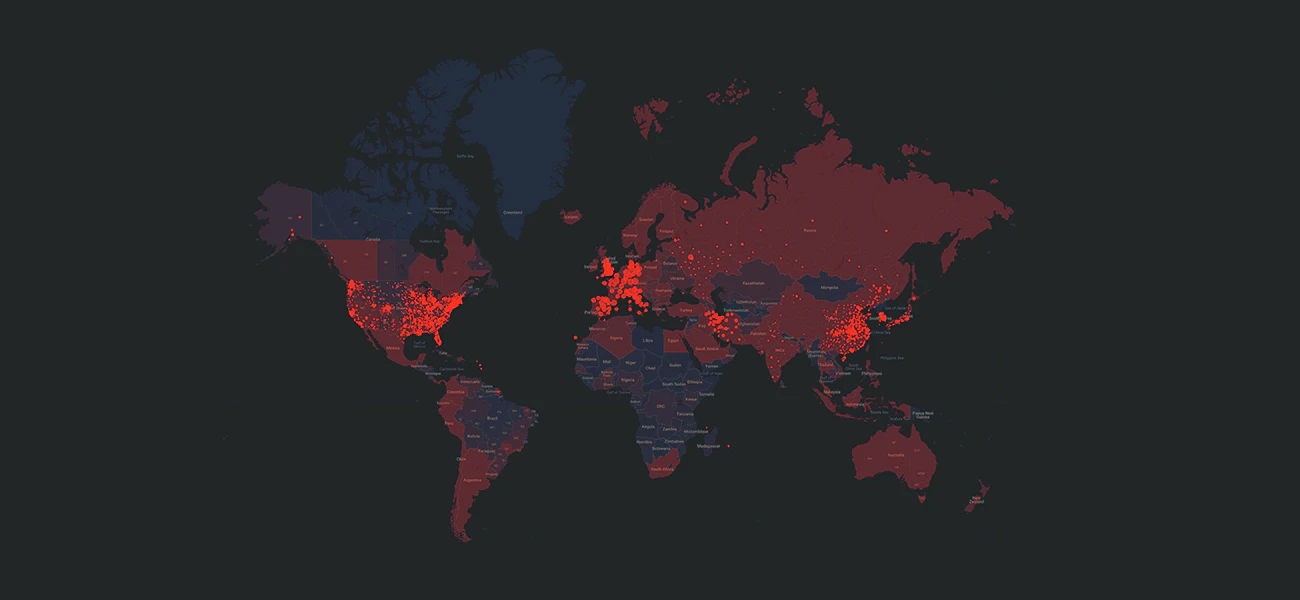 Julius Cerniauskas
2020-03-262 min read
As the COVID-19 pandemic spreads around the world, cooperation between individuals, businesses and governments is as important as ever. We are no exception. For the past weeks, we have been proactively talking to universities and other institutions that are currently working on COVID-19 whether it would be academic research, interactive maps for the broader public or other related projects. Hence we are delighted to announce the partnership between Oxylabs and Stanford, University of Virginia and Virginia Tech student-led team at TrackCorona!

We first heard of TrackCorona while reading global news coverage of the ongoing pandemic. A group of undergraduates from Stanford, University of Virginia and Virginia Tech had created an amazing website to keep track of the spreading disease numbers in various countries.
TrackCorona skyrockets in popularity
TrackCorona went from a blip on the landscape of the Internet to an extremely popular and important destination in just one month. Ever since faculty members of the University of Virginia have joined forces with the team, TrackCorona has become one of the largest and most accurate coronavirus related information aggregators on the Internet. They are exceptionally proficient at visualizing data and providing an easy to understand and user friendly representation of the pandemic.
In fact, TrackCorona became so popular that the influx of traffic became an issue. Their website has already been visited well over 1.4 million times and is averaging more than 40 000 users per day. Due to the quickly growing interest, servers had been buckling under the strain. We noticed the issues TrackCorona had been facing and extended a helping hand. Oxylabs will be providing continuous ongoing support to the exceptionally talented team.

"Developing TrackCorona has been rewarding but also resource-intensive. The financial support provided by this partnership with Oxylabs will be used toward scaling sustainably and providing better performance to our millions of users. This will allow us to continue our mission to inform as many people as possible about the spread of COVID-19." – says James Yun, one of the TrackCorona team members. 

Our invitation to all researchers
As we are now the largest proxy providers in the world and data delivery leaders, we seek to continue helping universities and other institutions. Everyone must play a part in the fight against COVID-19. Oxylabs is ready to support ongoing research about the novel coronavirus by providing proxies or any other tools that might prove to be of use. If you or anyone you know requires help on any coronavirus related research project, feel free to drop us a line at hello@oxylabs.io.

As for the home front, business in Oxylabs continues as usual. We will continue to provide our services and support at full capacity.

About the author
Julius Černiauskas is Lithuania's technology industry leader & the CEO of Oxylabs, a top global provider of premium proxies and web scraping solutions, employing over 400 specialists. Julius covers topics on web scraping, big data, machine learning, tech trends & business leadership.
All information on Oxylabs Blog is provided on an "as is" basis and for informational purposes only. We make no representation and disclaim all liability with respect to your use of any information contained on Oxylabs Blog or any third-party websites that may be linked therein. Before engaging in scraping activities of any kind you should consult your legal advisors and carefully read the particular website's terms of service or receive a scraping license.
Forget about complex web scraping processes
Choose Oxylabs' advanced web intelligence collection solutions to gather real-time public data hassle-free.