Back to blog
Oxylabs Listed as Global Good Awards Finalist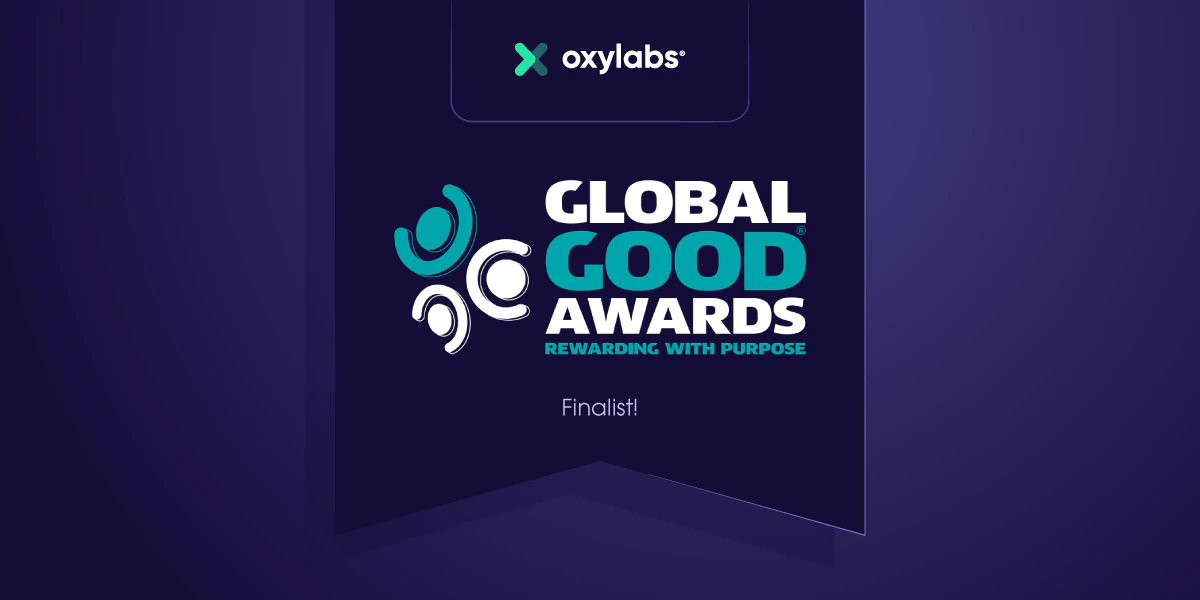 Gabija Birgile
2022-06-171 min read
Oxylabs, a provider of premium proxies and public web data scraping solutions, was recognized at the Global Good Awards in the "Technology for Good" category for its pro-bono work to combat sexual child abuse content on the internet. In partnership with the Lithuanian Communications Regulatory Authority (RTT), the Oxylabs team created an AI-powered tool that automatically scans Lithuanian's IP address space to find harmful images, mainly related to child sexual abuse. If found, the content is automatically forwarded to specialists for review. Within weeks, the tool found 19 websites violating national or EU laws and has since been integrated by the RRT into its daily operations.
The mix of web scraping technology and AI-driven recognition tools is a perfect fit for the challenge faced by RRT. It's physically impossible to monitor all sites on the Lithuanian web manually. Automation makes this task much easier with the use of a tool that scans thousands of pages to look for potentially harmful images. It then forwards those images to the hotline for RRT specialists to review – the same way as regular internet users would do through the hotline.
Juras Juršėnas, Chief Operating Officer at Oxylabs
Founded in 2015, the Global Good Awards recognizes businesses, charities, and Non-Governmental Organizations for their work in driving social and environmental change. Judges evaluate entries for factors that include sustainability, scalability, availability, and originality in addressing the world's biggest social and environmental challenges. 
Big data can serve big goals - the potential of data gathering tools and the technologies around them for public, social or academic purposes is practically limitless. As one of the market leaders, the Oxylabs team sees giving back to society as a natural part of business and  we are always open to partnerships with a bigger purpose.
Julius Černiauskas, CEO of Oxylabs
Oxylabs invites researchers, academia, public institutions and NGOs to join "Project 4β" for pro-bono partnerships solving important social challenges. For information on partnership opportunities, please fill out the contact form.
About the author
Gabija Birgile is a PR Manager at Oxylabs. After working in a PR agency and juggling various projects for quite some time, she wanted to try a role in the tech industry. Making a positive impact with her work was always on top of her mind, so managing pro bono partnerships now definitely does the job. If you have a project in mind, drop her a message at partnerships@oxylabs.io.
All information on Oxylabs Blog is provided on an "as is" basis and for informational purposes only. We make no representation and disclaim all liability with respect to your use of any information contained on Oxylabs Blog or any third-party websites that may be linked therein. Before engaging in scraping activities of any kind you should consult your legal advisors and carefully read the particular website's terms of service or receive a scraping license.
Forget about complex web scraping processes
Choose Oxylabs' advanced web intelligence collection solutions to gather real-time public data hassle-free.