Back to blog
"Project 4β" Partners With Debunk.org to Counter Disinformation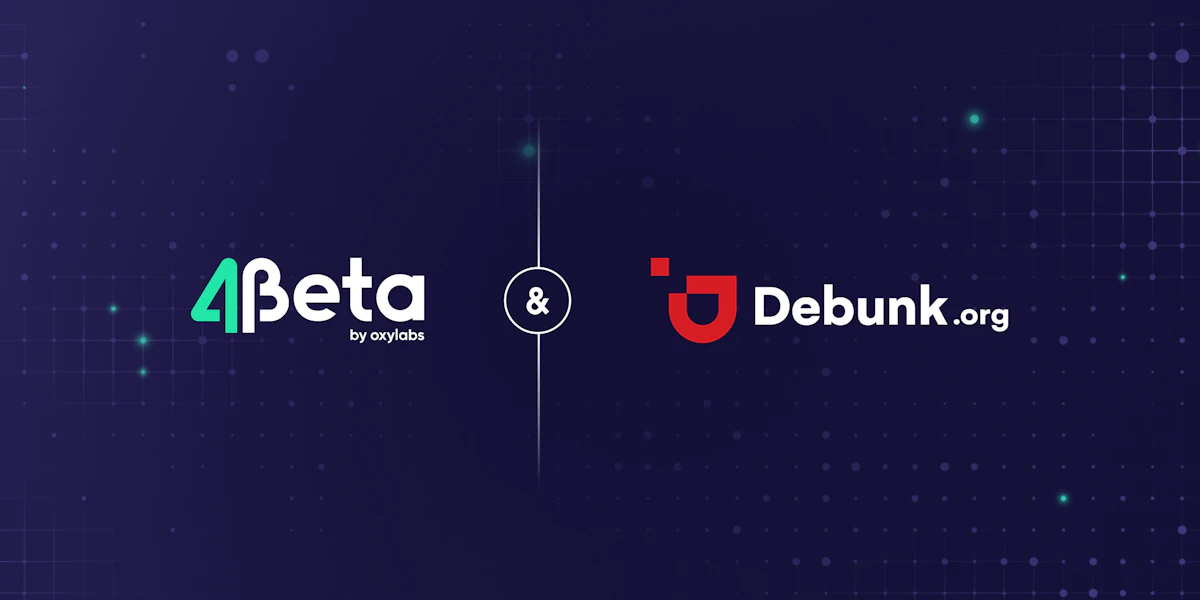 Gabija Birgile
2023-05-102 min read
"Project 4β," a pro bono initiative by Oxylabs, is delighted to announce a new partnership with Debunk.org, an organization dedicated to countering online disinformation and state-sponsored internet propaganda. The partnership will provide Debunk.org with Oxylabs' cutting-edge web scraping technology and expertise to combat false information online on a pro-bono basis. 
The issue of disinformation in the digital age has long been of utmost importance. Due to recent events such as the pandemic and the Russo-Ukrainian war, the topic has now reached a critical level of significance: the rise of state-sponsored propaganda, social media manipulation, and disinformation makes it challenging to distinguish between accurate and false information without some level of expertise. Debunk.org is one of the most experienced organizations in countering disinformation and ensuring the public is aware of disinformation that targets them.
Online disinformation can harm individuals, organizations, and society as a whole. We are excited to partner with Debunk.org in their fight against malicious actors attempting to deceive the public. As a leading company in the web intelligence collection industry, we understand the power of big data and know that our solutions will assist the organization in their critical work.
Julius Černiauskas, CEO of Oxylabs
Through "Project 4β," Debunk.org will get free access to Oxylabs' out-of-the-box solutions, such as scraper APIs and the world's largest ethical proxy network, allowing the organization and its volunteers to gather publicly available data, make the fact-checking processes faster, and enable to get valuable insights for their research.
We are looking forward to enhancing Debunk.org capabilities with Oxylabs' tech. With the support of Oxylabs' advanced web scraping technology and expertise, we will be able to discover disinformation and other informational manipulation cases faster and at scale, ultimately empowering the public to make informed decisions in an increasingly complex digital landscape.
Viktoras Daukšas, Head of Disinformation Analysis Center Debunk.org
"Project 4β" has recently established partnerships with professors and researchers from a number of esteemed institutions, including the University of Pennsylvania, London's Global University (UCL), Northwestern University, University of East London, Aivancity School for Technology, Business & Society, to name a few.
 The program is also in collaboration with the Environmental Protection Department of Lithuania. The Oxylabs team is now developing a solution to help the department's specialists automatically collect online ads offering potentially illegal products and services. 
The solution will help the department's inspectors save time and be more proactive in ensuring that citizens and legal persons comply with environmental legislation regulating environmental protection and the use of natural resources.
"Project 4β" is always on the lookout for new partnerships and welcomes academic institutions, researchers, NGOs, non-profits, and other organizations, working with the most challenging societal missions to join the program.
About the author
Gabija Birgile is a PR Manager at Oxylabs. After working in a PR agency and juggling various projects for quite some time, she wanted to try a role in the tech industry. Making a positive impact with her work was always on top of her mind, so managing pro bono partnerships now definitely does the job. If you have a project in mind, drop her a message at partnerships@oxylabs.io.
All information on Oxylabs Blog is provided on an "as is" basis and for informational purposes only. We make no representation and disclaim all liability with respect to your use of any information contained on Oxylabs Blog or any third-party websites that may be linked therein. Before engaging in scraping activities of any kind you should consult your legal advisors and carefully read the particular website's terms of service or receive a scraping license.
Forget about complex web scraping processes
Choose Oxylabs' advanced web intelligence collection solutions to gather real-time public data hassle-free.