Back to blog
Oxylabs' "Project 4β" Partners with The Environmental Protection Department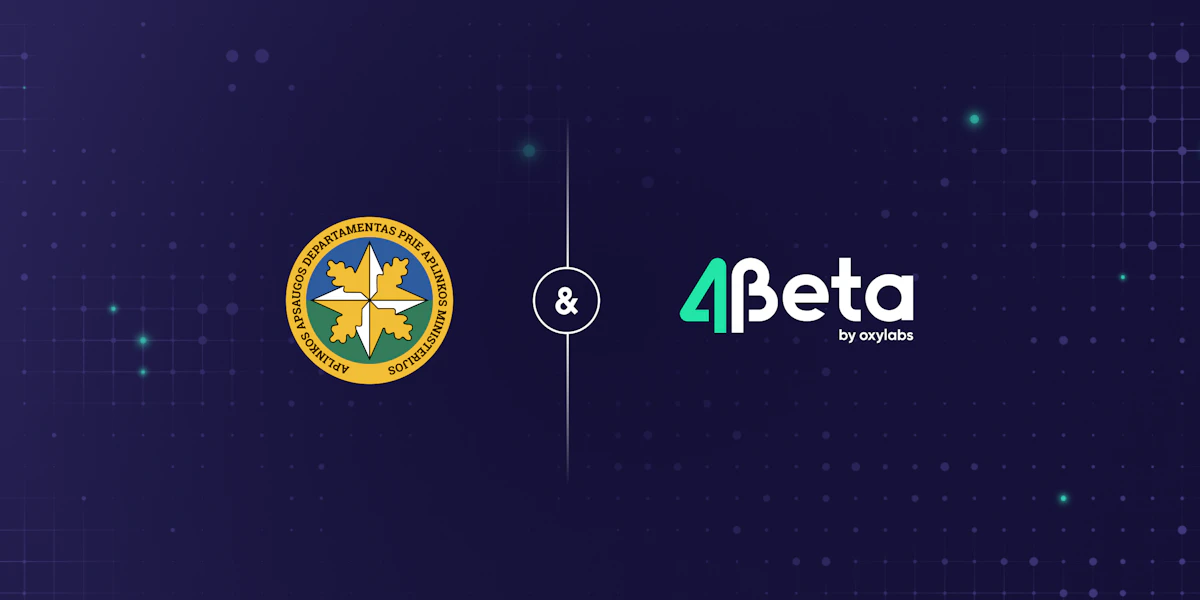 Gabija Birgile
2023-03-102 min read
Supporting initiatives of social good is deeply ingrained in Oxylabs' identity as an ethical web intelligence collection provider. We are honored to be in a position where we can make a meaningful difference through our pro bono initiative, "Project 4β", and we are announcing a new partnership with the Environmental Protection Department of Lithuania. 
Oxylabs will help tackle the problem of illegal classified ads in Lithuanian websites through the "Application of Webcrawling Method in the Environmental Protection Department activities" initiative, developed by the "Create Lithuania" program. The project is dedicated to help solve the problem of illegal advertisements and to enhance the operations of the public sector.
Key challenge
On a daily basis, specialists of the Lithuanian Environmental Protection Department find numerous ads on Lithuanian websites that offer illegal products or services: trade in animals and plants of protected or invasive species, prohibited hunting and fishing equipment, processing and removal of waste and sewage without the necessary permits, dismantling of unserviceable vehicles, fossil resources used and sold without the right to do so.
Currently, the department experts have to manually search for such ads. Since the number of them is increasing every day, it becomes challenging to ensure periodic searches while effectively using the competences of the department officers.
Illegal service providers also cause problems for residents, who often do not have the required competences to make an informed and correct decision when searching for goods and services on Lithuanian advertisement sites. For example, it is often difficult to determine whether the waste transporters have permits and handle the waste according to existing laws rather than dumping it in forests or roadsides.
We are proud to be part of this initiative and to contribute to the protection of the environment in Lithuania with our expertise and cutting-edge web scraping solutions. We look forward to working closely with the  Environmental Protection Department to achieve our shared goal of a safer, cleaner, and more sustainable environment.
Žydrūnas Tamašauskas, Head of Product Development at Oxylabs
The Oxylabs team is now working to develop a solution that will help the specialists collect ads offering potentially illegal services automatically. Our solution will allow the department to achieve more with limited resources, enabling the inspectors to save time and be more proactive in ensuring that citizens and legal persons comply with the requirements of legislation regulating environmental protection and the use of natural resources.
This tool will allow us, environmentalists, to use the time of our inspectors efficiently and to take measures against those engaged in illegal activities more quickly. It will be more difficult for the perpetrators of illegal activities to hide and find refuge on the Internet.
Giedrius Kadziauskas, Director of the Environmental Protection Department
Join "Project 4β"
Helping government institutions, NGOs, NPOs, and other organizations address the most challenging societal missions is one of the goals of Oxylabs' "Project 4β". We also aim to support researchers and academic departments with public data gathering infrastructure, free masterclasses and know-how about the legal, ethical, and technical aspects of public web data research. 
Through "4β" Oxylabs fostered impactful partnerships with students and professors from the University of Michigan, CODE – University of Applied Sciences, University of Pennsylvania, Northeastern University, and others. 
Contact us via the contact form for free access to our robust technology and expertise.
About the author
Gabija Birgile is a PR Manager at Oxylabs. After working in a PR agency and juggling various projects for quite some time, she wanted to try a role in the tech industry. Making a positive impact with her work was always on top of her mind, so managing pro bono partnerships now definitely does the job. If you have a project in mind, drop her a message at partnerships@oxylabs.io.
All information on Oxylabs Blog is provided on an "as is" basis and for informational purposes only. We make no representation and disclaim all liability with respect to your use of any information contained on Oxylabs Blog or any third-party websites that may be linked therein. Before engaging in scraping activities of any kind you should consult your legal advisors and carefully read the particular website's terms of service or receive a scraping license.
Forget about complex web scraping processes
Choose Oxylabs' advanced web intelligence collection solutions to gather real-time public data hassle-free.