Back to blog
Introducing Oxy Proxy Manager App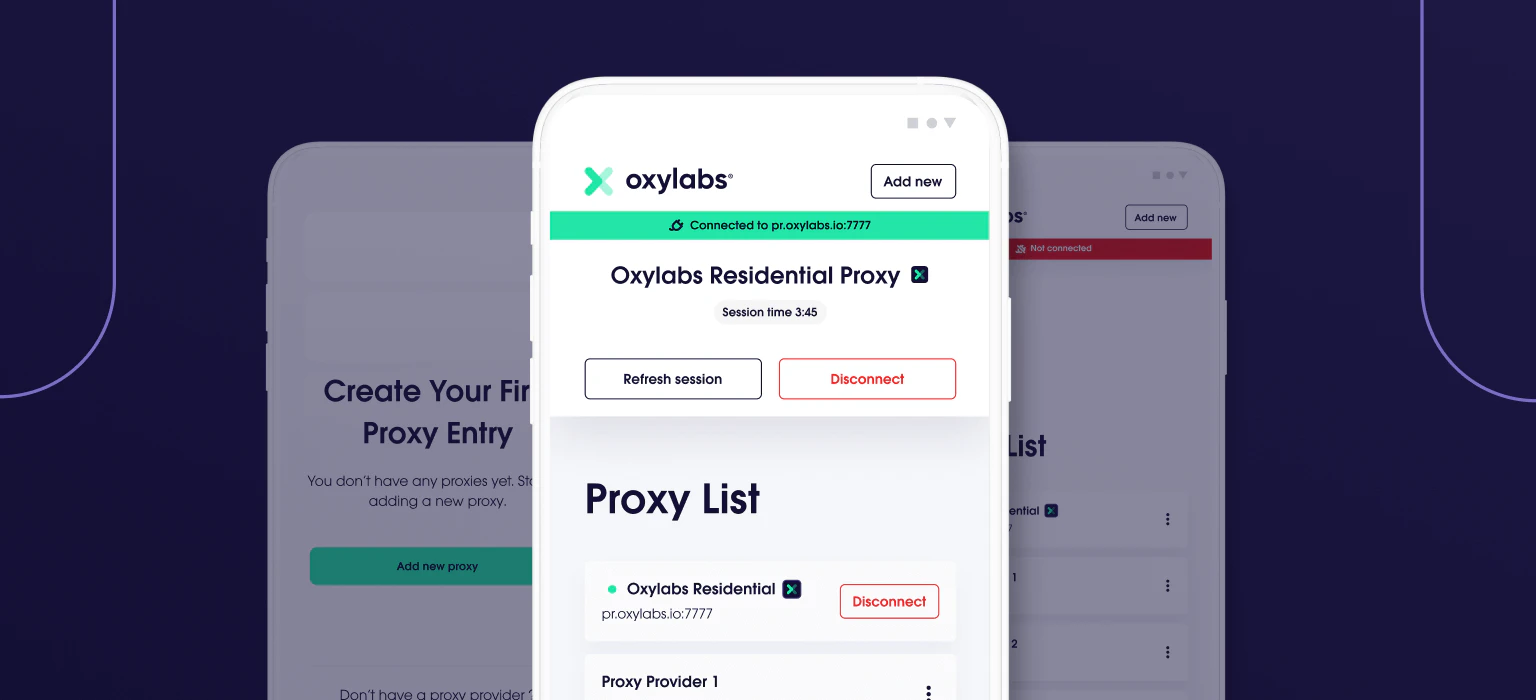 Iveta Vistorskyte
2021-12-28
For a couple of months, we've been working on a brand new tool – Oxy Proxy Manager app. We're happy to finally announce that it's out, and you can start using it for free! 
It's a free tool that you can download from the Google Play store, and the best part is that it works with any proxy provider of your choice.
Why should you use Oxy Proxy Manager?
For starters, proxy providers rarely create apps that work not only with their specific proxies but with any proxy provider. In addition to this, the app has a few other handy features you'll benefit from: 
You can add an unlimited number of proxies and switch between multiple IPs with a simple one-click connection;

You don't need to root your device and the app works on all the latest Android versions;

You'll be able to set the right mood with your preferred color as the app supports light-dark modes.
How to start using Oxy Proxy Manager app
The short answer – it's easy. You need to download Oxy Proxy Manager, add your proxies and choose the preferred proxy to connect to the internet. That's it! 
You'll be able to use proxies to manage multiple social media accounts, collect public geo-restricted data, or access websites that would probably block you without the help of proxies.
"This app is an easy-to-use and no-strings-attached tool that will make your proxy usage a bit easier on a day-to-day basis. Anyone can start using Oxy Proxy Manager app in a matter of seconds."
– Mindaugas Dunderis, Product Owner at Oxylabs.io
Don't have a proxy provider yet?
If you're searching for a trustworthy proxy provider, you can try Oxylabs' proxy solutions. We offer a variety of proxy types, such as: 
Residential Proxies

Datacenter Proxies

Rotating ISP Proxies

Mobile Proxies 

Static Residential Proxies

SOCKS5 Proxies

Next-Gen Residential Proxies 

And more…
Wrapping up
If you have questions about Oxy Proxy Manager app, want to report a bug, or are interested in starting using our proxies, you can contact our support team at support@oxylabs.io. 
About the author
Iveta Vistorskyte
Lead Content Manager
Iveta Vistorskyte is a Lead Content Manager at Oxylabs. Growing up as a writer and a challenge seeker, she decided to welcome herself to the tech-side, and instantly became interested in this field. When she is not at work, you'll probably find her just chillin' while listening to her favorite music or playing board games with friends.
All information on Oxylabs Blog is provided on an "as is" basis and for informational purposes only. We make no representation and disclaim all liability with respect to your use of any information contained on Oxylabs Blog or any third-party websites that may be linked therein. Before engaging in scraping activities of any kind you should consult your legal advisors and carefully read the particular website's terms of service or receive a scraping license.