Back to blog
OxyCast: A New Podcast on Everything Web Scraping Related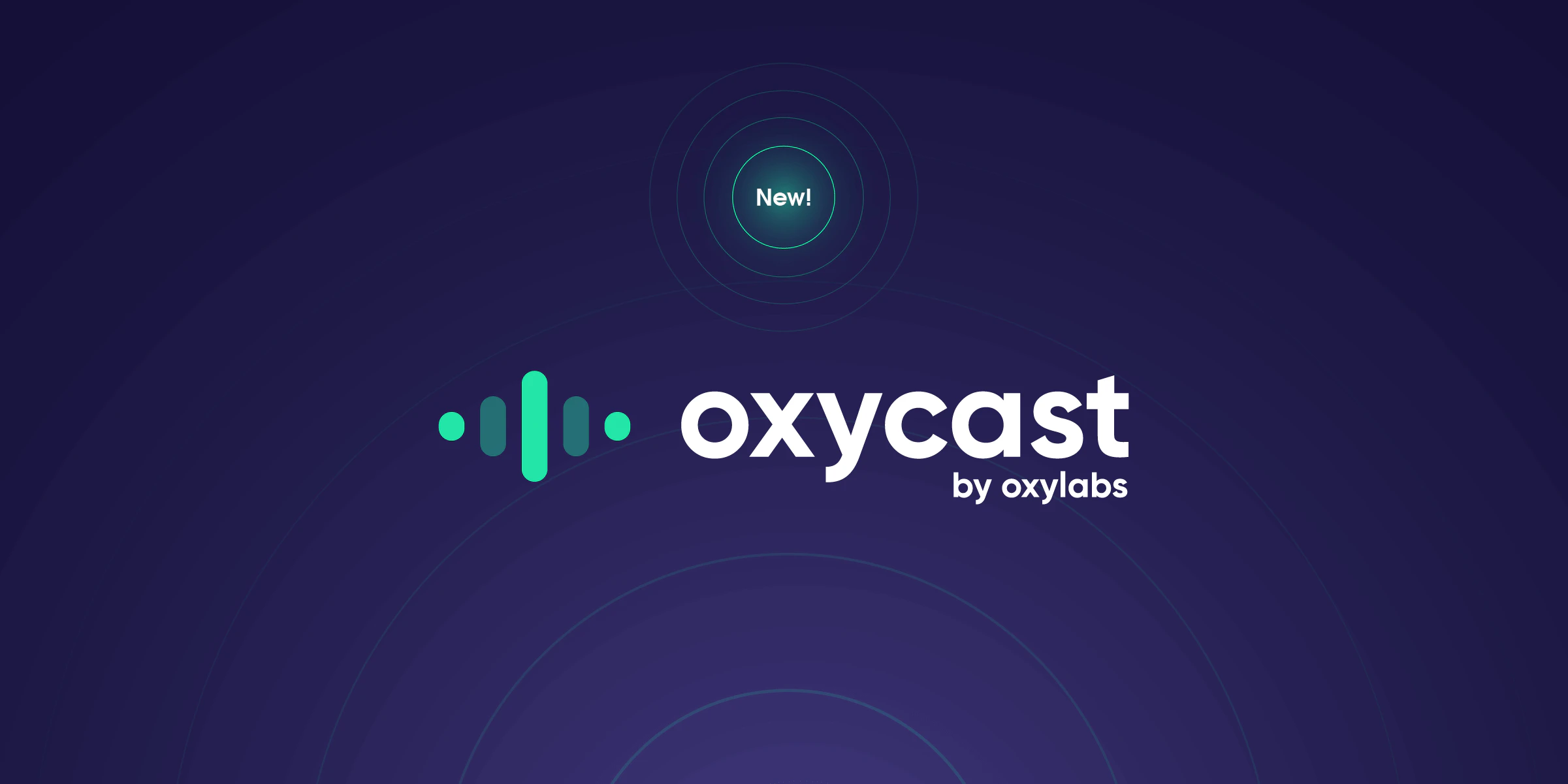 Iveta Vistorskyte
2022-01-202 min read
Web scraping is such a broad topic, and there's a lot of things to learn in order to collect the required public data efficiently. That's why our team decided to start a new podcast on everything web scraping related – OxyCast! 
Having a good understanding of how it all works, both from business and especially from the development side, we're thrilled to share our knowledge and make your data gathering processes easier.
What is the OxyCast podcast?
Simply put, it's a monthly show hosted by Oxylabs' Software Developer Augustinas Kalvis, where the greatest minds of Oxylabs will discuss various web scraping topics. The main goal is to explain the whole data gathering process in-depth. We're going to answer questions, such as "What do users do with scraped public data?" and, of course, dive deeper into the technical journey of dealing with the most common scraping issues.
Check out the first episode! 
The first episode of OxyCast covers the basics of web scraping and answers general questions about data gathering. The host of OxyCast – Augustinas Kalvis and the first guest – Aleksandras Šulženko (Product Owner at Oxylabs), discusses:
Why do we need web scraping? 

What are the most commonly used definitions in web scraping?

What do people do with scraped data?

Why buy a scraper if you can build one?

How difficult is web scraping actually?
Where else can you find the first episode of OxyCast?
OxyCast is available on the most popular platforms, such as:
Subscribe right now, and be sure you won't miss other episodes.
What else is special about this podcast?
The host of this podcast, Augustinas Kalvis, shared his thoughts on the new podcast and why it's worth listening to it.
"I'm looking forward to sharing our knowledge on dealing with data gathering issues and discussing more complex topics about web scraping. I'm also excited about the show's format – we're going to talk about the things we know best so we can really dive deep into them. If you're interested in the world of web scraping, listen to this podcast and get all the information from the industry leaders."
– Augustinas Kalvis, Software Developer at Oxylabs
Wrapping it up
OxyCast podcast is a new and exciting journey for the entire Oxylabs team. Web scraping is a hard nut to crack, but our goal is to answer your questions, discuss various complex topics and make your public data gathering ride a lot easier. We're willing to share our scraping experience and all the knowledge with you. 
If you have any suggestions or questions for our podcast, contact us at events@oxylabs.io, and we'll try our best to discuss them in OxyCast episodes.
About the author
Iveta Vistorskyte
Lead Content Manager
Iveta Vistorskyte is a Lead Content Manager at Oxylabs. Growing up as a writer and a challenge seeker, she decided to welcome herself to the tech-side, and instantly became interested in this field. When she is not at work, you'll probably find her just chillin' while listening to her favorite music or playing board games with friends.
All information on Oxylabs Blog is provided on an "as is" basis and for informational purposes only. We make no representation and disclaim all liability with respect to your use of any information contained on Oxylabs Blog or any third-party websites that may be linked therein. Before engaging in scraping activities of any kind you should consult your legal advisors and carefully read the particular website's terms of service or receive a scraping license.
Forget about complex web scraping processes
Choose Oxylabs' advanced web intelligence collection solutions to gather real-time public data hassle-free.