Back to blog
Free White Paper: Proxies Buying Guide for Enterprises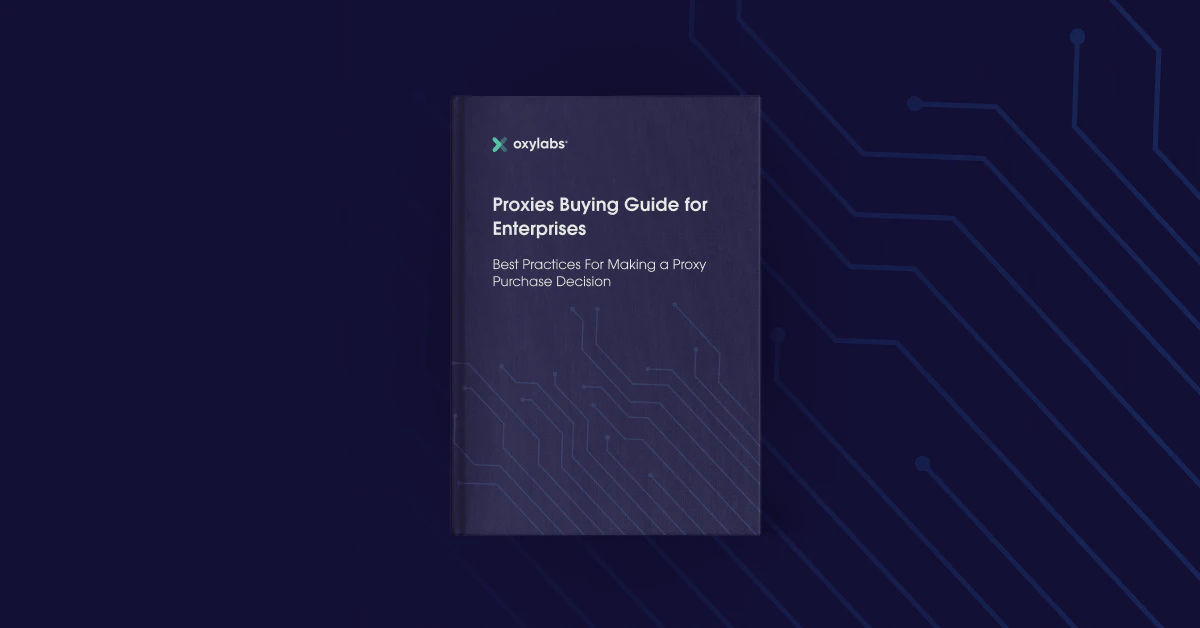 Monika Maslauskaite
2021-09-271 min read
Big data has become one of the more valuable assets held by enterprises and virtually every large organization. Gathering the infinite amount of public data from multiple sources and deriving the greatest value to ensure trusted business decisions hinge on a foolproof system for collecting public data on a large scale.
Free PDF
Get Our White Paper on Proxies Buying Guide for Enterprises
However, for businesses to utilize public data effectively, it first needs to be accessible. Collecting traditional and alternative data from diverse sources requires professional knowledge and reliable solutions, such as proxy infrastructure or ready-to-use web scraping tools. It is crucial to fuel the business' data mechanism engines with the right resources.
Investing in any new technology is a bold move at any company and requires in-depth research of the market, evaluation of one's goals and desired results, as well as testing out trials and how they are compatible with the existing infrastructure. This white paper will guide you through making a proxy purchase decision. 
What can you expect from this white paper?
In this white paper, you'll find out:
Use cases of residential and datacenter proxies;

Key challenges to solve in these use cases;

Main aspects to consider when buying residential proxies;

Main aspects to consider when buying datacenter proxies. 
Download our free white paper and get all the information on how to determine the right proxy type and choose the best proxy provider for your business needs, as well as deal with the challenges while collecting public data.
About the author
Monika Maslauskaite
Former Content Manager
Monika Maslauskaite is a former Content Manager at Oxylabs. A combination of tech-world and content creation is the thing she is super passionate about in her professional path. While free of work, you'll find her watching mystery, psychological (basically, all kinds of mind-blowing) movies, dancing, or just making up choreographies in her head.
All information on Oxylabs Blog is provided on an "as is" basis and for informational purposes only. We make no representation and disclaim all liability with respect to your use of any information contained on Oxylabs Blog or any third-party websites that may be linked therein. Before engaging in scraping activities of any kind you should consult your legal advisors and carefully read the particular website's terms of service or receive a scraping license.
100M+ high-quality proxies for scraping
Access the largest proxy pool to enhance your web scraping operations.