Back to blog
Scraping Experts: Making the Right Move with Real Estate Monitoring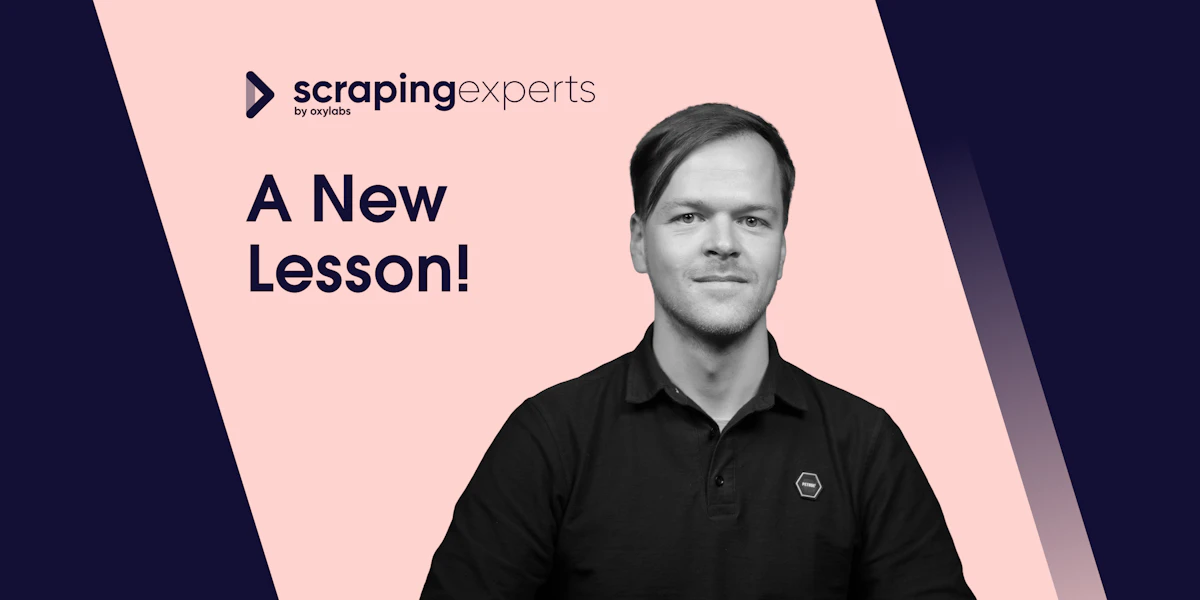 Enrika Pavlovskytė
2022-12-122 min read
Buying and selling property has become unimaginable without the help of online real estate marketplaces. Nevertheless, the smooth and convenient experience these platforms offer to the end-user can be a double-edged sword to web data collection specialists. 
Indeed, dealing with complex and dynamic data sources can be a headache. However, as real-time property data promises to uncover valuable insights that guide critical business decisions, collecting it is a worthwhile effort.
That's exactly what Aleksandras Šulženko, Scraper APIs Product Owner at Oxylabs, explores in the latest Scraping Experts video lesson on "Building a Real Estate Monitoring System" as he discusses the challenges and benefits of web scraping for real estate.
Real estate seen through data
From pricing to tax history – everything plays an essential role when dealing with properties and even whole neighbourhoods. It's also the kind of data a real estate monitoring system will keep tabs on. You can then use it to perform home value monitoring, compare similar properties or determine a rent-buy rate in an area. Ultimately, the data you collect using a real estate monitoring system will help uncover patterns, predict trends, and inform profitable business decisions.
Common real estate data types
Sales & rent price
Location
Avg. days on the market
Property size
Parking spaces
Sales by region
Properties sold & rented by an agent
In his lesson, Aleksandras takes a deep dive into different types of real estate data, how to collect it, and how to gain the most value from it. Most importantly, he delves into common data collection challenges and how to tackle them successfully.
Real estate monitoring solutions: in-house or outsourced?
The specific aims, capabilities, and priorities of a company shape every data gathering project. So, it might seem that having a custom-built real estate monitoring system is the most logical approach. On the other hand, outsourcing an adaptable public web data gathering solution might help you focus your efforts on other crucial areas, such as analysis.
Indeed, it's never enough to unblock a site once and then scrape the information you need. Modern websites have dynamic anti-bot systems in place, so you must adapt to their constant changes. As such, bypassing limitations imposed by anti-bot systems can be cumbersome and eat up a lot of your time.
In his lesson, Aleksandras considers the pros and cons of both approaches and discusses which path is the most cost-effective and efficient. Moreover, he gives practical advice on how to get the best results no matter the approach you choose.
Wrapping up
Aleksandras emphasizes that "Data is becoming a commodity," and it's certainly true for the real estate sector. Long gone are the days of relying on intuition and retrospective data for making real estate decisions. 
Knowing this, Scraping Experts share invaluable advice on collecting robust, verifiable data in real time and gaining a competitive edge in the real estate business.
If you'd like to share your opinions or suggestions regarding Scraping Experts, send them to our friendly team at events@oxylabs.io. Alternatively, check out other lessons to learn more about data gathering.
People also ask
What is real estate monitoring?
Real estate monitoring is the process of systematically tracking and observing various real estate aspects. This process is carried out by first collecting publicly available property data such as (but not limited to) property type, price, size, geo-location, amenities, and monthly rental pricing. Afterward, this data can be used for analysis and making future forecasts.
How to scrape data from real estate websites?
There are numerous ways you can scrape real estate data. If you're familiar with web data collection techniques and procedures, you can build your own scraper tailored to your needs. However, it might be easier for some to use a no-code or a low-code solution, such as a Real Estate Scraper API. This is an automated tool that makes the process much more accessible and efficient.
About the author
Enrika Pavlovskytė
Junior Copywriter
Enrika Pavlovskytė is a Junior Copywriter at Oxylabs. With a background in digital heritage research, she became increasingly fascinated with innovative technologies and started transitioning into the tech world. On her days off, you might find her camping in the wilderness and, perhaps, trying to befriend a fox! Even so, she would never pass up a chance to binge-watch old horror movies on the couch.
All information on Oxylabs Blog is provided on an "as is" basis and for informational purposes only. We make no representation and disclaim all liability with respect to your use of any information contained on Oxylabs Blog or any third-party websites that may be linked therein. Before engaging in scraping activities of any kind you should consult your legal advisors and carefully read the particular website's terms of service or receive a scraping license.
Access exclusive video lessons
Learn from experienced professionals about web scraping and common business use cases.
Sign up