Back to blog
Oxylabs Team Presents a Winning Solution for Cleaner Internet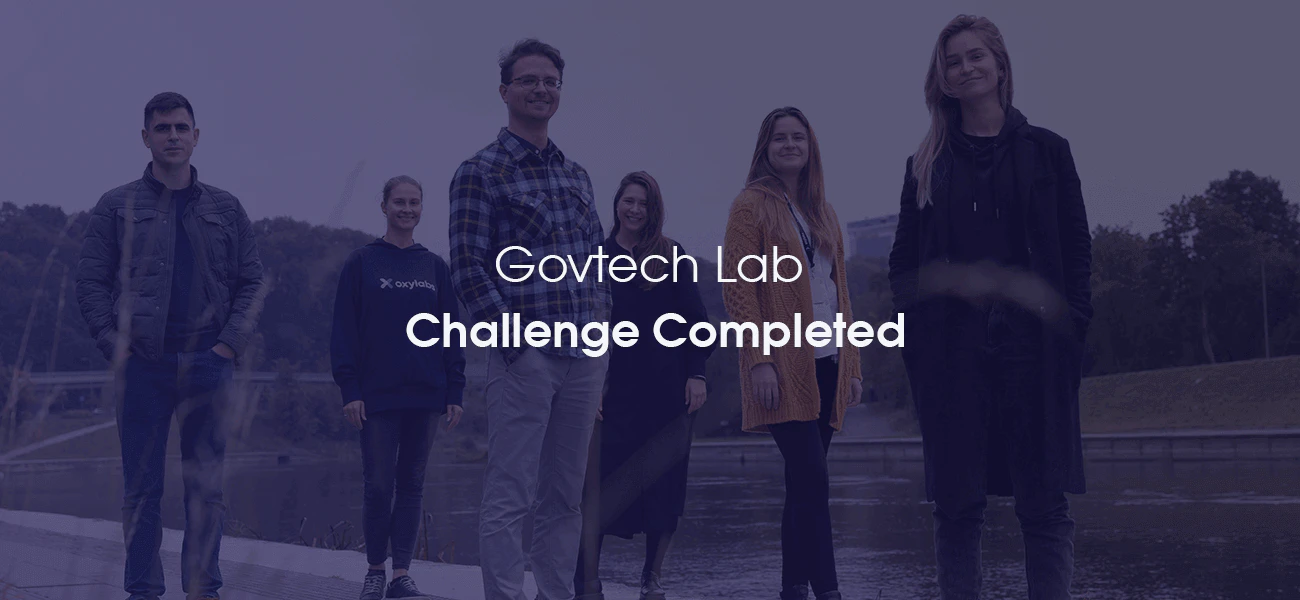 Jurgita Tuzikaite
2020-12-111 min read
December 8 of 2020, marked a special occasion for Oxylabs. The prototype for the first-of-its-kind solution aimed at automated illegal online content detection was officially presented at the concluding event of Govtech Lab challenge.
The prototype can automatically find and identify illegal visual content in the Lithuanian internet space by utilizing custom-built data acquisition and AI-driven recognition tools. The development of this revolutionary tool took ten weeks to complete and involved a team of Oxylabs in-house data science, software development, and engineering experts. 
"Our goal was to develop a tool which could support the public sector and respective authorities in their mission to clear the entire Lithuanian cyberspace of illegal and damaging content. Now, I am proud to say that countless hours of our work have paid off. We have a fully-functioning, highly effective solution, which shows enormous potential to be applied in various other use cases, benefiting the society at large," says Oxylabs senior developer Eivydas Vilcinskas.
Oxylabs and RRT teams working together
Initially, the need for such a solution was proposed by the Communications Regulatory Authority of the Republic of Lithuania (RRT) as a response to the increasing amount of illegal content online. The Oxylabs team has been taken on board to develop a prototype for automated illegal content detection after winning a nation-wide competition which was launched by GovTech Lab.

Until now, RRT couldn't be a proactive participant in the fight against harmful information online due to the lack of necessary detection tools. Previously, they were limited to managing only the content which was voluntarily reported by the internet users.

"The AI-driven solution developed by the Oxylabs team is exactly what's needed to strengthen Lithuania's institutions' position in the fight against harmful activities on the internet. Using this new tool, we'll be able to identify most sensitive illegal on-line content more efficiently, on a larger scale, and then pass it over to responsible authorities – the police, or hotlines from other countries. After the tool is proven to be effective, we plan to share this digital innovation enabling a much more proactive approach with Internet hotlines from other countries that are facing the same challenge," affirms Ieva Zilioniene, Deputy Director at RRT.
Julius Cerniauskas, CEO at Oxylabs confirms that the company will continue the charitable partnership with RRT to ensure a smooth roll-out of the solution which is expected to take place in January of 2021. He concludes:
"The initiatives of positive social impact have become an integral part of Oxylabs identity. Our expertise in the field and state-of-the-art web scraping tools have placed us in a unique position to spearhead the data-driven social responsibility efforts. That is exactly what we will continue to do in the future".
Head to another article to learn how Oxylabs solutions help detect illegal content online.
About the author
Jurgita Tuzikaite
Former Communications Specialist
Jurgita Tuzikaite is a former Communications Specialist at Oxylabs. Her inspiration for original ideas comes from observing nature and exploring unknown paths, which often lead to unexpected adventures. Jurgita's background in humanitarian work has formed her work ethic and moral compass, which resulted in placing positive intention behind everything she does. She values wisdom and places importance on bringing value to other people through knowledge, creativity, and compassion.
All information on Oxylabs Blog is provided on an "as is" basis and for informational purposes only. We make no representation and disclaim all liability with respect to your use of any information contained on Oxylabs Blog or any third-party websites that may be linked therein. Before engaging in scraping activities of any kind you should consult your legal advisors and carefully read the particular website's terms of service or receive a scraping license.
Forget about complex web scraping processes
Choose Oxylabs' advanced web intelligence collection solutions to gather real-time public data hassle-free.