Back to blog
TrackCorona Skyrockets to Popularity After Collaborating With Oxylabs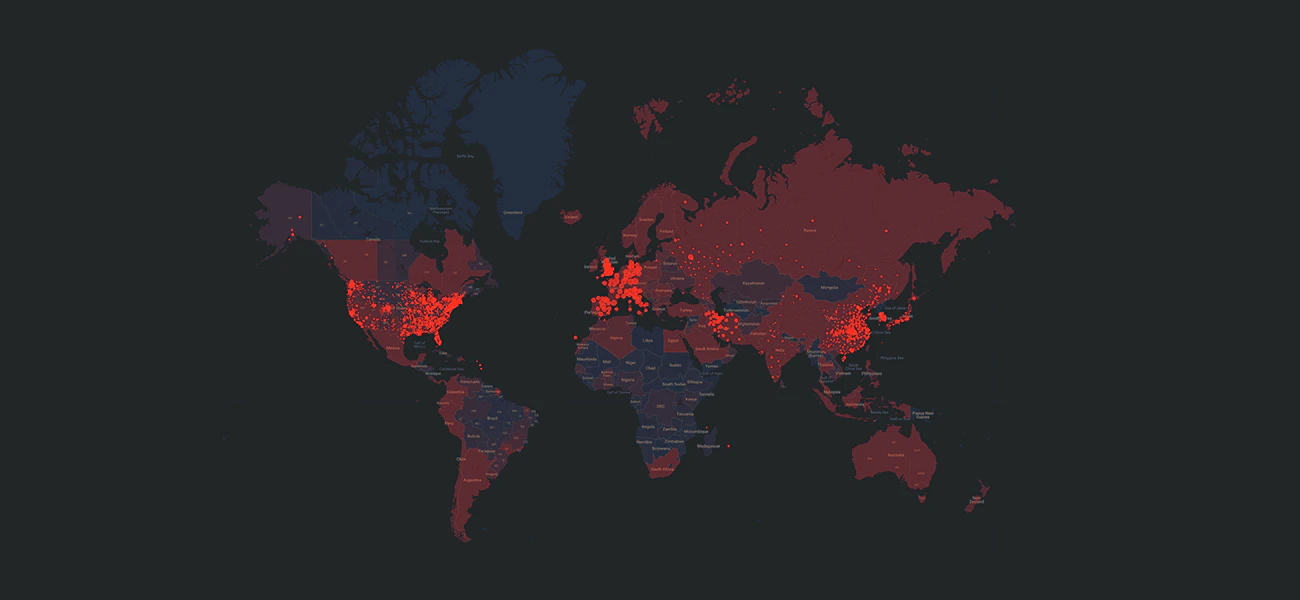 Jurgita Tuzikaite
2020-05-202 min read
Seeing the numbers was a pleasant surprise for everyone involved. Just a few months ago a student-led TrackCorona project started to take their first baby steps on the internet, and now they have the attention of the entire world. From 200k page views and 62.7k users in February, to over 1 million active users with over 5 million page views in the following months, from every country on the planet. Now, that's what we can call a success!
Recently, we had the pleasure to announce our partnership with TrackCorona, a user-friendly platform, allowing everyone to gain a deep understanding of the pandemic with one click.
The months that followed, we were impressed to see such a remarkable evolution of our partners. The optimization of maps, the inclusion of heavier data sections, and introduction API has turned the site into a powerful information tool able to tackle the global health crisis. 
The excellent visual representation of coronavirus related data has attracted staggering attention, making the masterminds behind this excellent tool to take big leaps in scaling up, to meet the ever-growing demand for accurate and reliable information. 
Even more impressive is the ethical choice of TrackCorona creators to refuse the option of paywalls. Giving everyone free access to potentially life-saving information on the platform is an example of true solidarity in times of uncertainty. 
"We believe it is important to make the information free of charge to allow other academics to conduct research and studies without having to worry about gathering funds to do so. We know how stressful this process can be, especially in a time like this. Thus far, this data has been used worldwide, with around 48% of the traffic coming from Asia, and the rest being made up by Europe, the Americas, Africa, and Oceania. This aggregation includes many developers, not unlike ourselves, who are looking to make a difference in their local communities by helping keep everyone informed. It also includes epidemiological researchers from many universities around the world, who are studying trends in global and city-level data in order to build a model."
– Soukarya Ghosh, one of the masterminds behind the TrackCorona platform.
TrackCorona site has been visited by every country in the world, with the majority of users coming from USA and India
The true power lies in the ability to access information, especially during such turbulent times. We are so proud to be a part of the project, which has not only become a reliable information source for all but also has turned into a role model for businesses dealing with this crisis worldwide. We will continue to support such initiatives to contribute to the global efforts to overcome current disadvantageous circumstances.
- CEO at Oxylabs Julius Cerniauskas
Our invitation to all researchers
As we are now the largest proxy providers in the world and data delivery leaders, we seek to continue helping universities and other institutions. Everyone must play a part in the fight against COVID-19. Oxylabs is ready to support ongoing research about the novel coronavirus by providing proxies or any other tools that might prove to be of use.
If you or anyone you know requires help on any coronavirus related research project, feel free to drop us a line at hello@oxylabs.io.

About the author
Jurgita Tuzikaite
Former Communications Specialist
Jurgita Tuzikaite is a former Communications Specialist at Oxylabs. Her inspiration for original ideas comes from observing nature and exploring unknown paths, which often lead to unexpected adventures. Jurgita's background in humanitarian work has formed her work ethic and moral compass, which resulted in placing positive intention behind everything she does. She values wisdom and places importance on bringing value to other people through knowledge, creativity, and compassion.
All information on Oxylabs Blog is provided on an "as is" basis and for informational purposes only. We make no representation and disclaim all liability with respect to your use of any information contained on Oxylabs Blog or any third-party websites that may be linked therein. Before engaging in scraping activities of any kind you should consult your legal advisors and carefully read the particular website's terms of service or receive a scraping license.
Forget about complex web scraping processes
Choose Oxylabs' advanced web intelligence collection solutions to gather real-time public data hassle-free.