Back to blog
Free White Paper: Alternative Data Defines Competition in the US & UK Ecommerce Sectors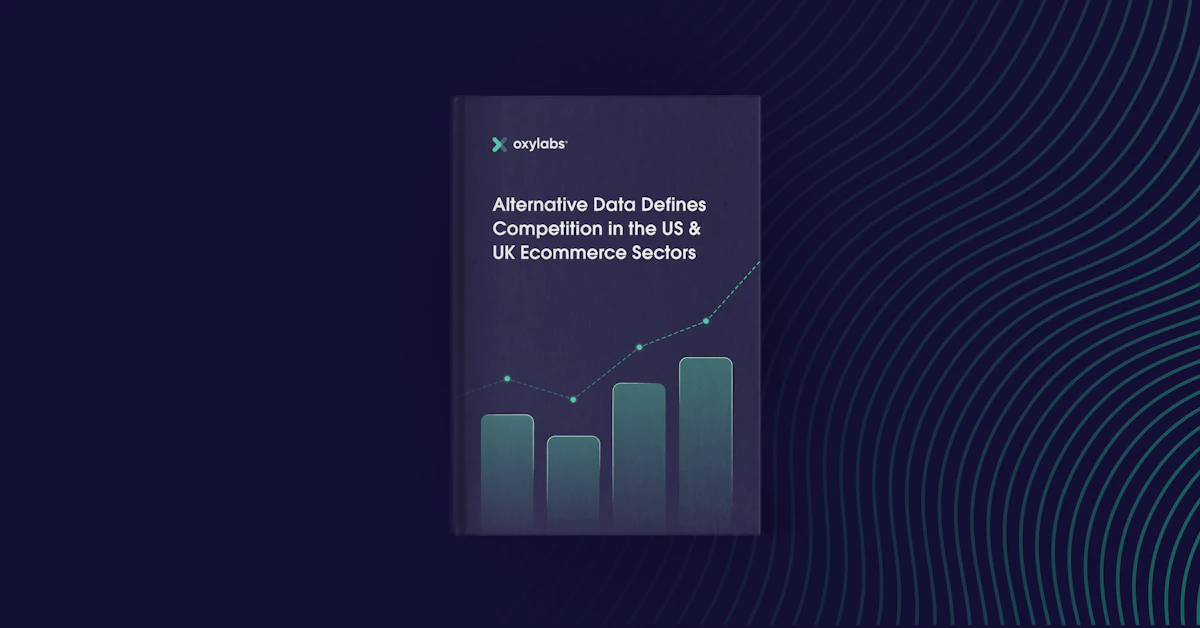 Adomas Sulcas
2022-10-111 min read
Ecommerce companies are data-hungry business endeavors. From inventory management to carefully managed pricing strategies, most of what these businesses do rely on access to accurate and timely data.
In the past, a majority of the data came from internal sources and some external providers. Nowadays, however, the tide is turning towards the automated acquisition of alternative data, primarily through the usage of web scraping.
Oxylabs, in cooperation with Censuswide, decided to investigate how ecommerce companies are employing the above-mentioned technologies in their daily operations. Alternative data markets, while already worth over 2 billion US dollars, are still emerging with web scraping following the developments in tandem.
This report queried Directors of Engineering, CTOs, VPs of Engineering, Chief Data Officers, Heads of Business Intelligence, and Heads of Data & Analytics across the US and UK's ecommerce industry and will shed some light on the current and future challenges of the sector.
Our survey has reached out to 508 UK and 501 US-based senior data decision makers and queried them on the usage of alternative data and web scraping within the industry. We have covered questions such as:
What methods do companies use to acquire data? 

What data collection method has created the greatest impact on revenue?

What methods do they plan on investing the most in the next 12 months?

How many companies use web scraping as one of their data collection methods?

How have budgets for data departments changed over the past 12 months?
Free PDF
Get Our Free White Paper About Alternative Data & The Ecommerce Industry
Today, ecommerce companies rise and fall with their ability to procure and analyze data. The advantages granted by the ability to extract insights from various sources are so immense that the industry has been a shining example of innovation in data acquisition and management. Our research shows just how far ahead of others ecommerce companies are, what methods they value the most, and what challenges they face. These insights should serve as a blueprint for others looking to gain as much as ecommerce has gained from data.
Julius Černiauskas, Chief Executive Officer at Oxylabs.io
About the author
Adomas Sulcas
PR Team Lead
Adomas Sulcas is a PR Team Lead at Oxylabs. Having grown up in a tech-minded household, he quickly developed an interest in everything IT and Internet related. When he is not nerding out online or immersed in reading, you will find him on an adventure or coming up with wicked business ideas.
All information on Oxylabs Blog is provided on an "as is" basis and for informational purposes only. We make no representation and disclaim all liability with respect to your use of any information contained on Oxylabs Blog or any third-party websites that may be linked therein. Before engaging in scraping activities of any kind you should consult your legal advisors and carefully read the particular website's terms of service or receive a scraping license.
Gather alternative data at scale
Let's discuss how Oxylabs can help you with alternative data acquisition.