Back to blog
Oxylabs Reaches 100M+ Ethically-Obtained Residential Proxies Mark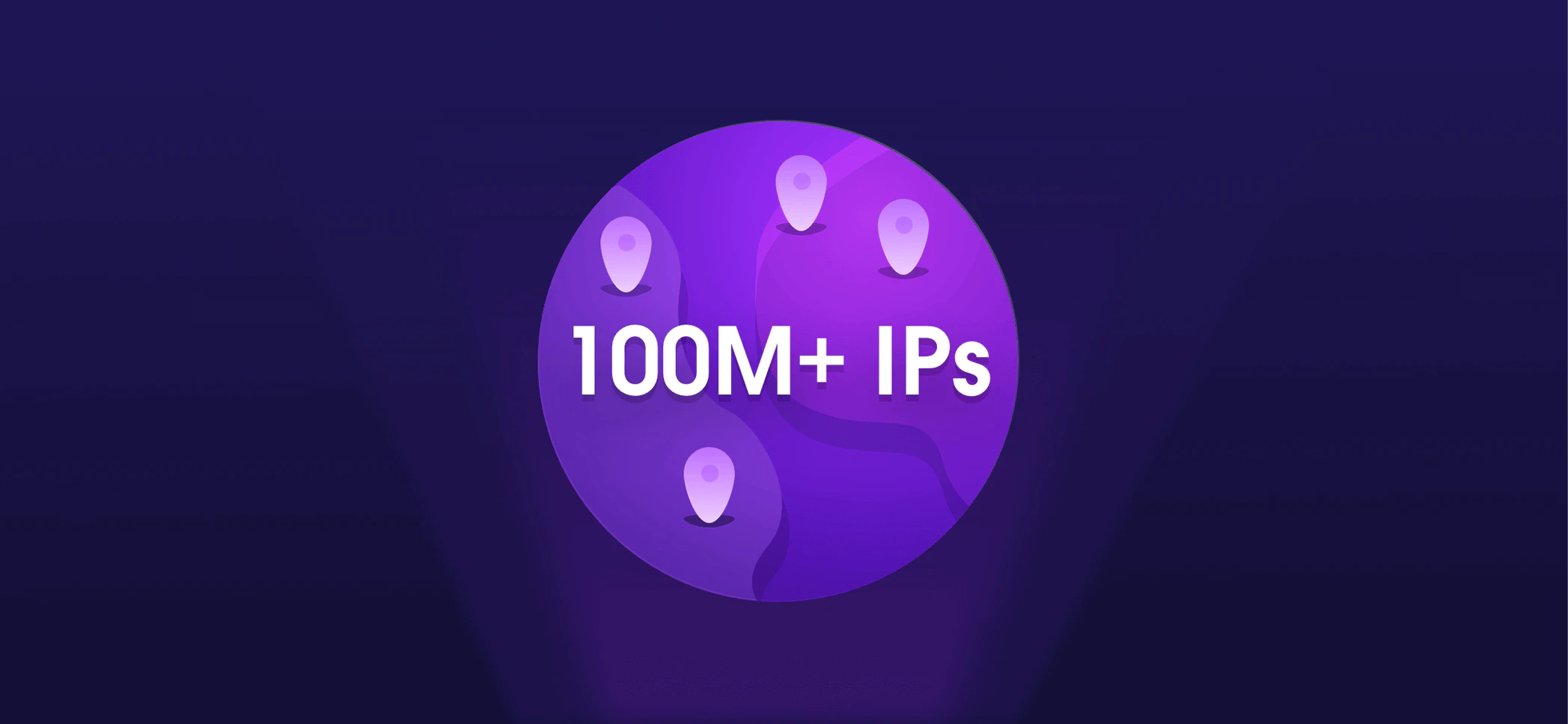 Vytautas Kirjazovas
2020-09-142 min read
Oxylabs is pleased to announce the growth of its residential proxy pool from 72 million to 100 million proxies, solidifying a leading position in the provision of proxy-based solutions with the largest network on the market. 
With a focus on ethics and transparency, Oxylabs is committed to maintaining a strict standard for proxy acquisition that operates transparently and provides compensation to users in exchange for their participation in the residential proxy network.
Public data gathering practices require proxies to circumvent server restrictions put in place by web data sources. Through their role as intermediaries, proxies request information from the target website while providing anonymity to the requesting party.
With a focus on fairness, transparency and compensation, Oxylabs' Tier A+ model aims to procure proxies in an ethical manner whereby users grant their consent and are rewarded for participation in the proxy network. This contrasts with some business models where users are unaware that their device is being used after consenting to misleading or confusing terms of service that unwillingly turn their device into a participant on the residential proxy network. 
"The proxy market is missing clarity and standards when it comes to the residential proxy procurement process," said Oxylabs CEO Julius Cerniauskas. "Oxylabs, as a strong advocate of ethical business practices, operating strictly within the capacities of an established legitimate proxy pool, accepts the responsibility to bring order to the chaotic industry."
How the majority of Oxylabs' residential proxies are acquired
Oxylabs is committed to building confidence between clients, providers, and end-users throughout the entire residential proxy procurement process through completely transparent agreements. Along with employing a strict vetting process for their residential proxy providers, Oxylabs sets out explicit contractual obligations towards their residential proxy providers, ensuring that all end-users are aware of their participation in the proxy network and that their consent is thoroughly documented. 
These practices also ensure that the highest quality proxies are obtained, offering superior functionality and success for the data extraction activities undertaken by their clients. 
High-quality proxies form the basis of the services Oxylabs provides that include high-performance datacenter proxies, 100% anonymous residential proxies, heavy-duty data extraction tools such as Web Scraper API and Web Unblocker, which is an unrivaled solution for block-free web scraping, not found anywhere else in the data gathering space.
To set standards for the entire industry, Oxylabs endeavors to provide world-class proxy provision services while enforcing trust-based practices that create a sustainable environment that benefits participants at every level. 
About the author
Vytautas Kirjazovas
Head of PR
Vytautas Kirjazovas is Head of PR at Oxylabs, and he places a strong personal interest in technology due to its magnifying potential to make everyday business processes easier and more efficient. Vytautas is fascinated by new digital tools and approaches, in particular, for web data harvesting purposes, so feel free to drop him a message if you have any questions on this topic. He appreciates a tasty meal, enjoys traveling and writing about himself in the third person.
All information on Oxylabs Blog is provided on an "as is" basis and for informational purposes only. We make no representation and disclaim all liability with respect to your use of any information contained on Oxylabs Blog or any third-party websites that may be linked therein. Before engaging in scraping activities of any kind you should consult your legal advisors and carefully read the particular website's terms of service or receive a scraping license.
Forget about complex web scraping processes
Choose Oxylabs' advanced web intelligence collection solutions to gather real-time public data hassle-free.