Back to blog
Free White Paper: Alternative Data Brings Opportunities to The Financial Sector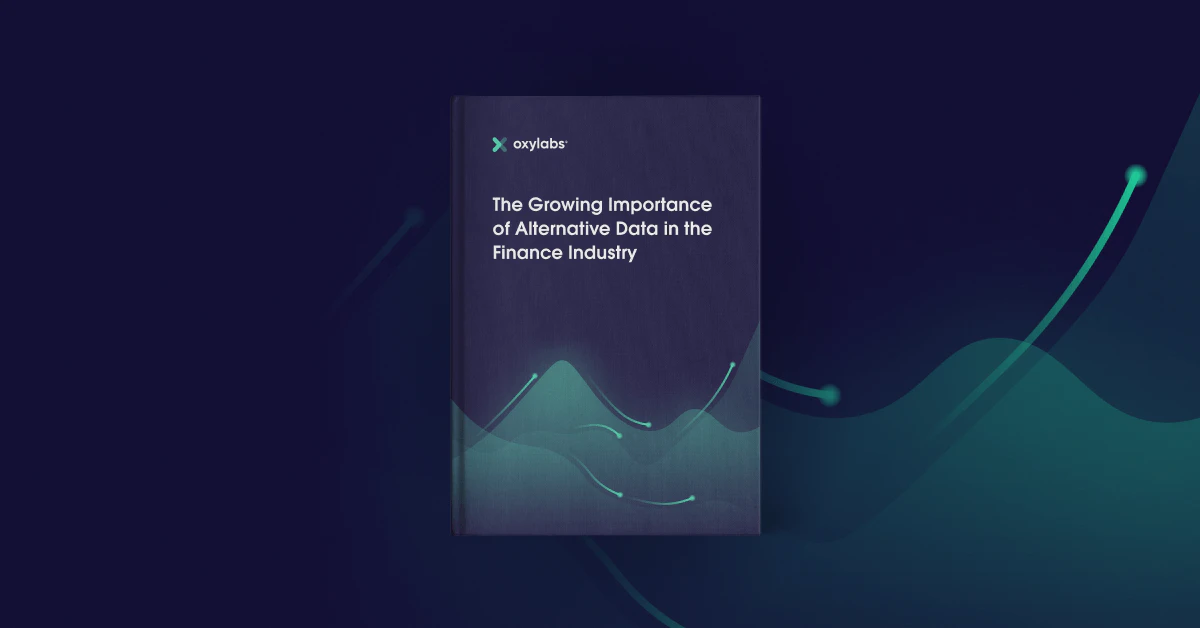 Adomas Sulcas
2021-06-291 min read
Those without direct contact to the financial sector have only heard rumours about alternative data. Supposedly, this new type of data has provided businesses with previously untapped decision making potential. Those in the financial sector who are able to utilize alternative data are now able to generate better returns on investment than their competitors.
In the past year, alternative data has experienced a powerful surge of growth. At Oxylabs, we have seen inquiries from the financial sector increase nearly three times when compared to previous years. Globally, total spending on data has increased over six times in the past five years.
Almost every business has been talking about doubling down on data. However, it can often be difficult to differentiate between hype and true utility.
Free PDF
Get Our Free White Paper About Alternative Data & The Finance Industry
Being data-driven means many things to many people. We decided to delve deeper into the what, how, and why of data. Instead of relying on hearsay and rumors, we now have hard facts on the subject. Our white paper allows us and everyone in the industry to better understand the benefits, pain points, and the future outlook of data management.
Julius Černiauskas, Chief Executive Officer at Oxylabs.io
Therefore, we decided to investigate the true extent and importance of alternative data in the financial sector. In cooperation with Censuswide, Oxylabs have conducted a survey of 252 UK senior data decision-makers in order to shed light on the topic. Our survey provides everyone with a complete view of the role alternative data plays in the financial sector.
What can you expect from this white paper?
How widespread is the use of alternative data?

How has the COVID-19 pandemic impacted the data collection practices and budgets?

What are the primary methods for data collection?

What are the most common challenges?

What are the sector's perceptions of web scraping?

What are the sector's data strategies for the upcoming year?
Download our white paper on alternative data in the financial sector and find out more on how it may benefit your business.
About the author
Adomas Sulcas
PR Team Lead
Adomas Sulcas is a PR Team Lead at Oxylabs. Having grown up in a tech-minded household, he quickly developed an interest in everything IT and Internet related. When he is not nerding out online or immersed in reading, you will find him on an adventure or coming up with wicked business ideas.
All information on Oxylabs Blog is provided on an "as is" basis and for informational purposes only. We make no representation and disclaim all liability with respect to your use of any information contained on Oxylabs Blog or any third-party websites that may be linked therein. Before engaging in scraping activities of any kind you should consult your legal advisors and carefully read the particular website's terms of service or receive a scraping license.
Scrape alternative data for finance
Let's discuss how Oxylabs can help you collect quality alternative data to bring more opportunities in the financial sector.