Back to blog
Real-Time Price Monitoring System Architecture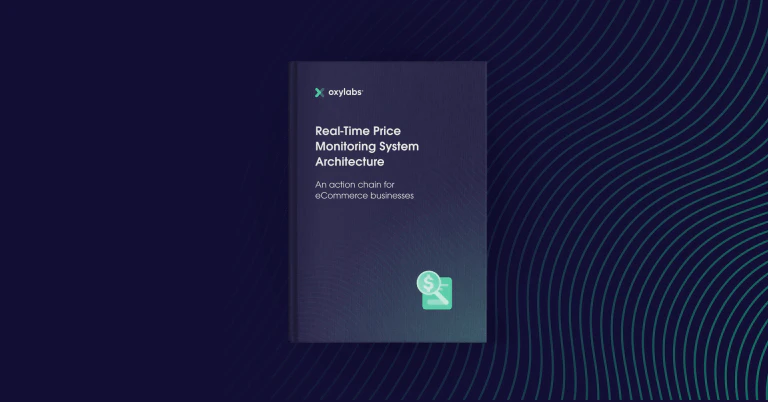 Augustas Pelakauskas
2022-03-241 min read
The automation of price monitoring is the only way to stay on top of the price intelligence challenges. Either keeping up with price changes, uncovering competitor strategies, or observing historical pricing data, price monitoring reveals applicable business patterns that catalyze growth.
This white paper provides an action chain for price monitoring, from collecting target URLs to data parsing, along with tips and explanations on the most important elements and processes.
Download our free white paper right now to get an introduction to the technicalities of price monitoring.
Free PDF
Real-Time Price Monitoring System Architecture
What to expect from this white paper?
In this white paper, you'll find out:
Four main steps of price monitoring technical architecture.

The processes constituting each step.

Various solutions to complete the processes.

The transformation from raw HTML to actionable data.
Take a look at other topics covering proxy and web scraping solutions detailed in Oxylabs white papers.
About the author
Augustas Pelakauskas
Senior Copywriter
Augustas Pelakauskas is a Senior Copywriter at Oxylabs. Coming from an artistic background, he is deeply invested in various creative ventures - the most recent one being writing. After testing his abilities in the field of freelance journalism, he transitioned to tech content creation. When at ease, he enjoys sunny outdoors and active recreation. As it turns out, his bicycle is his fourth best friend.
All information on Oxylabs Blog is provided on an "as is" basis and for informational purposes only. We make no representation and disclaim all liability with respect to your use of any information contained on Oxylabs Blog or any third-party websites that may be linked therein. Before engaging in scraping activities of any kind you should consult your legal advisors and carefully read the particular website's terms of service or receive a scraping license.
Build your own price monitoring system
Let's discuss how Oxylabs can help you build a real-time price-monitoring architecture.