Back to blog
Free Webinar: Why Ethically Sourced Proxies Should Be The Only Proxies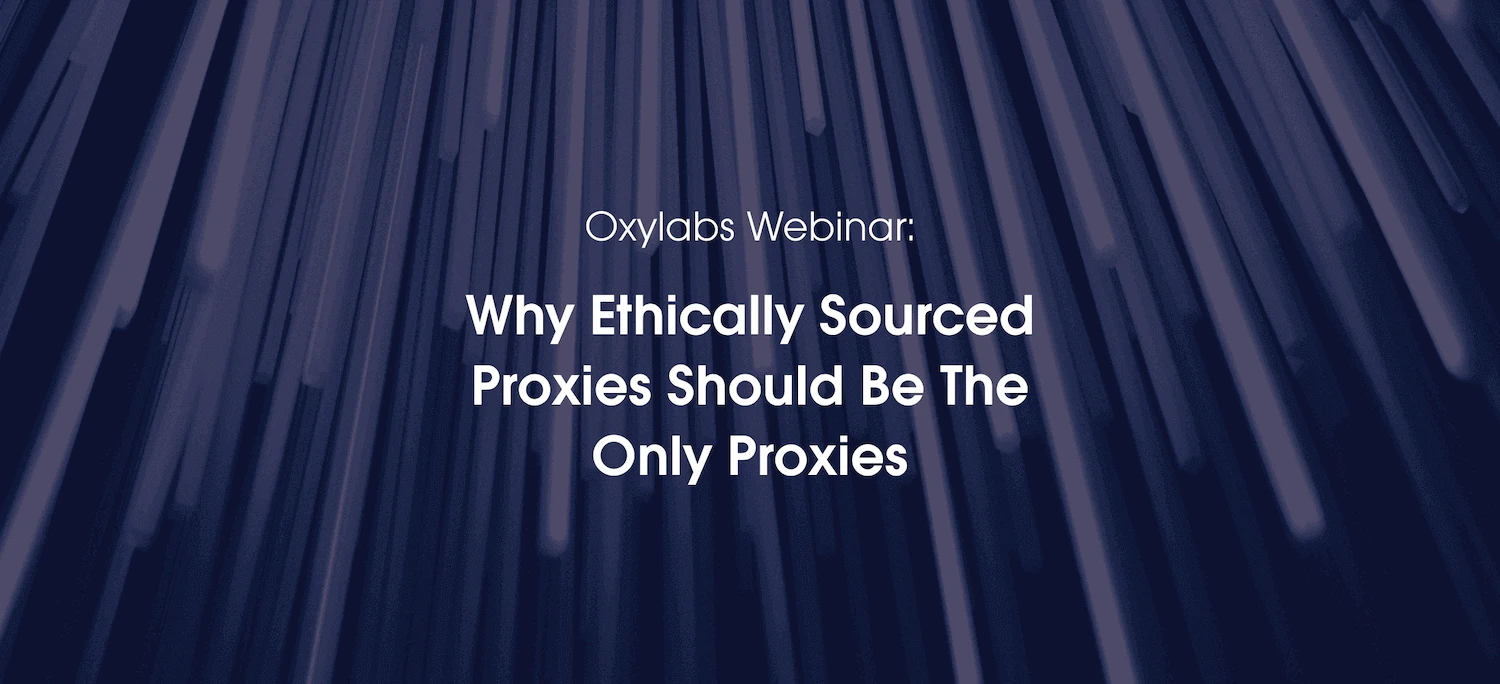 Iveta Vistorskyte
2021-06-172 min read
Residential Proxies help various businesses deal with the most challenging data gathering tasks. These proxies have genuine IP addresses provided by Internet Service Providers (ISPs), so they have low chances of getting blocked by target websites. Yet, residential proxies are challenging to obtain.
They are created by routing internet traffic through physical devices. One example of how it's usually done is when people install specific applications on their devices. Then, a part of their internet traffic and a small amount of the device's hardware resources get used. For a legitimate proxy infrastructure, it's essential to acquire documented and explicit consent of these users.
However, even knowing this, there are unfair residential proxy acquisition practices in the market, and unethically obtained proxies can harm businesses that use them.
We believe that ethically sourced proxies should be the only proxies. For this reason, our team took the initiative to host a free webinar discussing this topic. You can watch the recording of the webinar here:
Why should you watch this webinar?
In this webinar, you'll learn: 
How residential proxies are made;

What effect residential proxy origin has on businesses that use them;

How different residential proxy acquisition methods affect internet users;

Examples of industry residential proxy acquisition practices from most to the least ethical;

Where Oxylabs' Residential Proxies come from. 
A word from the presenters
Our webinar presenters are Oxylabs' Product Marketing Manager Gabija Fatėnaitė and Oxylabs' Head of Risk Management Vaidotas Šedys. We asked them why you should watch this webinar, and this is what they said:
"Learning about ethical proxy acquisition should be important to businesses that use proxy services as much as the services themselves. The risks a company takes by using a proxy provider with unknown residential proxy acquisition methods can lead to serious damage to the company's reputation. However, reputation is just one of the many things to worry about. We will be covering plausible issues in our webinar in greater detail, so make sure to check it out and learn how to keep a healthy web scraping ecosystem within your company."
– Gabija Fatėnaitė, Product Marketing Manager at Oxylabs
"Residential proxies can bring a lot of value to your business. However, sourcing them from unethical providers might bring some unwanted risks as well. I recommend watching this webinar for: 
1) Those who are already using residential proxies and want to understand the potential risks of having an unethical provider;
2) Those who are currently hesitant to use them because of unknown risks – you will find out how we assess and mitigate these risks here, at Oxylabs".
– Vaidotas Šedys, Head of Risk Management at Oxylabs
How does Oxylabs ensure ethical proxy acquisition?
Oxylabs took the initiative to set clear standards for residential proxy acquisition. The best practices of residential proxy acquisition could be summarized in the tier A+ model. This tier positions Oxylabs as a role model for all proxy service providers.
For a better understanding, here is how the majority of our Residential Proxies are acquired:
How Oxylabs Residential Proxies are acquired
Wrapping it up
Ethically sourced residential proxies are crucial because they utilize genuine IP addresses obtained from real users. Watch this webinar to learn why choosing reliable residential proxies can help you avoid unwanted risks.
Watch our other webinars to learn about essential topics in the data gathering world. And if you're interested in starting using Oxylabs' Residential Proxies right away, register now and boost your business to the next level!
About the author
Iveta Vistorskyte
Lead Content Manager
Iveta Vistorskyte is a Lead Content Manager at Oxylabs. Growing up as a writer and a challenge seeker, she decided to welcome herself to the tech-side, and instantly became interested in this field. When she is not at work, you'll probably find her just chillin' while listening to her favorite music or playing board games with friends.
All information on Oxylabs Blog is provided on an "as is" basis and for informational purposes only. We make no representation and disclaim all liability with respect to your use of any information contained on Oxylabs Blog or any third-party websites that may be linked therein. Before engaging in scraping activities of any kind you should consult your legal advisors and carefully read the particular website's terms of service or receive a scraping license.
Forget about complex web scraping processes
Choose Oxylabs' advanced web intelligence collection solutions to gather real-time public data hassle-free.