Guide to Setting a Proxy in Edge Browser
Concealing IP addresses, accessing geo-restricted content, and protecting devices from malicious requests are among the top priorities for numerous firms. Thankfully all of the tasks mentioned above can be completed with a proxy. As such, take a look at a quick and straightforward Microsoft Edge proxy integration guide below.
The guide will focus on Oxylabs' Residential and Datacenter Proxies while providing a step-by-step integration tutorial. 
Note, if you're still using Internet Explorer we highly recommend switching to Microsoft Edge as Internet Explorer 11 support ended on June 15, 2022.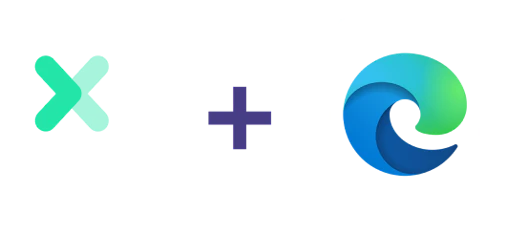 Setting up proxies with the Edge browser
To start the integration:
Launch Microsoft Edge.

Click on the three dots in the top right corner.
4. You'll be presented with your profile and many other configuration options. Within the search bar, write "proxy".
5. Afterwards, click Open your computer's proxy settings.
Step 5 will redirect you to Windows proxy settings; therefore, please follow this Windows proxy setup guide for further integration steps.
How to disable proxy settings in Microsoft Edge
The simplest way to disable proxy settings is through command-line options. You merely need to type --no-proxy-server, which will tell Microsoft Edge not to use a proxy. Do note that this command overrides any other provided proxy settings. For more information, see Microsoft's own tips here.
Setting a proxy in Internet Explorer
The no longer supported Microsoft's legacy browser, Internet Explorer, is surprisingly still somewhat relevant, especially in organizational networks that haven't yet updated their systems.
It's highly recommended to switch to Edge as Internet Explorer was permanently disabled in February, 2023. Note that there is an Internet Explorer mode in Microsoft Edge to sustain legacy settings. And yet, if you're still using Internet Explorer and want more privacy and security provided by proxies, you can still follow the same workflow.
The workflow applies to Internet Explorer 9, 10, 11, and other versions as the browser redirects the user to Windows proxy settings. Beware that these settings will apply system-wide, not just to Internet Explorer alone.
1. Navigate to settings (⚙️) > Internet options.
Internet Explorer's internet options
2. As Internet Explorer redirects you to Windows internet options, continue from the second step of the Configuring proxies using the legacy Windows settings section in the Windows proxy setup tutorial.
Conclusion
You can use Microsoft Edge to reach your system settings where a more in-depth setup can be continued.
Whether you're using a Windows PC, macOS laptop, or iOS or Android device, Oxylabs got you covered – find out how to set up proxies for various tools and apps with the help of our integrations. 
Don't hesitate to contact us for more details if you have questions about configuring our proxies or if you have any inquiries about our solutions.
Please be aware that this is a third-party tool not owned or controlled by Oxylabs. Each third-party provider is responsible for its own software and services. Consequently, Oxylabs will have no liability or responsibility to you regarding those services. Please carefully review the third party's policies and practices and/or conduct due diligence before accessing or using third-party services.
Get Edge proxies for $15/GB
---
Certified data centers and upstream providers