Back to blog
Choosing the Right Scraping Solution in 2022: Essentials You Need to Know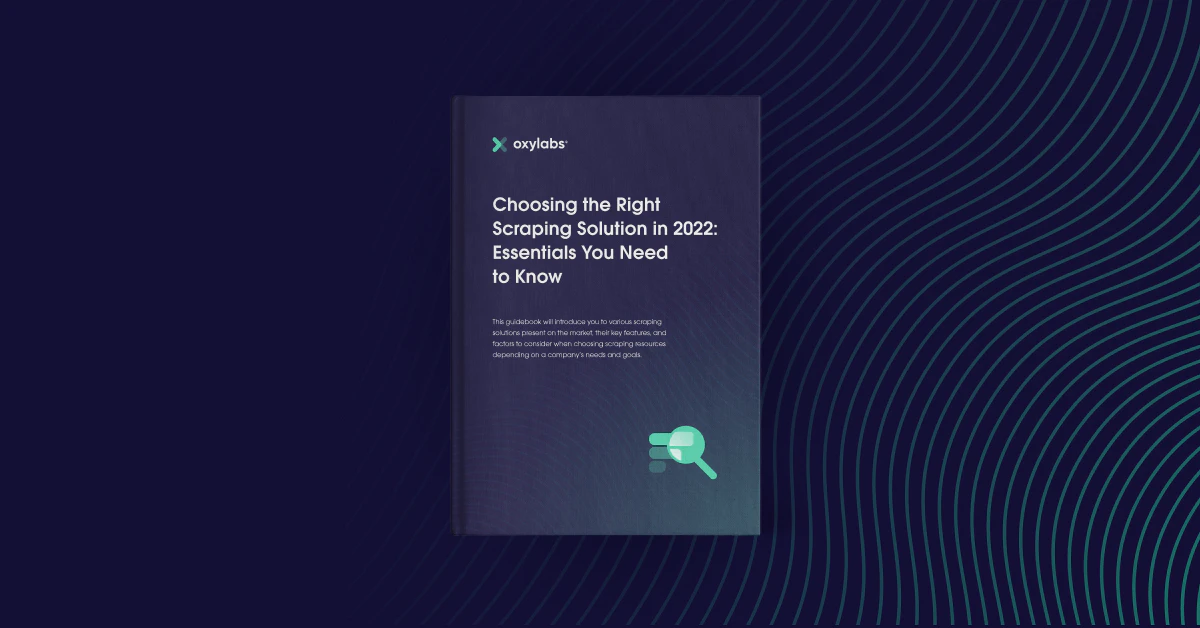 Maryia Stsiopkina
2022-03-171 min read
As public web data collection and analysis grow more integral to many companies across various industries, automated data gathering tools prove themselves as indispensable assistants in this challenging task.
Finding the right scraping solution is critical if you strive to leverage web data and put it to your advantage in the business decision-making process. This white paper aims to provide guidelines on how to select a scraping solution depending on your business's goals and requirements, as well as the aspects and features to consider when purchasing one.
Download this free white paper now and get all of your questions regarding web scraping solutions answered.
Free PDF
Choosing the Right Scraping Solution in 2022: Essentials You Need to Know
What to expect from this white paper?
This white paper answers the following questions:
When should you build an in-house scraper, and when outsourcing a scraping solution is a better option?

What are the main types of web scraping solutions?

What are the most popular uses of Scraper APIs (based on Oxylabs' analytics)?

What factors should you consider when outsourcing a web scraping solution?
Take a look at other topics covering proxy and web scraping solutions detailed in Oxylabs' white papers.
About the author
Maryia Stsiopkina
Senior Content Manager
Maryia Stsiopkina is a Senior Content Manager at Oxylabs. As her passion for writing was developing, she was writing either creepy detective stories or fairy tales at different points in time. Eventually, she found herself in the tech wonderland with numerous hidden corners to explore. At leisure, she does birdwatching with binoculars (some people mistake it for stalking), makes flower jewelry, and eats pickles.
All information on Oxylabs Blog is provided on an "as is" basis and for informational purposes only. We make no representation and disclaim all liability with respect to your use of any information contained on Oxylabs Blog or any third-party websites that may be linked therein. Before engaging in scraping activities of any kind you should consult your legal advisors and carefully read the particular website's terms of service or receive a scraping license.
Leverage web data with the right scraping tool
Let's discuss how Oxylabs can help you gather data by providing the tool according to your needs.