Back to blog
Join Us for a Networking Event for Web Scraping Professionals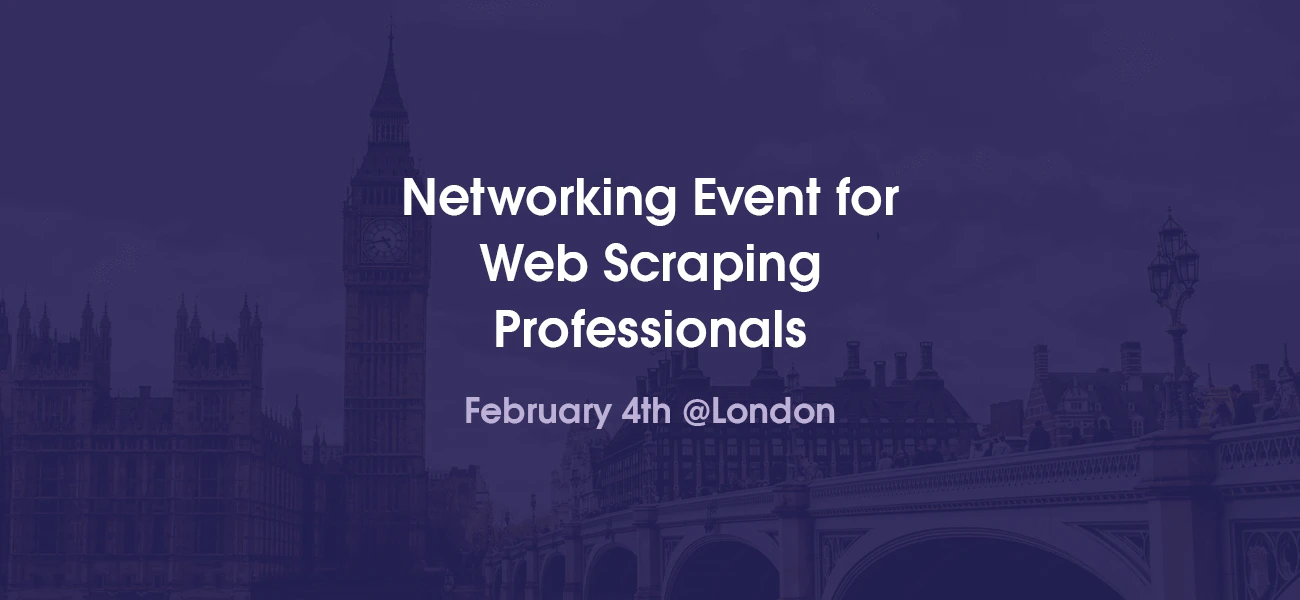 Vytautas Kirjazovas
2020-01-242 min read
Does your business rely on daily data scraping with Python tasks ? Or, perhaps, you are looking to kick-start your own external data gathering process and have a few questions in mind that need answering? Whichever is the case, we would like to invite our valued partners and all web data scraping enthusiasts to our very own web scraping meetup & drinks on February 4th, 4-6 PM in London. 
What can you expect?
Our team will be on hand to answer any queries related to web scraping practice, as well as to provide consultations on proxy solutions, over a pint or two. Of course, those who prefer a G&T or refreshing soft drinks, do not worry, we got you.
To add, you'll get the chance to meet our valued long-term partners, that are business leaders for global companies in various industries. At our meetup, expect attendees from leading e-commerce, flight rate intelligence, and digital marketing analytics businesses. In short, it's a great networking opportunity for all involved!
Lastly, with the help of our Oxylabs' Data Analysts department, we have prepared an extensive report – "The Rising Demand for Data: Oxylabs' 2020 Trend Report". This report is packed with insightful knowledge for all web scraping market stakeholders. And, if you do make it our networking and drinks event in London, you'll get a chance to get an exclusive copy of the report for yourself.

How to get involved

We're glad you've asked! Simply, head straight to the event's website and register your attendance. Or, email us at hello@oxylabs.io for further information. Whereas, our partners can get in touch directly with their own dedicated account manager to reserve a guaranteed slot. 

Lastly, please note that the capacity is limited for this event, so don't put the snooze button on this, and meet us in London. Cheers!
About the author
Vytautas Kirjazovas
Head of PR
Vytautas Kirjazovas is Head of PR at Oxylabs, and he places a strong personal interest in technology due to its magnifying potential to make everyday business processes easier and more efficient. Vytautas is fascinated by new digital tools and approaches, in particular, for web data harvesting purposes, so feel free to drop him a message if you have any questions on this topic. He appreciates a tasty meal, enjoys traveling and writing about himself in the third person.
All information on Oxylabs Blog is provided on an "as is" basis and for informational purposes only. We make no representation and disclaim all liability with respect to your use of any information contained on Oxylabs Blog or any third-party websites that may be linked therein. Before engaging in scraping activities of any kind you should consult your legal advisors and carefully read the particular website's terms of service or receive a scraping license.
Forget about complex web scraping processes
Choose Oxylabs' advanced web intelligence collection solutions to gather real-time public data hassle-free.