Back to blog
Oxylabs Webinar: Web Scraping From a Legal Perspective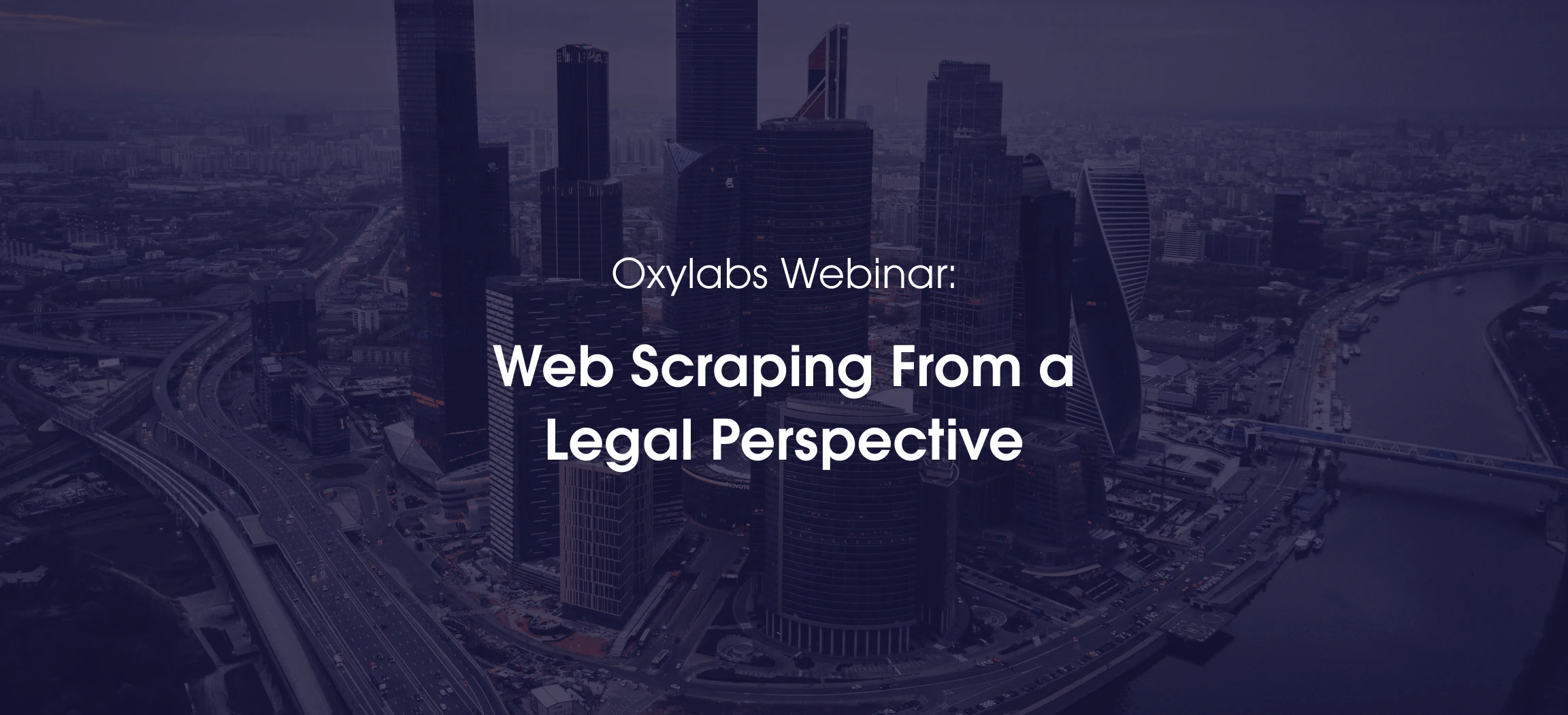 Gabija Fatenaite
2021-03-052 min read
We believe that public data should be available to everyone. However, companies that base their business on public data gathering feel they are at constant risk of having to battle public information sources. This is because any website can claim whatever they want on its terms of service, obstructing any scraping procedures. 
However, not many dare to speak about the legal matters of web scraping. It is time to change that.
Our team at Oxylabs took the initiative to host a webinar addressing the legal aspects of data gathering that affect every company that runs web scraping operations. We invited a panel of lawyers, professionals of various fields, including big data aggregation, and company founders, to talk about web scraping from a legal perspective.
We hope this webinar will help those who perhaps do not have a legal team, helping them to maneuver public data gathering roads. Register and watch the recording of the webinar for free!
Free webinar
Web Scraping From a Legal Perspective
Our guest speakers:
Allen O'Neil, Founder and CTO at DataWorks

Bradley Gross, Founding Partner at Law Office of Bradley Gross

Mindaugas Civilka, Partner at TGS Baltic

Sanaea Daruwalla, Head of Legal & Compliance at Zyte 

Steven Callahan, Partner at CCRG
What will you learn?
Watch the webinar and find out:
Is web scraping legal? What laws define web scraping and how should they be interpreted?

Cease and desist letters: what to do if you receive one? What actions should be taken, if you do not have a team of legal experts?

What is a web scraping checklist and how often should it be updated?

Ongoing court cases and incoming regulations that are relevant to the web scraping community.
A word from our Legal Counsel and webinar host
Denas Grybauskas, Oxylabs Legal Counsel 
"When working in a web scraping industry, one might sometimes feel that some things are left out of the discussion for one reason or another. That is the legal aspect of web scraping. At Oxylabs, we believe that the web scraping community should be open and transparent about what we are doing here and what legal factors should be considered. It is evident that there won't be one miracle regulation that will come into force anytime soon to answer all legal questions that are usually raised in this context.
I believe that this community itself will eventually come to a common understanding of what is reasonable and what is unacceptable, meaning that industry self-regulation might be the best answer to these legal questions.
That is why we were sure that this discussion was long overdue and essential for the web scraping community. For this reason, we have invited five distinguished speakers to share their insights on what web scraping is from a legal perspective."
– Denas Grybauskas, Oxylabs Legal Counsel
How Oxylabs ensures ethical and legal business data gathering via their products?
At Oxylabs, we seek to bring more transparency to the web scraping industry by setting high business ethic standards. We support fair market practices, and you can always be sure that our proxies are ethically sourced.
First things first, Oxylabs provides a legitimate Residential Proxy infrastructure. We demand from all of our proxy resource providers to ensure that all the residential network participants have expressed consent, are fully informed, and are fairly rewarded for their contribution.
Secondly, we have set explicit contractual obligations for our partners to ensure that end-users are aware and consent is documented. That said, we don't shy away from terminating collaborations with providers who become unable to meet our highest standards.
Tier A+ Residential Proxy pool
Tier A+ proxy pool positions Oxylabs as a role model for all proxy service providers. Here is how the majority of our Residential Proxies are acquired:
How Oxylabs Residential Proxies are acquired
Conclusion
Addressing the legality of web scraping public data is a discussion long overdue. Oxylabs took this task upon themselves to engage the web scraping community and discuss data gathering legal matters. We aim to make the industry more transparent and understood by all who deal with this on a daily basis. 
Watch the recording of the webinar for free today!


About the author
Gabija Fatenaite
Lead Product Marketing Manager
Gabija Fatenaite is a Lead Product Marketing Manager at Oxylabs. Having grown up on video games and the internet, she grew to find the tech side of things more and more interesting over the years. So if you ever find yourself wanting to learn more about proxies (or video games), feel free to contact her - she'll be more than happy to answer you.
All information on Oxylabs Blog is provided on an "as is" basis and for informational purposes only. We make no representation and disclaim all liability with respect to your use of any information contained on Oxylabs Blog or any third-party websites that may be linked therein. Before engaging in scraping activities of any kind you should consult your legal advisors and carefully read the particular website's terms of service or receive a scraping license.
100M+ ethically sourced Residential Proxy pool
Choose Oxylabs proxies to ensure high-class business ethics and strict compliance.