Back to blog
Proxy Integration With Octoparse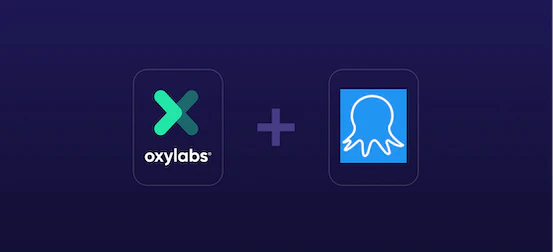 Maryia Stsiopkina
2021-10-21
Octoparse is a simple-to-use data extraction tool. It allows you to scrape public data without coding and bypass most anti-scraping mechanisms by enabling automatic IP rotation and extended session time. Amplified by the advanced machine learning algorithms, Octoparse quickly locates the data when you click on it. It handles complex websites and captures all kinds of data, including text, link, image URL, and HTML code. 
In this article, we'll guide you through the Octoparse integration process with Oxylabs' Datacenter and Residential Proxies to ensure a quick start and smooth web scraping.
How to integrate Oxylabs' proxies with Octoparse?
To start the Octoparse proxy integration, download, install, and open Octoparse, following the instructions.

Create a task by clicking the +New button in the top-left corner, and choose the Advanced Mode.
3. Type the URL of the webpage you intend to extract data from in the Website field. We will use ip.oxylabs.io as an example. Click the Save button.
4. To set up our proxies, select the settings icon on the upper bar in your Task tab.
5. Scroll down to the Anti-blocking Settings.
6. Put a checkmark in the Use IP Proxies box. After this step, you will see the Octoparse proxy Settings button.
7. When you click on the Octoparse proxy Settings button, a pop-up window will appear. Copy and paste the Oxylabs' proxies IP addresses into the field. Octoparse only works with IP:PORT-based format.
Residential Proxies
As an example, we will use 188.40.239.128:7777  to integrate Rotating Residential Proxies.
Datacenter Proxies
In case you want to integrate Datacenter Proxies, you have to use a different port number. Enter the proxy code from your list with a  60000  port number if you're using a username:password authentication method. Enter the 65432 port number if you're using whitelisted IPs. Look at the example below.
8. Depending on whether you use a rotating or sticky session type, set up the Switch interval.
9. Save changes by clicking the Confirm button.
10. To ensure the Octoparse integration was successful, check if there is a checkmark next to the Settings in the Anti-blocking settings section.
11. Click the Save button.
That's it – you are all set up and ready to focus on your web scraping tasks with Octoparse.
Conclusion
Combined with Oxylabs Residential Proxies, Octoparse can assist businesses in their data extraction operations. The tool is simple and doesn't need any coding, yet fast and efficient.If you still have questions about the Octoparse proxy integration process, don't hesitate to contact us.
About the author
Maryia Stsiopkina
Content Manager
Maryia Stsiopkina is a Content Manager at Oxylabs. As her passion for writing was developing, she was writing either creepy detective stories or fairy tales for children at different points in time. Eventually, she found herself in the tech wonderland with numerous hidden corners to explore. In her spare time, she goes birdwatching with the binoculars (some people mistake it for stalking, which is why Maryia finds herself in an awkward situation sometimes), makes flower jewellery, and eats many pickles and green olives.
All information on Oxylabs Blog is provided on an "as is" basis and for informational purposes only. We make no representation and disclaim all liability with respect to your use of any information contained on Oxylabs Blog or any third-party websites that may be linked therein. Before engaging in scraping activities of any kind you should consult your legal advisors and carefully read the particular website's terms of service or receive a scraping license.