Back to blog
"Project 4β" Teams Up with a Nonprofit #SRNT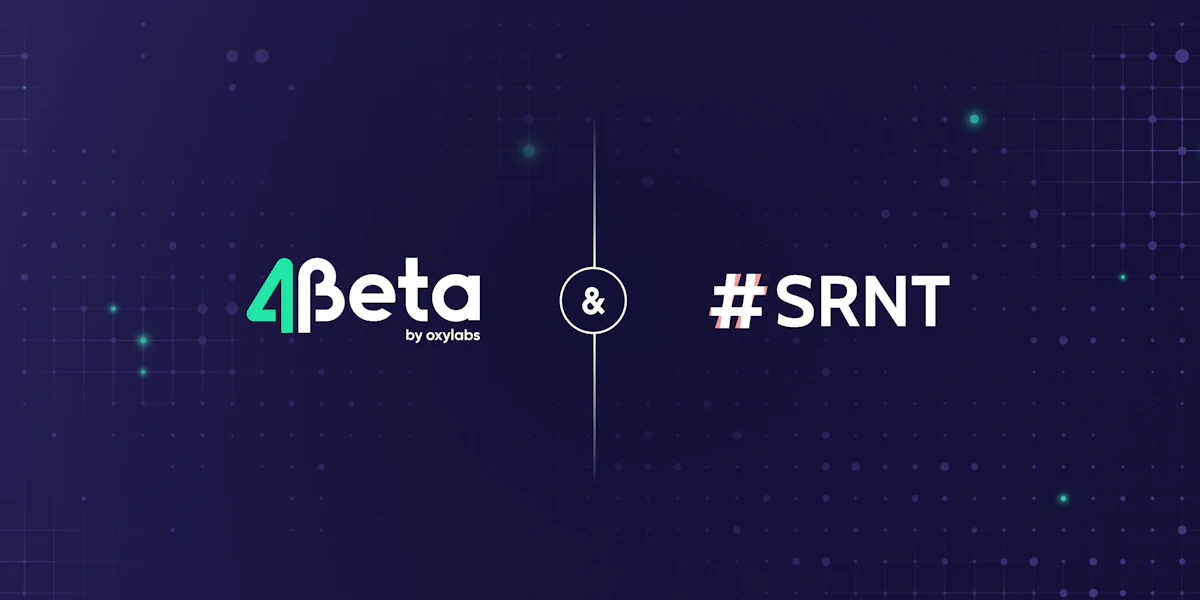 Gabija Birgile
2023-05-242 min read
"Project 4β", a pro bono initiative powered by Oxylabs, continues supporting initiatives that contribute to the public good. As part of its ongoing efforts, "4β" established a new partnership with #SRNT (Serenity) – a nonprofit Crisis Aide platform, aimed to provide individuals facing challenging life situations with access to organizations where they can seek assistance.
Through "Project 4β" #SRNT project will get access to Oxylabs' cutting-edge SERP Scraper API and WEB Scraper API solutions that will help the organization to gather crucial data from various online sources. This collaboration will empower Serenity to accomplish one of the essential platform-building steps – data collection.
We are thrilled to be involved in impactful initiatives like #SRNT and support their growth. Web intelligence acquisition solutions can drive positive societal change, therefore, we're confident that with our tools, #SRNT team will successfully fulfill its mission of making help accessible to everyone.
Julius Černiauskas, CEO of Oxylabs
What is the SRNT project?
SRNT is an AI Crisis Aide platform that can provide real-time support and assistance to those in need, leveraging the power of technology and AI for the good of society.
Our team is doing its best to bring together the most trusted and reputable organizations and experts to help our users in any situation. Whether people are struggling with a toxic relationship, violence, discrimination, or any other crisis, the SRNT app will provide easy access to support organizations. We hope this project can empower people to get through their difficulties and find hope in their darkest moments.
Nadezhda Barodzich, Head of #SRNT
According to Mrs Barodzich, when founding the organization, the goal was to create a project where helpful information is available on every smartphone so that every girl wouldn't endure violence and could quickly press a button knowing that she is not alone, that she has someone to confide in and where to get help.
Over time, the list of problems expanded because founders dived into the topic, realizing there were many more situations people find difficult to discuss and that quick help should be available to everyone. There are a lot of people in the world who are ashamed of or do not trust the police and government services. They feel left alone with their problem and do not always find support. However, at the same time, there are many wonderful organizations and ways to help free that most people don't even know about.
SRNT app will help its users find organizations based on location, time, and previous experiences. Users will also be able to connect with others going through similar situations, creating an atmosphere of support, trust, and encouragement for those who need it. 
Currently, the Serenity project is in its developmental phase, where the team utilizes artificial intelligence (AI) and machine learning (ML) techniques to gather information, decompile it, structure it, and enhance it with "human language models." The anticipated launch of the SRNT platform is scheduled for autumn 2023. Initially, the SRNT app will be made accessible in northern Europe, followed by its availability in California, United States. Subsequently, there are plans for territorial expansion to other regions.
We were happy to meet the project team - professionals who promote technology for the benefit of society. The idea for our project was born precisely because of the difficulty of finding up-to-date data about charities. Collaboration with "Project 4β" will help us significantly speed up and simplify the data collection process at the initial stage and greatly facilitate the regular checking and updating of data. This will make our databases always up-to-date and useful for our users. We are grateful to Oxylabs for such significant support and are proud of this collaboration. Oxylabs' help and support is a huge contribution to the use of technology for the public good.
Nadezhda Barodzich, Head of #SRNT
Invitation to join "4β"
Oxylabs' "Project 4β" is dedicated to assisting academic institutions, NGOs, NPOs, and various organizations in tackling complex societal challenges. "4β" has established valuable partnerships with Debunk.org, an organization dedicated to countering online disinformation and state-sponsored internet propaganda, the Environmental Protection Department of Lithuania, as well as students and professors from esteemed educational institutions such as the University of Michigan, Northwestern University, University of Pennsylvania and others. These collaborations have resulted in significant positive outcomes.
 For those interested in free access to Oxylabs web intelligence acquisition solutions, we encourage you to reach out to us using our contact form. 
About the author
Gabija Birgile is a PR Manager at Oxylabs. After working in a PR agency and juggling various projects for quite some time, she wanted to try a role in the tech industry. Making a positive impact with her work was always on top of her mind, so managing pro bono partnerships now definitely does the job. If you have a project in mind, drop her a message at partnerships@oxylabs.io.
All information on Oxylabs Blog is provided on an "as is" basis and for informational purposes only. We make no representation and disclaim all liability with respect to your use of any information contained on Oxylabs Blog or any third-party websites that may be linked therein. Before engaging in scraping activities of any kind you should consult your legal advisors and carefully read the particular website's terms of service or receive a scraping license.
Forget about complex web scraping processes
Choose Oxylabs' advanced web intelligence collection solutions to gather real-time public data hassle-free.