Back to blog
Sources of Competitive Intelligence and Best Practices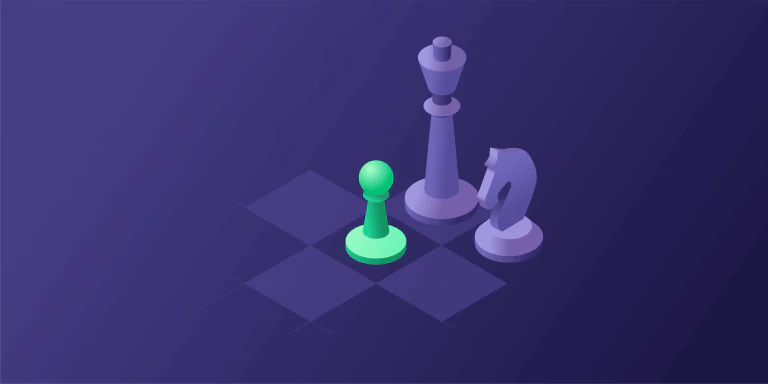 Iveta Vistorskyte
2021-07-096 min read
Ever since the realization that information is a source of competitive advantage, managers and decision-makers have been using it to measure their companies' performance vis-à-vis how their rivals are performing. They also use it to generate effective strategies for the future. 
Thus, competitive intelligence has become an integral tool for companies looking to differentiate themselves from competitors. In this article, we detail what the sources of competitive intelligence are. We also explain the challenges of competitive intelligence, as well as the best practices.
What is competitive intelligence?
Also known as corporate intelligence, competitive intelligence refers to the systematic process that uncovers, collects, synthesizes, and uses data from various sources about customers, competitors, pricing, and other market elements for the main aim of enhancing a company's competitive advantage. It helps companies peer through competitors' activities, thereby providing an informed foundation for building a strategy that creates competitive differentiation.
Competitive intelligence provides the key to establishing advantages, opportunities, and challenges, effectively shaping brand positioning, product development, and pricing. Simply, it's a crucial element of strategic management due to its role as a tool that provides managers and leaders with insights that support decision-making.
The knowledge advantage resulting from the reliance on competitive data is crucial now more than ever, especially because the business environment is growing even more dynamic by the day. Businesses can capitalize on this advantage to gain market share and increase brand equity, as well as revenue.
Sources of competitive intelligence
Harnessing the benefits of corporate intelligence first requires an understanding of the competitive intelligence examples. Using the knowledge gained, company managers can then establish the best sources for each of these types. The examples include this public data: emerging and current competitors, reviews of customers, pricing, leadership changes, news coverage, job postings, content updates, and reviews of employees. Notably, any impactful change in competitors' operations is a competitive intelligence example, from variations regarding how they package their messages to logo modification. 
Once managers have identified each of these types, the second step is establishing where they can obtain this information. The various data types above can be grouped into those dealing with competitors and those dealing with customers. 
Competitive data on competitors
As a manager, you can source competitive data about competitors from the following avenues:
Financial reports
Financial reports and documents filed with the relevant oversight bodies are a reliable source of information about competitors' business growth strategies, financial health, subsidiaries, management team, employee numbers, and more. They generally provide a detailed deep-dive into competitors' activities.
Competitor websites
Usually, companies upload press releases on their websites detailing new information and achievements, such as management changes and acquisitions. These sites are sources of competitive intelligence about job openings and job descriptions. They also contain corporate information such as the history, management team, products offered, and geographical presence. Furthermore, undertaking a search engine optimization (SEO) audit on the sites provides information about their search ranking, authority, traffic, and keywords used.
Job boards and job aggregator sites
Job boards and job aggregate sites contain competitive information about all your competitors' job openings as they pool this data from various sources and coalesce it in one location.
Premium competitive intelligence databases
In some instances, the available data that passes as competitive information is limited. In such cases, a paid competitive intelligence database may come in handy as it provides various kinds of business information.
Third-party reports and analysis
Websites have carved out a niche as providers of investing insights and financial advice by publishing in-depth articles on companies. Essentially, these pieces are industry analysis sources.
Patent databases
What inventions or designs have other companies come up with over the last few months? You can obtain such information from patent databases, which contain your competitors' patent portfolios. With this information, you can establish the type of new products they are developing and subsequently address any innovation gaps your firm may be facing.
Primary research
Qualitative research methods involving suppliers, distributors, and industry players can be a great source of competitive information about your competitors.
Competitive data can be found on various public sources
Competitive data on customers
You can obtain competitive intelligence about customers by relying on the following sources:
Social media

Primary research

Customer reviews
Social media
Social media offers unfiltered and unfettered access to people's thoughts regarding products they have purchased or intend to buy. Thus, by collecting the publicly available data therein and analyzing the conversations, you will generate reports that allow you to evaluate your brand against your competitors in terms of customer reviews and feedback. The information generated can help you modify your brand strategy accordingly.
Primary research
Conducting surveys and one-on-one interviews with your customers is a surefire way of understanding the market needs. After all, customers form the focus of any company's operations, given their role as the target personas. Through this research, you'll gain insight into their needs, feedback, and pain points, as well as your products' use cases.
Customer reviews
The internet is home to numerous online marketplaces that contain review sections. By obtaining this review data, you can immediately establish the value customers attach to your product and those of your competitors as well.
At the same time, while competitive intelligence is beneficial to companies, it's crucial to ensure that such information is accessed ethically. At Oxylabs, we promote and espouse ethical web scraping by only collecting publicly available information. We don't encourage nor support unethical web scraping or gathering not publicly available information.
Check this for more information on web scraping and how to do web scraping in Python.
Challenges of competitive intelligence
Although competitive intelligence has increasingly grown in importance, becoming an integral differentiator in the competition-filled business world, it's not without its challenges. These challenges of competitive intelligence include:
Accuracy and reliability of data sources
Technology is more central to companies' operations now than ever before. Avenues such as social media platforms have emerged that businesses can use to generate marketing hype. Whereas this is beneficial to firms behind the advertisements, they complicate the process of obtaining valuable data. In fact, competitive intelligence professionals have described the heightened level of difficulty when it comes to distinguishing what a company does and other essential data from their marketing hype.
The digital age has eased the dissemination of information, some of which may be inaccurate or borne from hearsay, and has created multiple sources of information. This means that to obtain useful competitive data, professionals have to find ways of sieving the useless data sources out – that's the product of hearsay – leaving only the accurate ones.
Importantly, companies could adopt technology that obtains, organizes, and prioritizes each update from all the possible sources to deal with these problems. Further, to guarantee the accuracy of the information, businesses can constantly check their competitors' reviews, products, leadership team, promotions, digital presence, content, and customers, both online and offline.
Timeliness of data
For data to be actionable, it should be fresh or up to date. However, competitive intelligence professionals often struggle with obtaining the data in a timely fashion. Also, a lot of the crucial information is not freely available, meaning collecting it consumes much time, and by the time professionals complete this step, the data could have already become stale. 
Substituting manual forms of data collection with automated data collection and analysis methods is a surefire way of addressing the problem.
Preparation of data
Usually, data from various sources is available in an unstructured format, may contain unimportant values, and may not be easily accessible. These characteristics mean that the data needs to be transformed into the industry-accepted data format – JSON – before it can be analyzed or used in the generation of models.
Competitive intelligence has various challenges
Best practices of competitive intelligence
While reading through the challenges discussed above, one element may have stood out: the importance of technology. Competitive intelligence tools facilitate:
They also enable the verification of the accuracy and reliability of the data sources. Without such tools, it would be impossible to retrieve accurate, reliable, and timely data from resources such as the internet. It would even be impossible to analyze the said data.
Thus, competitive intelligence tools smoothen the data collection process and deliver the data in real-time. Previously, competitive intelligence professionals used to gather and analyze the information manually. But this approach was disadvantageous. By the time they had completed the analysis, the market would have already transitioned, rendering the data irrelevant. 
Nonetheless, this is not the case anymore, given that you can readily use readily available competitive intelligence tools from Oxylabs. Our Scraper APIs are a set of reliable all-in-one solutions that are suited for collecting competitive data. 
Conclusion
The importance of competitive intelligence on businesses is undeniable. From the onset, managers realized its contribution in ensuring companies have a competitive advantage, and they have been unrelenting in using it since. The emergence of new technologies and digital platforms means that large volumes of data are being generated daily and to adapt, the competitive intelligence best practices call for the use of competitive intelligence tools. These tools are capable of collecting, analyzing, and presenting real-time data faster than if professionals had used manual methods. They also address several problems associated with collecting competitive data. Our Scraper APIs, for example, are a set of reliable and comprehensive solutions for collecting competitive data.
About the author
Iveta Vistorskyte
Lead Content Manager
Iveta Vistorskyte is a Lead Content Manager at Oxylabs. Growing up as a writer and a challenge seeker, she decided to welcome herself to the tech-side, and instantly became interested in this field. When she is not at work, you'll probably find her just chillin' while listening to her favorite music or playing board games with friends.
All information on Oxylabs Blog is provided on an "as is" basis and for informational purposes only. We make no representation and disclaim all liability with respect to your use of any information contained on Oxylabs Blog or any third-party websites that may be linked therein. Before engaging in scraping activities of any kind you should consult your legal advisors and carefully read the particular website's terms of service or receive a scraping license.
Forget about complex web scraping processes
Choose Oxylabs' advanced web intelligence collection solutions to gather real-time public data hassle-free.