Back to blog
Oxylabs Webinar: The Future of Web Scraping – Next-Gen Residential Proxies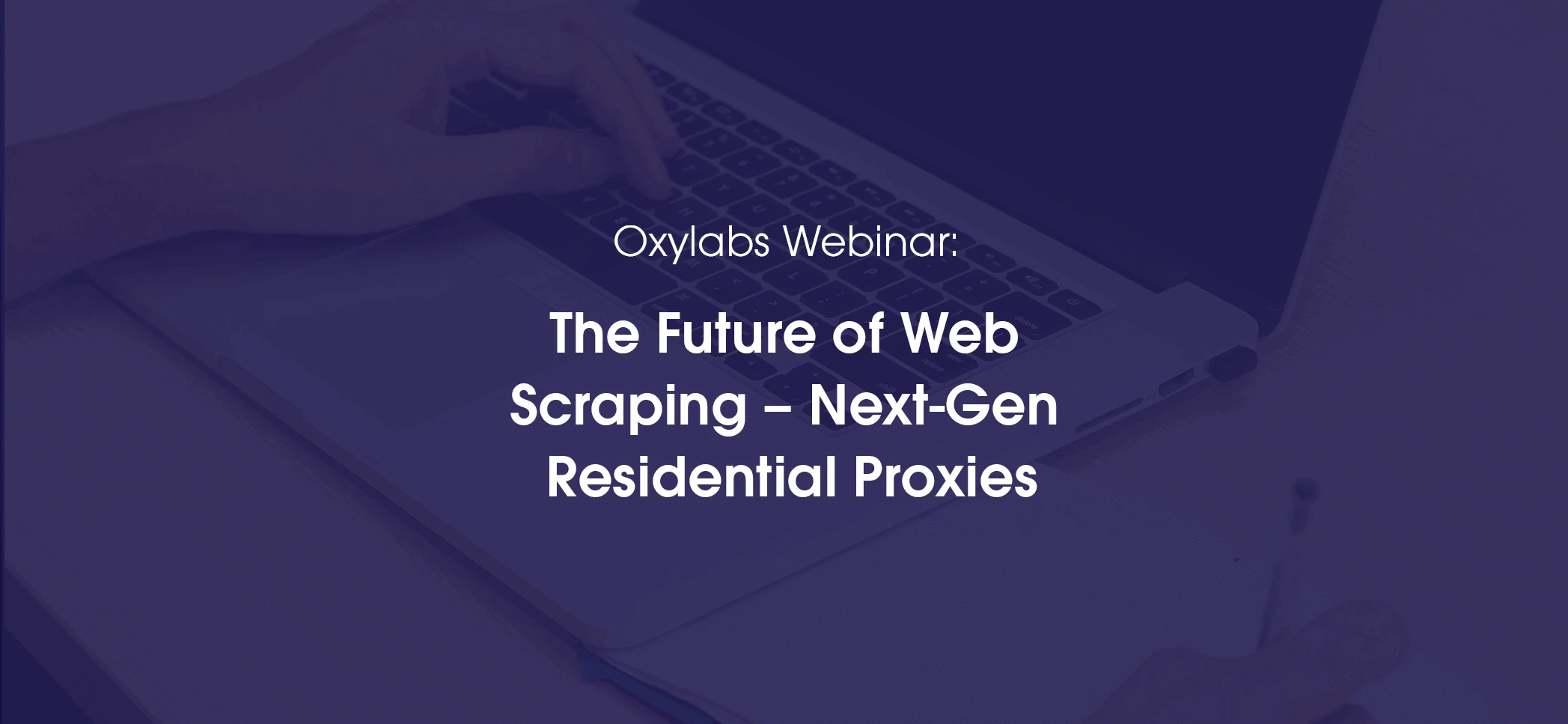 Iveta Vistorskyte
2020-10-082 min read
Next-Gen Residential Proxies are the latest innovation in the web scraping industry. These proxies have been developed by a team of tech innovation experts along with an advisory board. It's a unique and beneficial solution to all businesses that struggle with constantly recurring IP blocks and other web scraping issues.
On September 29, we hosted a webinar about Next-Gen Residential Proxies and we want to thank all who joined our webinar and learned about the future of web scraping! It was a fantastic opportunity to share our knowledge with you.
The full recording of this webinar is now available here:
Why watch this webinar?
You'll find out how the latest Artificial Intelligence (AI) and Machine Learning (ML) technologies helped improve the web scraping process. One of the outstanding features is Adaptive Parsing – it adapts to different website layouts and gathers information even from the most complicated product pages. A Lead of Commercial Product Owners, Nedas, will show you the live example of how Adaptive Parsing works.
In this webinar, Next-Gen Residential Proxy Product Owner Aleksandras reveals how the idea of the new proxy type was born in the first place.
The solutions we were able to provide without Next-Gen Residential Proxies were merely short-term ones, meaning that the IPs will usually be blocked by target websites sooner or later. That's when the idea of developing an exclusive solution first came to our specialists' thoughts. The main reason was to help our clients solve web scraping issues more efficiently.
Next-Gen Residential Proxies vs. Residential Proxies
It's also worth watching this webinar because you'll learn about the differences between Next-Gen Residential proxies and regular Residential Proxies.  Both proxy types have the same features, such as:
1. IP blocks handling
2. Location and device-specific requests
3. Proxy pool management (e.g. rotation, session control, etc.)
However, Next-Gen Residential Proxies can offer more beneficial features that will make your web scraping process easier, such as AI-powered dynamic fingerprinting, AutoRetries system, JavaScript-heavy websites rendering, and much more.
A word from presenters
Our webinar presenters Nedas and Aleksandras, who closely worked developing these proxies, are very excited about this webinar, and they are more than happy to share their knowledge with you! We asked them why you should watch this webinar, and this is what they said:
I witnessed numerous cases where our clients would struggle with data gathering as their IPs would get blocked. We needed to develop a product that would, by design, avoid all blocks. We had to dive deep at the heart of the problem and understand the essence behind common pitfalls. This helped us to understand what features would make Next-Gen Residential Proxies infallible.
We decided to host this webinar because we wanted to explain how Next-Gen Residential Proxies can help companies forget complex web scraping tasks and focus on data insights. Watch this webinar to hear about the newest proxy type in the market!
– Aleksandras Šulženko, Next-Gen Residential Proxy Product Owner at Oxylabs
We noticed that our clients often face the same web scraping issues. This is why we decided to dig deeper into these problems and develop a unique solution powered by the latest Artificial Intelligence and Machine Learning technologies. I believe that the innovation behind Next-Gen Residential Proxies is a game changer for businesses of all sizes.
We shared our experience and presented Next-Gen Residential Proxies features to make the web scraping process effortless. Learn how to achieve the highest web scraping success rates!
– Nedas Višniauskas, Lead of Commercial Product Owners at Oxylabs
Wrapping up
If you are interested, we suggest you also watch another webinar about residential proxy usage mistakes and how to solve them by clicking here.
Would you like to start using Oxylabs' Next-Gen Residential Proxies right away? Book a call with our sales team, or email us at hello@oxylabs.io.
About the author
Iveta Vistorskyte
Lead Content Manager
Iveta Vistorskyte is a Lead Content Manager at Oxylabs. Growing up as a writer and a challenge seeker, she decided to welcome herself to the tech-side, and instantly became interested in this field. When she is not at work, you'll probably find her just chillin' while listening to her favorite music or playing board games with friends.
All information on Oxylabs Blog is provided on an "as is" basis and for informational purposes only. We make no representation and disclaim all liability with respect to your use of any information contained on Oxylabs Blog or any third-party websites that may be linked therein. Before engaging in scraping activities of any kind you should consult your legal advisors and carefully read the particular website's terms of service or receive a scraping license.
Forget about complex web scraping processes
Choose Oxylabs' advanced web intelligence collection solutions to gather real-time public data hassle-free.