Back to blog
ML-Based Adaptive Parser Is Now In Production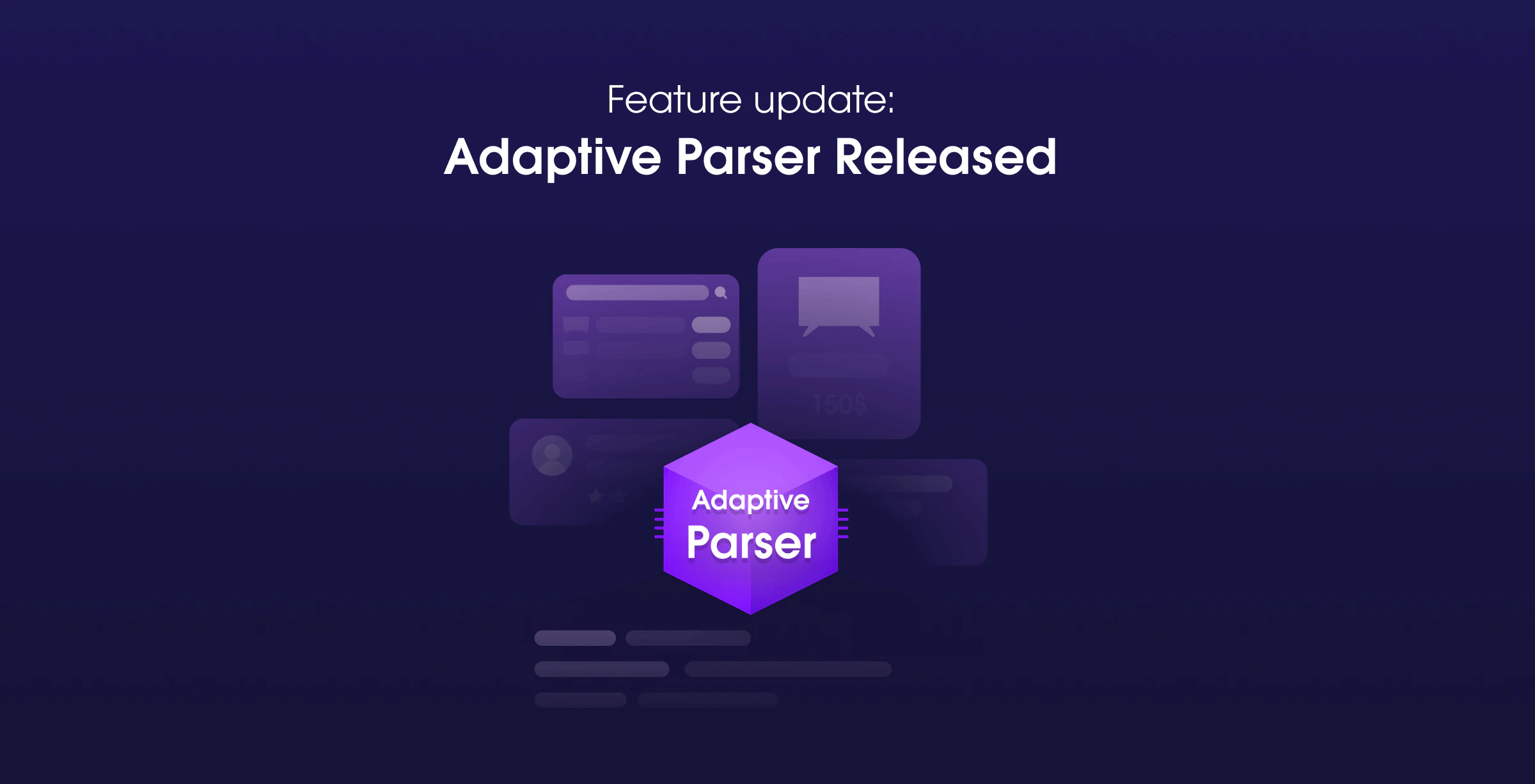 Maryia Stsiopkina
2021-07-232 min read
Oxylabs is happy to announce that Adaptive Parser is now at full blast! With AI-powered Adaptive Parser, our clients can unlock structured data from any e-commerce page.
Product pages parsing: challenges that needed to be solved 
While developing the Adaptive Parser feature, our main concern was to resolve the issues constantly reappearing in the web scraping industry, especially among our valued partners. Precisely, the following obstacles were hindering the product pages parsing from being smooth and successful:
E-commerce sites have different layouts. It means that to extract product and pricing data from each specific page, you need to build custom parsers for each of them.

E-commerce sites renew their layouts frequently. Again, new parsers will be needed to adjust to the changes in the sites' design. 

Layout changes may happen based on the location you are scraping from. This presses companies to adjust their already made parsers to various localized product page layouts, which can be very time-consuming.  
The solution for businesses
To fix the problems above, Oxylabs has developed AI and ML-powered solutions. Having brought together a team of developers, data scientists, and machine learning specialists supported by the AI & ML advisory board, a great deal of work has been done to make the web scraping experience as effortless as possible.
Adaptive Parser enables automatic product page parsing from 1000s e-commerce websites and acquires product data in a structured JSON format that easily integrates with data analysis tools. Oxylabs' ML algorithms-based Parser is easy to incorporate, so no development is needed to build custom parsers. 
Parsing is one of the most resource-intensive processes in scraping. Our Adaptive Parser is changing that by allowing businesses to dedicate less time working around data and more time working with data.
– Martynas Juravičius, Oxylabs Lead Data Analyst
How it works
While most e-commerce sites have different and ever-changing layouts, our Adaptive Parser is able to detect product pages and extract universal data from them.
Adaptive Parser automatically detects and returns price, description and other information about the product from e-commerce websites.
Oxylabs' Adaptive Parser opens new possibilities for various business use cases. Here are some of them:
Price monitoring. Companies can parse the most accurate data from any e-commerce website regardless of the language of the product page.

Alternative data. While the relevance of alternative data is closely tied to the moment, companies need consistent real-time data that is delivered in ready-to-use formats. Adaptive Parser returns parsed information in the JSON format and helps companies focus on analysis rather than sorting collected intelligence.
Wrapping up
Oxylabs' AI-empowered Adaptive Parser has now been released and is fully ready to use. This feature is available with Oxylabs' Scraper APIs and aims at eliminating previously recurring issues related to the limitations of the parsing process caused by ever-changing layouts of product pages. Grounded in innovative technologies, Adaptive Parser strives to create more favorable conditions for the data acquisition from product pages.
If you want to learn more about the Adaptive Parser feature or how to use it, contact our sales team or drop us a line at hello@oxylabs.io.
About the author
Maryia Stsiopkina
Senior Content Manager
Maryia Stsiopkina is a Senior Content Manager at Oxylabs. As her passion for writing was developing, she was writing either creepy detective stories or fairy tales at different points in time. Eventually, she found herself in the tech wonderland with numerous hidden corners to explore. At leisure, she does birdwatching with binoculars (some people mistake it for stalking), makes flower jewelry, and eats pickles.
All information on Oxylabs Blog is provided on an "as is" basis and for informational purposes only. We make no representation and disclaim all liability with respect to your use of any information contained on Oxylabs Blog or any third-party websites that may be linked therein. Before engaging in scraping activities of any kind you should consult your legal advisors and carefully read the particular website's terms of service or receive a scraping license.
Forget about complex web scraping processes
Choose Oxylabs' advanced web intelligence collection solutions to gather real-time public data hassle-free.