Back to blog
Proxies for Web Scraping: a Complete Guide | OxyCast #5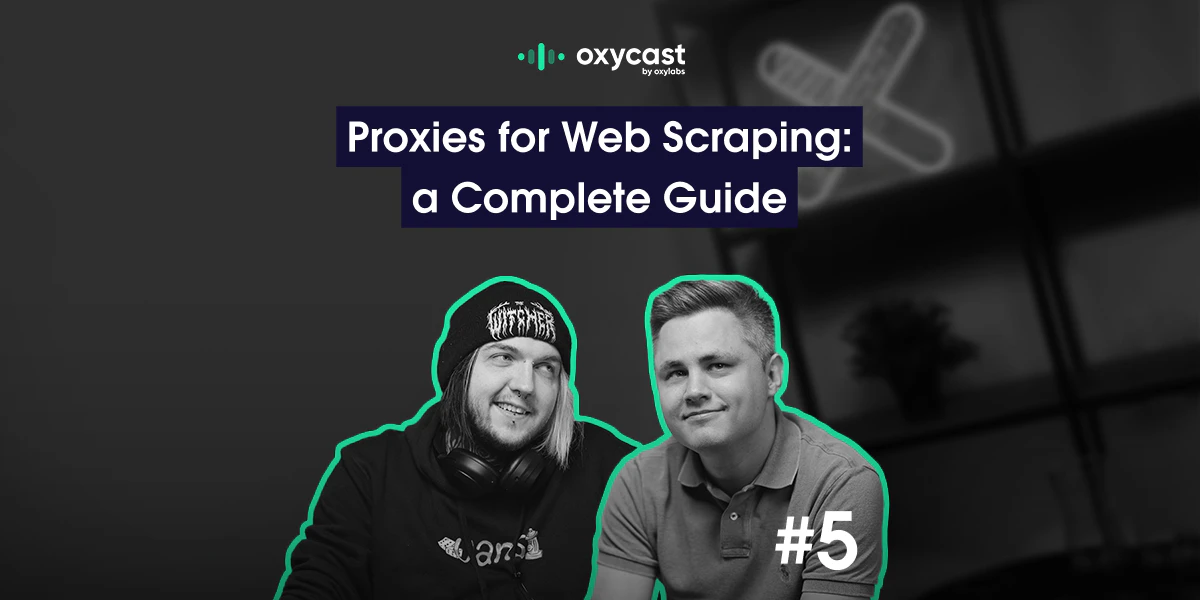 Roberta Aukstikalnyte
2022-05-232 min read
In the 5th episode of our podcast, OxyCast host and Software Engineer Augustinas Kalvis will be talking to Mindaugas Dunderis about proxies and how they go hand-in-hand with public data scraping. Let's take a closer look at what Augustinas and Mindaugas will be discussing exactly: 
What is a proxy, and what is it used for? 
In its simplest form, a proxy is an intermediary between you and the website you're visiting; it changes your IP address and masks your true identity. Proxies can be used for different purposes, one of them being web scraping. Some websites may not be particularly keen on bots scraping their data, which may result in CAPTCHAs or IP bans. However, with a proxy, you can change your IP address multiple times and avoid these issues when scraping large entities of public data. 
Free vs. paid proxies: why proxy origins matter
Across the internet, you may come across free proxies available for anyone to use. Of course, not paying a penny sounds appealing, doesn't it? However, using free proxies for web scraping poses many risks, Mindaugas explains – it's not known how they're obtained and what other people may be using them for. Not to mention, free proxies can be highly unreliable when it comes to scraping large amounts of public data. 
On the other hand, using paid proxies from a reputable provider will only secure you and your acquired data and ensure a smooth data delivery process. 
"Scraping at scale requires reliability. When you're running a project that requires constant, uninterrupted data flow, you need reliable, fast-paced, always-available proxies. Meanwhile, the free proxies you're using today may not even be available tomorrow." 
– Mindaugas Dunderis, Product Owner at Oxylabs
How are Residential Proxies acquired? 
One of the most common proxy types is Residential Proxies – these proxies use real IP addresses supplied by Internet Service Providers to homeowners. Residential Proxy IP addresses are attached to real, physical devices, and using them makes it easy to replicate organic human behavior. 
As Mindaugas mentions many times in the episode, the origins of a proxy are highly important. It's actually crucial that Residential Proxies are acquired in an ethical manner whereby homeowners give consent and are financially rewarded. In the podcast, Mindaugas goes into more detail about the proxy acquisition process, specifically in Oxylabs. You can also check some of our blog posts where we talk about Residential Proxy sourcing process in our company: 
Final note
We hope you'll enjoy this episode and find it insightful. Besides the topics we mentioned above, Augustas and Mindaugas will also discuss why a location of a proxy may be important when scraping; they also compare Residential vs. Datacenter Proxies and which one is best suited for specific cases. Finally, Mindaugas will tell why Oxylabs calls themselves a "front runner in innovations" and share what unique features we offer. 
As always, if you have any questions or a topic you want our experts to cover, feel free to email us at events@oxylabs.io. We highly value your feedback and promise to look into every suggestion!
About the author
Roberta Aukstikalnyte
Senior Content Manager
Roberta Aukstikalnyte is a Senior Content Manager at Oxylabs. Having worked various jobs in the tech industry, she especially enjoys finding ways to express complex ideas in simple ways through content. In her free time, Roberta unwinds by reading Ottessa Moshfegh's novels, going to boxing classes, and playing around with makeup.
All information on Oxylabs Blog is provided on an "as is" basis and for informational purposes only. We make no representation and disclaim all liability with respect to your use of any information contained on Oxylabs Blog or any third-party websites that may be linked therein. Before engaging in scraping activities of any kind you should consult your legal advisors and carefully read the particular website's terms of service or receive a scraping license.
Forget about complex web scraping processes
Choose Oxylabs' advanced web scraping solutions to gather real-time public data hassle-free.