Back to blog
Enterprise Dedicated Datacenter Proxies Quick Start Guide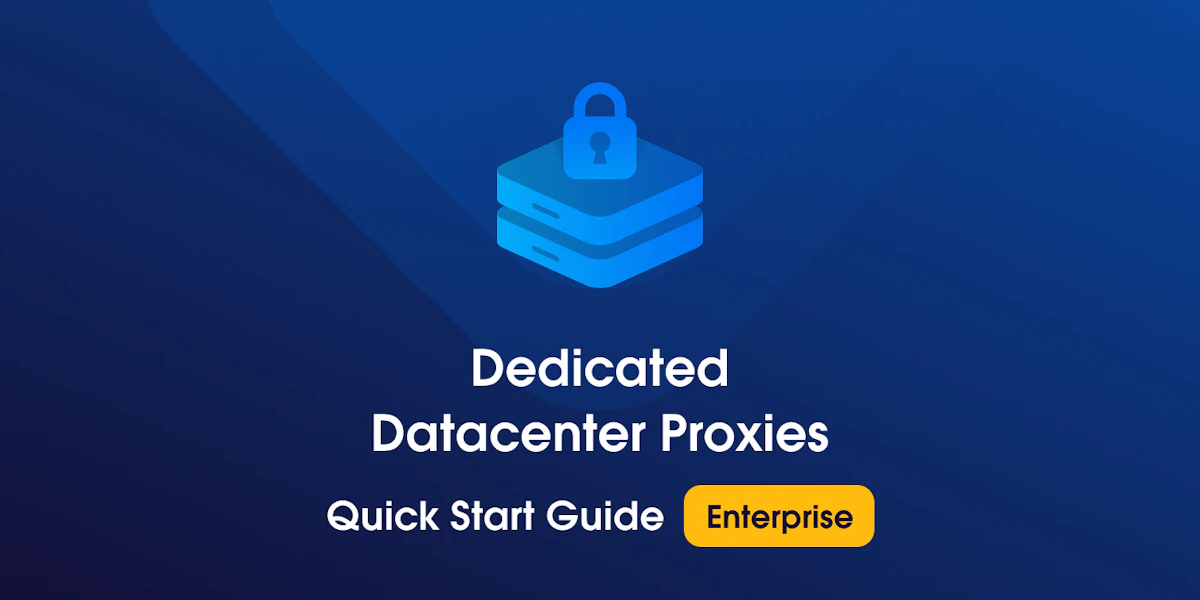 Vytenis Kaubre
2023-10-253 min read
Oxylabs' Enterprise Dedicated Datacenter Proxies, purchased through the Sales Team, offer complete ownership of a proxy IP along with access to the market's largest proxy pool, exceptional speeds, unlimited bandwidth, and the largest selection of proxy locations.
In this guide, you'll find all the fundamental information that'll get you on track to start using Oxylabs' Dedicated Datacenter Proxies.
Setting up Enterprise Dedicated Datacenter Proxies
To start off, head over to the Oxylabs dashboard and register an account. Once you purchase Dedicated Datacenter Proxies through the Sales Team or sign up for the free trial, you'll receive an email with proxy credentials from your Account Manager or our Support Team.
Receiving a proxy list
The easiest way to receive your Dedicated Datacenter Proxy list is by logging in to the Oxylabs dashboard. Then, on the left-hand side menu, choose Proxy lists, which will give you the option to view your list in plain text format:
Another way to retrieve your proxy list is through the API. Visit our documentation to find further guidelines.
Making a basic cURL request
Follow the steps below to make a request using a proxy in cURL:
1. Pick an IP address from the acquired list.
2. Form the cURL request and specify your chosen IP in the request parameters.
You can copy this code below:
curl 

-

x 

1.2

.3

.4

:

60000

 

-

U

 

user1

:

pass1 http

:

/

/

ip

.

oxylabs

.

io
3. Run the code to send a GET request to the http://ip.oxylabs.io website, which will send back the IP address of your request.
For examples in other programming languages, visit our documentation. 
State and City targeting
If you want to target a specific state or city, contact your Account Manager or our Customer Support Team to receive IP addresses from the exact locations you require.
Proxy rotation and sticky sessions
Session management is available with Oxylabs' free Proxy Rotator that rotates your IP addresses or lets you keep one for a specified timeframe. In other words, you can control your proxy sessions depending on your needs.
To have Proxy Rotator enabled for your Dedicated Datacenter Proxies, please contact your Account Manager or our Support Team.
Proxy rotation using Proxy Rotator
Proxy Rotator uses a single endpoint for requests. Below you can find a cURL code sample that makes a request to https://ip.oxylabs.io. Note that the vm.oxylabs.io domain is just an example only:
curl 

-

x vm

.

oxylabs

.

io

:

60000

 

-

U

 

username

:

password https

:

/

/

ip

.

oxylabs

.

io
Sticky sessions using Proxy Rotator
To keep the same IP address for subsequent requests, first, you'll need to know the serial number of the proxy IP you want to keep. You can achieve this by looking at the proxy list that you receive from us, since Proxy Rotator uses it to rotate IPs. There, proxies are numbered sequentially from top to bottom, starting with s1 at the top. For instance:
1.2

.3

.1

 

-

 s1


1.2

.3

.2

 

-

 s2


...




1.2

.3

.49

 

-

 s49


1.2

.3

.50

 

-

 s50
Once you have this information, you can add the --proxy-header "Proxy-Server: sXXX" header to your request, where sXXX is the number of the proxy, for example, s5 or s2541. Here's a basic cURL example:
The same query is presented below:
curl 

-

x vm

.

oxylabs

.

io

:

60000

 

-

U

 

user1

:

pass1 https

:

/

/

ip

.

oxylabs

.

io 

--

proxy

-

header 

"Proxy-Server: s10"
You can find code samples in different programming languages and more information in our documentation and GitHub repository.
Protocols
By default, the HTTP protocol is enabled for Dedicated Datacenter Proxies. If you want to activate SOCKS5 protocol for your account, contact our Customer Support Team via live chat or email, or your Account Manager, and they'll assist you.
Response Codes
These are the most common response codes you can get while using our Datacenter Proxies. If you receive any other response code, please contact your Account Manager for more information.
| Response code | Error Message | Description |
| --- | --- | --- |
| 404 | Not Found | The specified resource couldn't be found. |
| 407 | Proxy Authentication Required | An authorization header is missing, or your credentials are incorrect. |
| 500 | Internal Server Error | We had a problem with our server. Try again later. |
| 503 | Service Unavailable | Failed to connect to the target server. DNS failure to resolve the target server address. |
| 504 | Gateway Timeout | A proxy server timed out while waiting for a response from the target server. |
Usage Statistics
The Oxylabs dashboard is the place to see usage statistics. The Statistics section will show the traffic volume you've used, the number of requests you've made, and how many errors you've faced day-to-day. Here, you can also filter the statistics to view specific information for any selected period. Below you'll find a few screenshots of the Dedicated Datacenter Proxies dashboard.
1. Here's an example of the usage statistics:
2. You can filter the statistics by targets, subnets, IPs, users, and countries. There are also additional filters for each tab: date range, IP, subnet, target, or user. On this page, you'll also find the amount of encountered errors.
Additional resources
If you have any questions or want to try our Enterprise Dedicated Datacenter Proxies, don't hesitate to contact our Support Team at any time via live chat or email.
Furthermore, you can follow our content to learn more on scraping-related topics and find in-depth guides with code samples:
Frequently asked questions
About the author
Vytenis Kaubre is a Copywriter at Oxylabs. As his passion lay in creative writing and curiosity in anything tech kept growing, he joined the army of copywriters. After work, you might find Vytenis watching TV shows, brainstorming ideas for tabletop games, or taking Raymond Chandler's advice, "When in doubt, have a man come through a door with a gun in his hand" too seriously (when writing short stories).
All information on Oxylabs Blog is provided on an "as is" basis and for informational purposes only. We make no representation and disclaim all liability with respect to your use of any information contained on Oxylabs Blog or any third-party websites that may be linked therein. Before engaging in scraping activities of any kind you should consult your legal advisors and carefully read the particular website's terms of service or receive a scraping license.
Forget about complex web scraping processes
Choose Oxylabs' advanced web intelligence collection solutions to gather real-time public data hassle-free.