Back to blog
Real Estate Web Scraping: How's It Revolutionizing this Industry?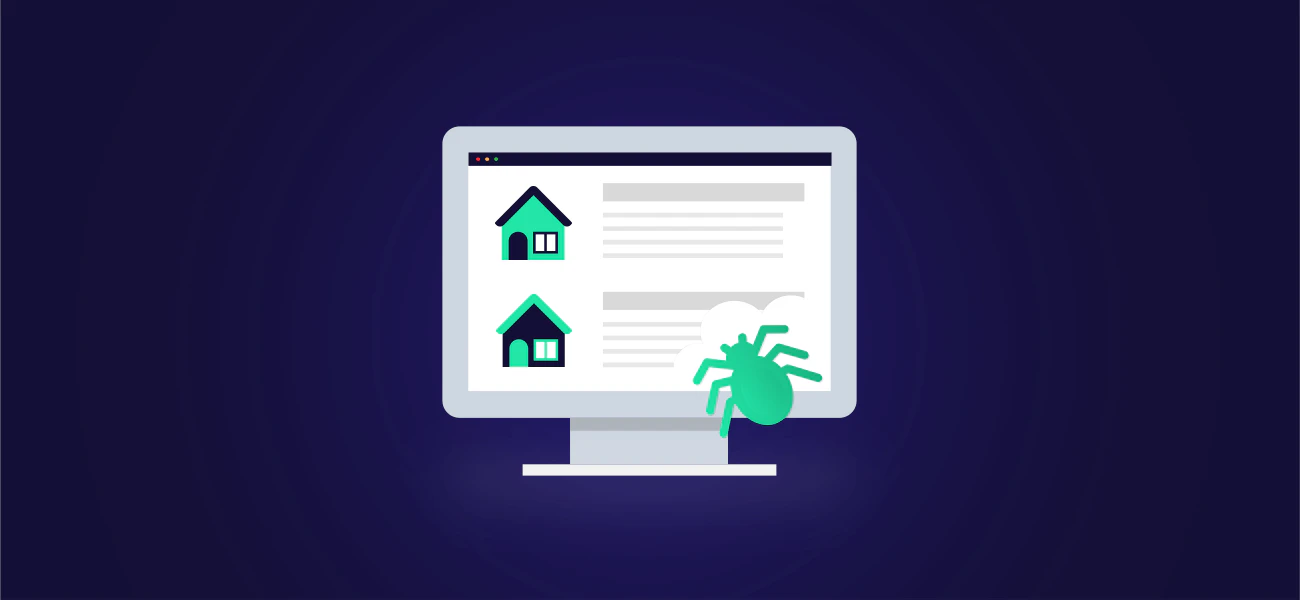 Vytautas Kirjazovas
2021-07-14
In the eyes of many, real estate investments deliver the most significant value, resulting in the highest returns while keeping the risk levels at the minimum. However, it is a genuinely competitive environment, and a lot of factors influence the potential investment opportunities and returns. 
Fortunately, it is possible to analyze essential influences in the real estate industry and bet on data-backed decisions, thanks to web scraping real estate practice. In fact, the majority of switched-on commercial players are already performing real estate industry data scraping for evaluating property value, observing vacancy rates, assessing rental yields, forecasting the economic direction, to name a few.  
In this article, we will define web scraping real estate data and data mining. Secondly, we will explore several use cases of how this practice is already making a positive impact on the industry. Lastly, we will discuss the essential tools and solutions that are paramount for successful real estate web scraping.
Real estate web scraping
Web scraping (also called data scraping, web harvesting or web data extraction) refers to extracting publicly available data of the web. The identification and retrieval of data from the internet are performed by web crawlers/scrapers, i.e. automated software scripts that surf the web in a structured approach and download real estate data. 
Web scraping real estate data for staying competitive
Once the pre-defined data points are identified, the extraction of data (web scraping) process commences. In this stage, web scraping focuses on gathering unstructured data from numerous online sources, aggregating and transforming it into structured datasets for later analysis stage.
In the real estate industry, it is very prevalent to scrape real estate listings. Also, in this industry, mostly extracted data fields are publicly available buyers and sellers information, in-depth building details, pictures, sale price, monthly rental price, property type, location, size, amenities, parking spaces,  etc.
Also, a more advanced approach can be taken to gather such data as crime and safety statistics, monitoring foreclosure and auctions listings, urban planning and construction permits, and so on. Real estate web scraping is becoming an important process of this business because it helps to remain competitive.
Real estate data mining
After web data scraping real estate, the following process comes in a row – data mining. Real estate data mining refers to a stage of investigating a vast amount of aggregated data to generate actionable insights. To make the most effective decisions in the industry, real estate agents and companies need to analyze consumer behavior and common patterns dominating the industry in the current period. Data mining in real estate can serve several purposes:
Identifying market trends. Data mining helps analyze general trends, such as overall investment for real estate, individual incomes, and so on.

Researching the real estate fluctuation period. It aids in predicting the upcoming fluctuation, discovering its main rules and attributes, and detecting the factors that affect it. 

Client management. It involves researching customers and their consuming habits, which helps salespeople learn new ways to interact with existing customers and drive new ones. 
To turn raw data into pragmatic insights, data mining may employ various methods, including data preparation and cleaning, classification, clustering, tracking patterns and revealing anomalies, decision trees, and many more. Typically, highly specialized tools alongside algorithms are employed to identify patterns and trends. Once completed, this kind of analyzed information aids in deciding the best times to buy or sell, forecasting the economic direction, adjusting pricing strategies for the best ROI, identifying further opportunities in the industry, to name a few. Want to know more about data mining? Check out our blog post about Data Mining and Machine learning: What's the difference?
Technological advancement impact
In the last few decades, technological advancements played a huge part in transforming the processes and policies of the real estate industry. Long gone are the days of discovering houses through a yard sign, and it is crucial for the retailers to adjust to a fast-paced competitive environment to stay relevant.
Real estate web scraping is already transforming the industry
For instance, a survey by the National Association of Realtors found out that 51% of real estate transactions start off on the internet. Furthermore, according to the report, real estate agents cite the primary tech tools that provide the highest quality leads as social media (47%), Multiple Listing Sites (32%), brokerage's and listing aggregator's websites (29%). More surprisingly, almost half (48%) of surveyed real estate firms named the biggest challenge in the industry to keep up with the pace of technology. 
Taking this into account, it is evident that technology advancements will further influence economic dynamics and stakeholders, and only those who will be able to adapt to changing conditions will be able to claim a piece of market share.
Use cases
Here are only several already proven real estate data scraping use cases:
Real estate aggregators heavily rely on the web scraping practice to gather vast amounts of real-time intelligence from numerous data sources and display it on their one-stop-shop website for consumers' benefit. 

Forecasting economic direction is a must for all market players, be it investors, realtors, or brokerages. Hence, real estate industry data scraping aids in collecting historical and current intelligence on properties, value, sales cycles, etc. The analyzed data provides data-backed predictions on how the industry is going to perform, which consequently allows economic actors to adjust their tactics and strategies.

Monitoring competition is yet another crucial aspect in this highly competitive environment. Thanks to data scraping, it is possible to swiftly collect real-time pricing intelligence data and promptly react to pricing changes to be price competitive. Ultimately, this knowledge contributes to winning the customer or business.

Monitoring vacancy rates by data scraping practice helps to analyze positive and negative rental growth cycles and provides data-backed insights for investment opportunities and the best ROI to real estate agents.

Product and service development is heavily backed by the web scraping practice. It allows to gather actionable knowledge and identify opportunities within the industry. For instance, OpenDoor, which is now valued at an astonishing $2 billion mark, leveraged data scraping practice, creating algorithms to provide "instant offers" for homeowners seeking to sell their property quickly.
This is only the tip of the iceberg of how web scraping is already transforming the real estate industry. And, as the role of data scraping in the real estate industry is a relatively new concept, it is a given that there will be more use cases identified in the future, especially when collecting alternative data that has a direct impact on the industry.
Now, collecting this vast amount of data from various online sources is no easy task. Web crawling and web scraping real estate data is a genuinely challenging practice that requires expert knowledge and resources. Typically, there are two following approaches to get about real estate data scraping:
Building an in-house data extraction mechanism that will have to be supported with proxies. In short, proxies are an essential part of web scraping process as it allows to collect data under numerous IP address from the desired public data sources successfully.  

Outsourcing data extraction tools, such as our Web Scraper API, which eliminates the data gathering process. This approach allows concentrating on already collected and structured data to draw actionable insights.
It's a wrap
Hopefully, by now, you have a decent understanding of how the real estate industry is being revolutionized by data scraping and mining practice. It is apparent that those who will adapt to never-ending technological advancements and harness data will have the best chance to set the pace in the industry. If you're interested in other industries, for example, food delivery, check out this page.
If you want to find out more about data gathering solutions, you are interested in different types of proxies and deciding what to choose for your business, or you already want to start your web scraping project, check out our other blog posts for all your questions to be answered!
People also ask
Why do I need to use proxies for web scraping?
To gather required data from targeted web servers, using proxies will help you to avoid any kind of anti-scraping measures and you won't reach the implemented requests limit. Check out our blog post: What Is a Proxy: Web Scraping Basics for more information.
Which data do businesses target for extraction?
It depends on the company's goals and needs. It is possible to extract prices, product descriptions, customer reviews and ratings, even FAQ pages and more. If you are interested in how to extract data from any website, check out our other blog posts.
Is it worth outsourcing data extraction tools?
Outsourcing data extraction tools helps to save a lot of time, because it eliminates the data gathering process. Businesses can focus on other tasks, like concentrating on already collected data analysis.
About the author
Vytautas Kirjazovas
Head of PR
Vytautas Kirjazovas is Head of PR at Oxylabs, and he places a strong personal interest in technology due to its magnifying potential to make everyday business processes easier and more efficient. Vytautas is fascinated by new digital tools and approaches, in particular, for web data harvesting purposes, so feel free to drop him a message if you have any questions on this topic. He appreciates a tasty meal, enjoys traveling and writing about himself in the third person.
All information on Oxylabs Blog is provided on an "as is" basis and for informational purposes only. We make no representation and disclaim all liability with respect to your use of any information contained on Oxylabs Blog or any third-party websites that may be linked therein. Before engaging in scraping activities of any kind you should consult your legal advisors and carefully read the particular website's terms of service or receive a scraping license.